XLM Linked To Stellar Foundation Make Their Way To Exchanges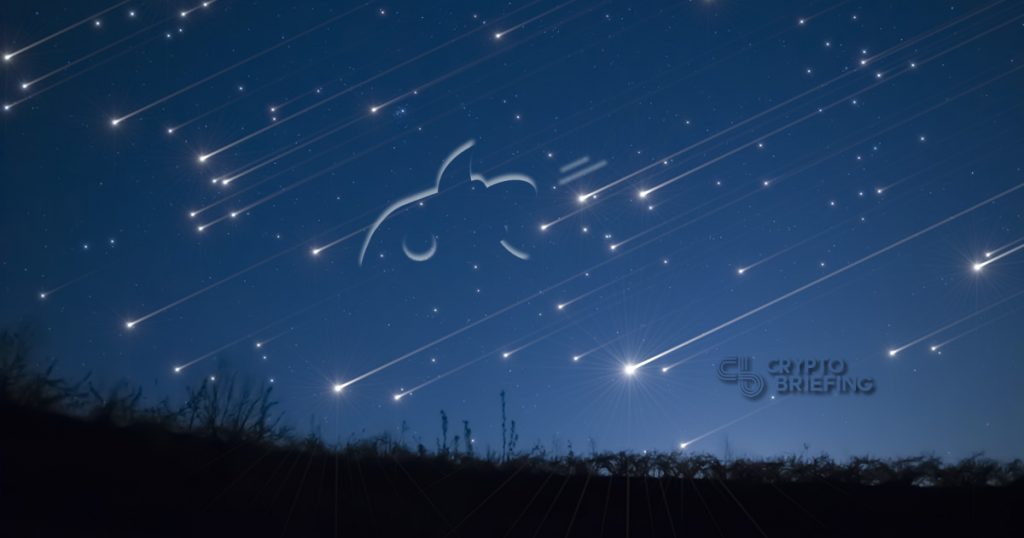 The logo may be a space rocket, but recent Stellar Lumens (XLM) price activity did the opposite this week. As prices continue to slump, lumens linked to the Stellar Development Foundation (SDF), the organization behind the XLM network, are making their way into wallets linked to well-known cryptocurrency exchanges.
Data collected by StellarExpert, a block explorer and analytics platform for the Stellar Lumens network, show the movement of the Foundations' lumens.
One wallet, which we've nicknamed 'GIMC' after the last four digits of the public address, was created by SDF Operations in 2017. GIMC has received hundreds of millions of Lumens tokens since last June, principally from another wallet attached to SDF Operations, which we'll call 'JFNP'. For example, on December 14th, JFNP sent 25.4M XLM tokens – valued at $2.5M at the then market rate – over to GIMC.
Although GIMC has historically maintained an XLM balance in the millions, throughout the last two quarters it has occasionally transferred large quantities to known exchange wallets. On January 21st, Monday last week, it sent 10M XLM tokens to Kraken and 30M to Binance.
This coincided with a $100M drop in XLM market cap on the same day.
---
Is Stellar Foundation Selling?
The Stellar Development Foundation is a nonprofit organization based in San Francisco, according to its Bloomberg profile. Since 2014, it has been the principal designer and developer of the Stellar Lumens network.
As with many other cryptocurrency organizations, SDF will likely have significant quantities of XLM in reserve, both to pay its own bills and to stimulate development in the wider ecosystem.
Joe Lubin's ConsenSys had to cut down on the number of 'spokes,' partly because of a declining Ether (ETH) price; ETCDev, the lead developer for Ethereum Classic (ETC) went out of business last year because its operational reserves, held in ETC, collapsed in value in Q4.
The SDF is likely facing the same pressures; market uncertainty and concerns about funding future operations could be putting the Foundation in a financial tight spot.
---
Don't Run Yet
Conversely, the movements could be grants transferred from SDF to organizations – 34 currently – working on the Stellar blockchain. As highlighted on their website, the Foundation still has over 80 billion lumens, 25bn XLM of which are earmarked for network development. More than 8.6bn have already been distributed.
Funds are held in escrow until projects reach certain agreed milestones. This may explain why SDF funds have dripped into unaffiliated wallets, and thereby made their way into exchanges. Grant beneficiaries may be selling Lumens in order to fund development.
Account 'TJO4' for example has on numerous occasions received funds from SDF. Most of these funds have then been transferred to exchange wallets. For example, twice last year – on July 6th and October 8th – TJO4 received 214,200 XLM from an SDF-linked wallet. Within half an hour, the same quantity of Lumens was transferred to the same Kraken wallets, in two lots.
In the first transfer, this coincided with slight drops in the XLM price. At just after 18:00 GMT, July 6th, the Lumens market cap dropped by around $80M from $3.93bn to $3.851bn. But in the October transfer, there was no such drop, suggesting a smaller effect on the market price at that the time.
Crypto Briefing reached out to SDF for comment but hadn't heard back by the time we went to press.
Regardless of motive, large quantities of XLM linked to SDF-controlled wallets have made their way to exchange wallets in the past month. Although there's nothing particularly sinister about the SDF using its resources, the added selling pressure is unlikely to have helped the XLM market price this week.
That could explain why Stellar Lumens was one of the most affected cryptocurrencies in the top-ten. The coin is currently up 3.32% today, while movements from SDF wallets appear to have slowed.
---
The author is invested in digital assets, including ETH which is mentioned in this article.