STORM Token Progress Report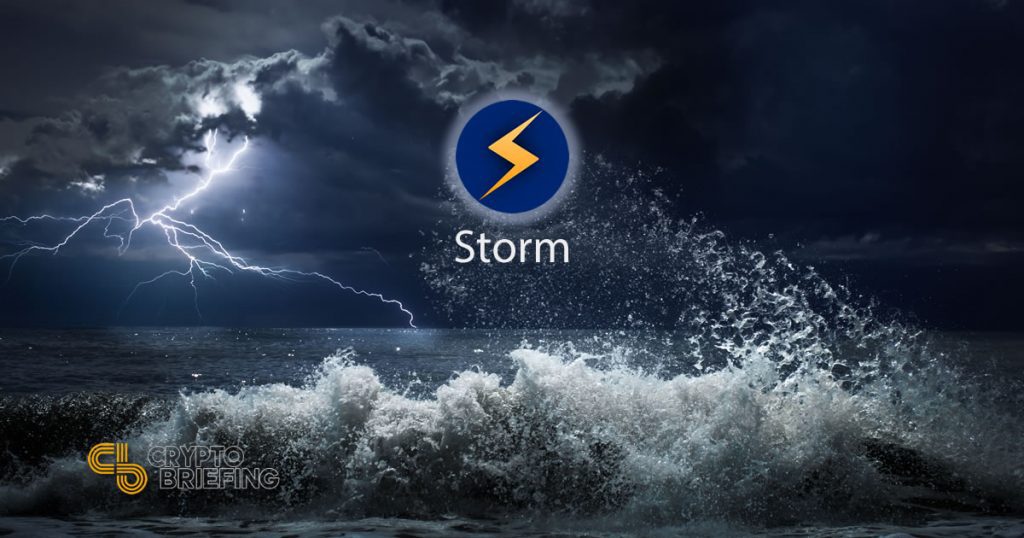 There's a lot of room for improvement in the freelance world. Even on the best sites, finding work is hard, and actually getting paid for it is harder. "Fiverr" should actually be called "Fourr," considering that the app takes a dollar in fees. And that's where the Storm Token comes in.
Storm Market, the 101st largest crypto project by market cap, is trying to change that.
Storm is seeking to replace online freelancing and micro tasking with an blockchain-based platform. Instead of the 20-something percent fees from other services(and the Kafka-esque nightmare of cashing out) Storm will take a tiny 1% fee, and withdrawals can be taken in cryptocurrency.
When we last reviewed StormX, the ICO got a favorable 83% review. The project already had an established team, a well-known product and a strategy to improve itself. Eight months and a $32 million ICO later, we're checking back in to see how much ground they've covered.
STORM Token Overview
The Storm token is the native currency of the StormPlay app. In its current incarnation, the StormPlay app rewards users for participating in surveys, watching ads, quality assessment and and participating in other microtasks. The players are rewarded in their choice of BTC, ETH, or STORM tokens.
In the future, the ecosystem will be expanded with "Storm Gigs," a platform that will allow players to engage in more complicated freelance work. "Storm Shop," an online marketplace for the Storm Token, is also being planned.
STORM Project Development
StormX already has already accomplished quite a bit—in its previous incarnation, BitMaker, the company accumulated four years of experience programming cryptocurrency payments and a committed userbase. As Bitmaker, the app already collected in 187 countries, with over 250,000 active users and more than a million total downloads.
The flagship project from StormX so far is the StormPlay app, a "gamified" AdTech experience that rewards users for answering surveys, watching advertisements and trying new products. So far the app has launched 187 "brand tasks," rewarding players with a total of 249 BTC, 570 ETH and 13M STORM since launch.
STORM Roadmap
StormX has laid out an ambitious set of future goals in its website and roadmap.
However, and frustratingly, dating the roadmap is not among those goals, making it hard to distinguish the teams quarterly objectives from those in the more remote future.
Right now the next project on the launchpad is StormPlay for iOSX. Apple recently approved the beta, one of the few App Store apps which is permitted to reward users in cryptocurrency.
A little further down the road is a prospective "Storm Shop," a retail marketplace where players will be able to spend the Storm Tokens. At present, the only use for the Storm Token is resale.
Next up, Storm Gigs, a peer-to-peer marketplace to StormPlay that will allow freelancers and clients to connect and work together with payment in cryptocurrency.
Also projected for the future, "Storm Tasks"—codified smart contracts between market participants on which tasks to perform and for which rewards. Because the trade of values is secured via smart contract, the system could remove some of the uncertainty from freelancing. rewards.
STORM Token Financial Performance
The ERC 20 Storm Token is traded on thirteen exchanges, including Binance, Bittrex and Upbit. Despite a strong release in January, it did not perform as robustly as some others in the earlier part of this year. After two speculative spikes in price, STORM was not able to maintain its' gains and has since settled back to a more even price. It now trades for around $0.03, after starting at $0.02.
STORM reached its maximum price of $0.20 on January 9th 2018 – a wily seller could have made a tidy ROI of almost 20x at that time. Even now, the token is trading at around 3x the final ICO price – which may seem small in crypto terms, but which serious investors in traditional markets would kill for.
A large part of the slumping performance since January is that, despite user activity on the app, STORM is still very thinly traded, even by the people who use the app. Only 26,000 wallets have STORM tokens, which suggests that even the "players" see little use for it. Until the emergence of a "Storm shop" or marketplace for the token, the situation is unlikely to change.
StormPlay App and Customer Service
I was actually looking forward to trying the StormPlay app, especially after the way the team talked up its "gamified" experience. Unfortunately, my hopes were premature.
After downloading the StormPlay app from Google Play, I was unable to get past the login screen. Despite three choices of log-in methods (Facebook, Google and Email) none of them was able to let me create a login, much less access the game. After discussing the matter with admins in the Telegram group, it was clear that many other users were struggling with the same problem.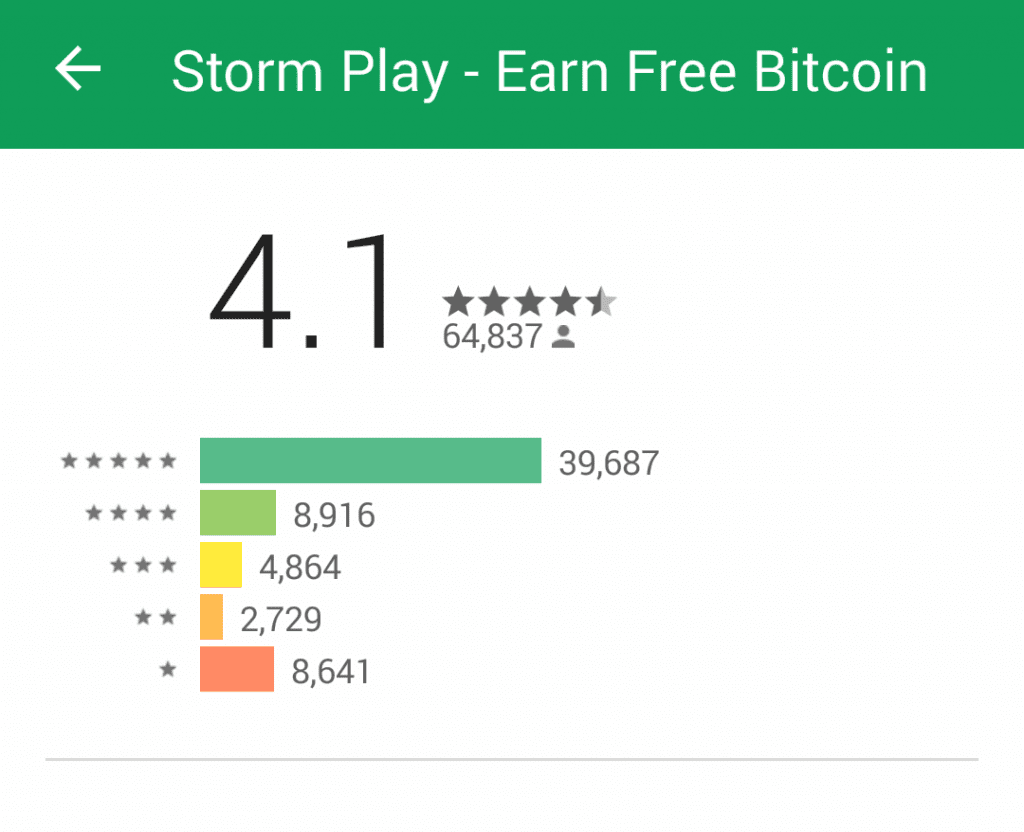 Poor performance and bugs were major reasons cited for the one-star reviews which have weighed down the app's ratings on Google Play.
Bugs aside, the team has shown a commitment to the community. The company has Customer Service Representatives in the USA, South Korea, Philippines and the Cayman Islands, who have responded to each complaint with a courteous apology. This may not fix their problems, but it does show that they are aware of, and working on, their problems.
Our Verdict on the Stormplay App and Token
Storm is a modest little project, with much to be modest about. Unlike the billion-dollar projects planning to spend a decade or two remaking the internet, Storm has a simple, and doable, goal: giving you a fun and easy way to make a bit of money online. There's a lot of efficiency to be gained in both the freelance and micro tasking markets, if the project can pull it off.
But there are some red flags and the project's poor organizational standards don't help. The team might be able to talented enough to fly without a map, but having a set of marked milestones and delineated deadlines is a requirement for serious investing. The poor showing of the StormPlay App in Google Reviews is a sign that the project may need some reorganization.
STORM is a good project; but the forecast right now is cloudy at best. Investors want to see a clear roadmap and well-defined results: Storm isn't giving us the ability to judge its progress well enough.
For these reasons, we're holding back on STORM. At least until they make a workable app.