As Summer Starts, VeChain Is Bearing Fruit
Lu hints at more to come.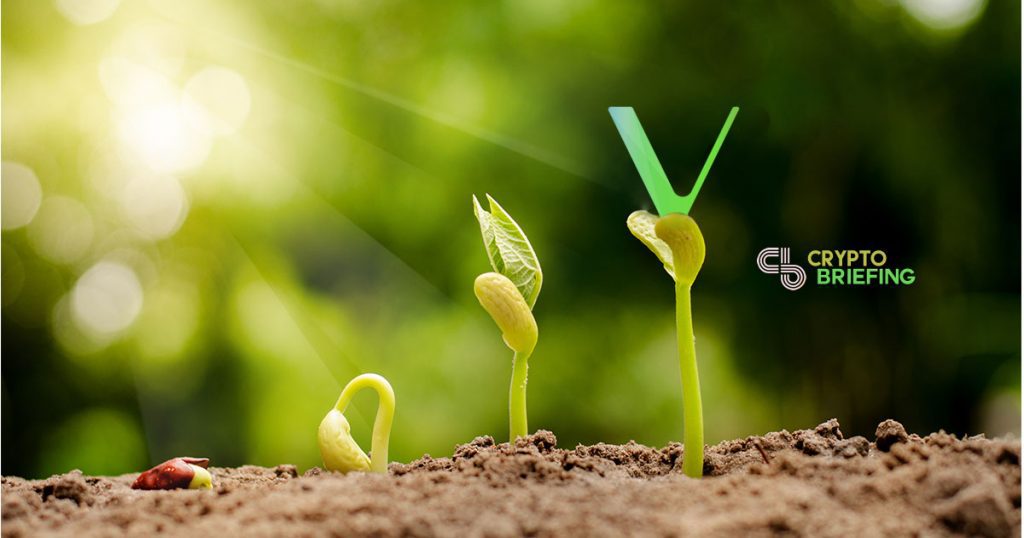 It's been a busy season for VeChain. From a major go-live tracking a milk supply chain to luring Deloitte away from Ethereum, the logistics-and-supply-chain project is finally starting to bear fruit.
As the past weeks have shown, VeChain has continued to #Buidl through crypto winter, and is now starting to deliver. Here are some of the latest developments:
---
Cupid's Farm Milk Supply Chain Tracking Goes Live
Perhaps VeChain's biggest recent success is the launch of a supply chain application, which tracks the supply of milk by Chinese-based Bright Food.
VeChain has been working with Bright Food to develop BrightCode, a supply chain tracking and consumer confidence index built on the VeChainThor blockchain. The Cupids Farm milk brand, produced by Bright Foods, was the first product to go live on the platform, according to the announcement. Ultimately, the VeChain technology is expected to be integrated across the entire supply chain.
This isn't the first supply chain application for DLT, but the consumer confidence index is what makes it interesting. The technology is available to end consumers, who can easily check the provenance of the milk on a smartphone.
If you don't fancy popping over to Shanghai for a pint of milk, a helpful Redditor has uploaded a video so you can see it in action for yourself.
BrightCode was developed on ToolChain, a partner version of VeChain's blockchain-as-a-service (BaaS) platform which launched in late April. VeChain showcased Toolchain at the Viva Tech event in Paris in mid-May.
---
VeChain's Expanding Partnerships
VeChain had already established a strong relationship with DNV GL, a leading risk management and quality assurance company. The two worked together on the development of My Story, a digital assurance solution that allows consumers to track the journey of their products. The solution is already being used by Italian winemakers.
Last month, the partnership was solidified with the announcement that DNV GL had acquired a minority stake in VeChain. The announcement also stated that DNV GL will be expanding its blockchain capabilities thanks to becoming one of the 101 authority node holders on VeChain.
After securing Deloitte's migration to VeChain from Ethereum in early May, the project has also hinted at further news about its existing collaboration with PwC. Nothing has so far been confirmed, but CEO Sunny Lu recently dropped heavy hints about a collaboration with one of PwC's major clients.
The announcement would be "significant for the whole blockchain space," Lu hinted.
The teaser came at the VeChain Summit held in San Francisco, when VeChain also revealed the fruits of its collaboration with BMW. Dubbed VerifyApp, the application allows users to track the data for all service and maintenance performed on the BMW vehicles.
Even secondhand buyers will be able to view vehicle history on VeChain's blockchain. This has obvious consumer benefits, and can also protect manufacturers from counterfeit parts.
---
Why Aren't These Successes Translating in the VET Price?
However, VeChain's successes don't seem to be translating into the same level of price action on the VET token. In the past month, VET prices increased only 11% percent against the dollar, compared with 47% for BTC and nearly 55% for ETH.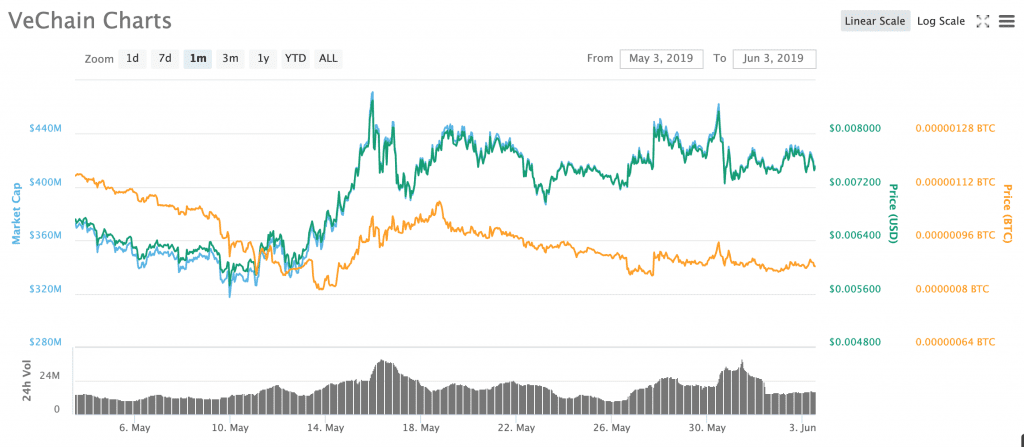 Perhaps due to its enterprise focus, VeChain isn't a crowd favorite, so many of its successes may be underrated in the crypto space. Enterprise adoption of blockchain doesn't necessarily appeal to all corners of the community.
It'll be interesting to see if Sunny Lu's big news in June has any effect on the price. Either way, if VeChain continues establishing high-profile enterprise partnerships and clients, it could eventually pay off for VET hodlers.