Talk Is Cheap But Voice.com Isn't: Block.One Pays 'World Record' For Domain
A world record for a pure domain sale: smart or silly?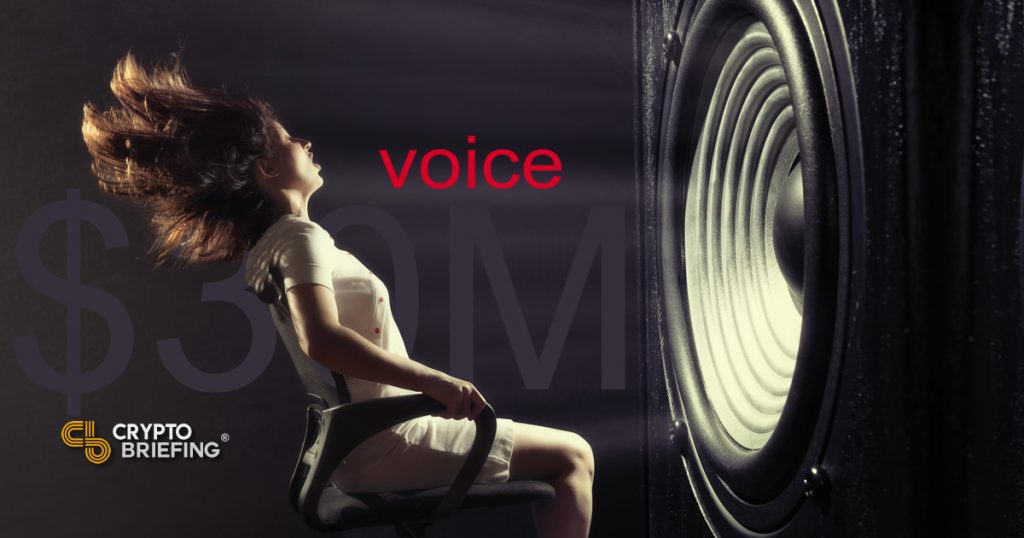 The latest news from EOS's new foray into social networking is that Block.One paid $30 million for the Voice.com domain name. Although the transaction went through at the end of May, the news was formally announced on June 18.
Block.One procured the domain from Microstrategy, an enterprise analytics and mobility software firm. The company was apparently was savvy enough to scoop up a number of domains early in the dotcom and is now selling them for big bucks. Also still available are strategy.com and glory.com.
Really, this news should come as no surprise given that Block.One has already made it clear it's not afraid to spend the big bucks on development of the Voice.com platform. The company already bought up $20m worth of RAM before the Voice announcement was made. Since then, Brendan Blumer has also openly stated his willingness to drop up to $100m on social media influencers, in a bid to lure users away from other platforms.
But is spending $30m on a domain name worth it?
---
Is the Voice.com Purchase a Savvy Branding Move?
Procuring domain names is something of a land grab. In principle, anyone can go onto GoDaddy and find a domain name for their business. However, inevitably at this point in the evolution of the internet, many of the short, catchy ones have gone.
So you have to be prepared to fork out some serious cash, if you want a memorable one-word domain. Of course, it depends on the size of the business, but one source suggests 10-20% of the most recent funding round. If we take the $4 billion EOS raised at ICO as the most recent funding round, Block.One is actually way under budget.
It's also worth considering the audience. '.com' is the most desirable top-level domain because it's universally familiar. In real-world terms, having an easily recognized .com domain can be the difference between opening your coffee shop at the entrance to a railway station on a busy commuter line, or on the edge of a field in the countryside… in Mongolia.
In the crypto world, we don't blink at a .io domain – but it simply doesn't have the same recognition globally as a dot com.
So is this a record expenditure on a domain name? $30M is probably the most a crypto company has ever paid for a domain. Crypto.com went for $12m in 2018, which seems to be the next closest contender, while media outlet Cointelegraph is reputed to have spend upwards of $1M on ct.com
The most anyone has ever paid for a premium domain in a single transaction is $49.7m, for carinsurance.com. By those standards, perhaps Brendan Blumer bagged himself a bargain. However, it's worth noting that carinsurance.com wasn't a pure domain name sale — the entire underlying online business was sold.
So actually, Block.One may have set a record for a public, domain-only sale.
---
Just A Cunning Stunt?
Hardened cynics among us could look at the dates, and assume there's at least a sniff of a publicity stunt here. The transaction was completed at the end of May, and June 1 was Block.One's big voice announcement. But the Voice.com announcement only came out on June 18.
Furthermore, according to domain registrar GoDaddy, most premium domain transactions stay private, so why would Block.One make such a big deal about it?
Several quarters of the EOS community were somewhat underwhelmed by the announcement, having expected something bigger. Block.One's announcement about its lavish spend may be a well-publicized attempt to convince doubters that the Voice launch is actually worth getting excited about.
Block.One's domain extravagance is unlikely to impress at least one of its rivals. Based on a 2017 tweet, Vitalik Buterin's rating of the value of a dotcom domain could be best described as lukewarm.
In 2017, .io and .me are hot and cool, .com is established, but stale and boring.

— Vitalik Non-giver of Ether (@VitalikButerin) August 16, 2017
Perhaps the Voice.com purchase demonstrates that Block.One is serious about its attempts to rival existing social media. With Mark Zuckerberg poised to encroach on crypto territory, it's heartening to see at least one crypto firm squaring up. (Mind you, facebook.com only cost Zuckerberg $200k – of Peter Thiel's money.)
Whether or not EOS can topple Facebook though, remains to be seen. One thing's for sure, it's going to take more than a premium domain purchase and a mass spending spree for that to happen.