EOS Creators Buy $20M Of RAM Ahead Of Mysterious Announcement
Block.one has a big announcement in the wings. What will it be?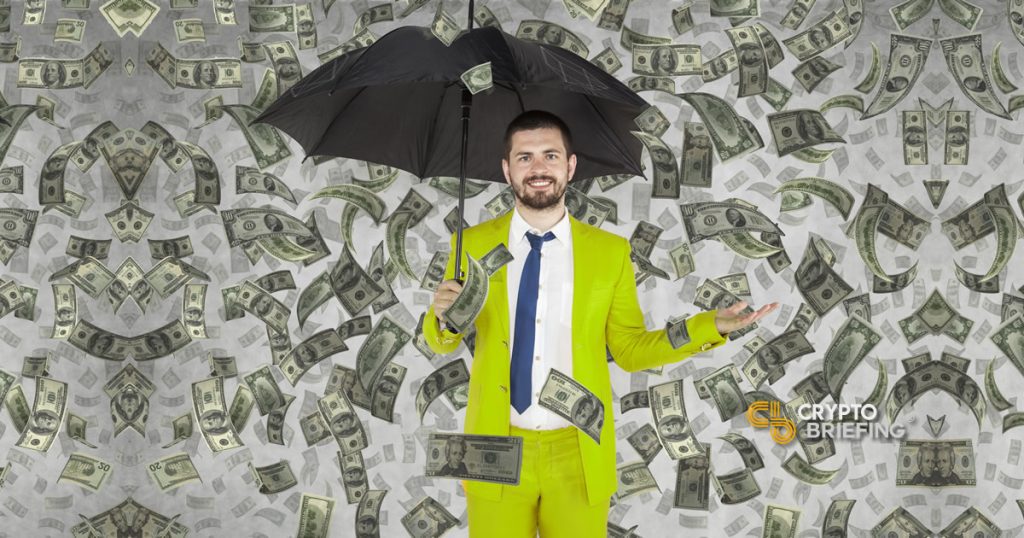 Block.one, the company which built the EOS blockchain, is expected to make a significant announcement at an upcoming event in Washington, D.C. Details of the live-streamed event remain secretive, and the crypto community has worked itself into a frenzy of speculation as to what B1 will unveil.
While Block.one is no stranger to hype, it is also no stranger to substantial innovation. Four days ago the company unstaked some of its EOS tokens, which were spent to purchase $20 million worth of RAM today. Whatever the company is planning to launch on June 1, it's likely to be big.
#B1Junehttps://t.co/SWnpm3aFmI pic.twitter.com/zUCBbcKKOx

— EOSIO (@EOSIO) March 25, 2019
---
A Block.one Social Media Platform?
A new social media platform is among the more popular predictions as to what the company is planning, given founder Dan Larimer's experience at Steemit. Steemit, powered by Steem, is a decentralized blogging and social network where content is rewarded in Steem tokens.
That background has led many pundits to believe Block.one is set to announce a new, decentralized social media platform for the EOS ecosystem. Fuel was added to that fire when Larimer tweeted a teasing 'what if' on February 19:
What if you could decentralize social media more than steemit? The future of social media is thousands of blockchains under independent governance coordinating with inter-chain communication behind a seamless user experience.

— Daniel Larimer (@bytemaster7) February 19, 2019
---
Other Possibilities
There are other possibilities. According to EOSwriter, EOS Nation CEO Yves La Rose suggested that, apart from a potential social media platform (MEOS), the company may be planning an official wallet, a declaration that EOS is a utility token, or a token burn.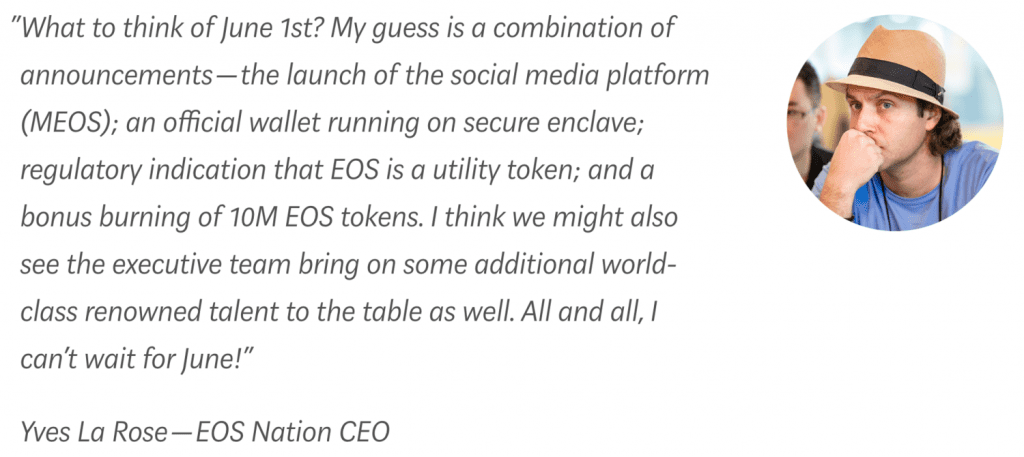 The speculation of regulatory or government moves partly comes from a Telegram message on March 25, when Larimer revealed that EOS is known to Trump advisors and that Block.one has attracted interested in Washington.

A well-known EOSIO developer – who asked to remain anonymous due to the sensitive nature of the subject – told Crypto Briefing:
---
What We Do Know
But there's no denying that Block.one is making big moves, and EOS announcements tend to be substantial, unlike certain other blockchain projects. The founder and CEO of the TRON Foundation, Justin Sun, has earned a reputation for announcing announcements and non-events, to put it politely.
Only two days ago he made yet another non-announcement:
Something huge and amazing going about #TRON and #BitTorrent. I will share with you after June 1. I think I have 70% to win and nail it. Fingers crossed! $TRX $BTT

— H.E. Justin Sun 🅣🌞🇬🇩 (@justinsuntron) May 26, 2019
The crypto community has matured sufficiently to start ignoring Justin Sun's tweets, given his history of over-promising. EOS has a highly developed ecosystem and a more sensible approach to investor and community relations.
That doesn't make Block.one beyond hype. The EOS machine is well-oiled and its promotions are slick. But it does suggest that whatever they announce on June 1 could be substantive for the EOS community.