Colossal Flustercluck As Tron Tesla Giveaway Explodes In Fiery PR Disaster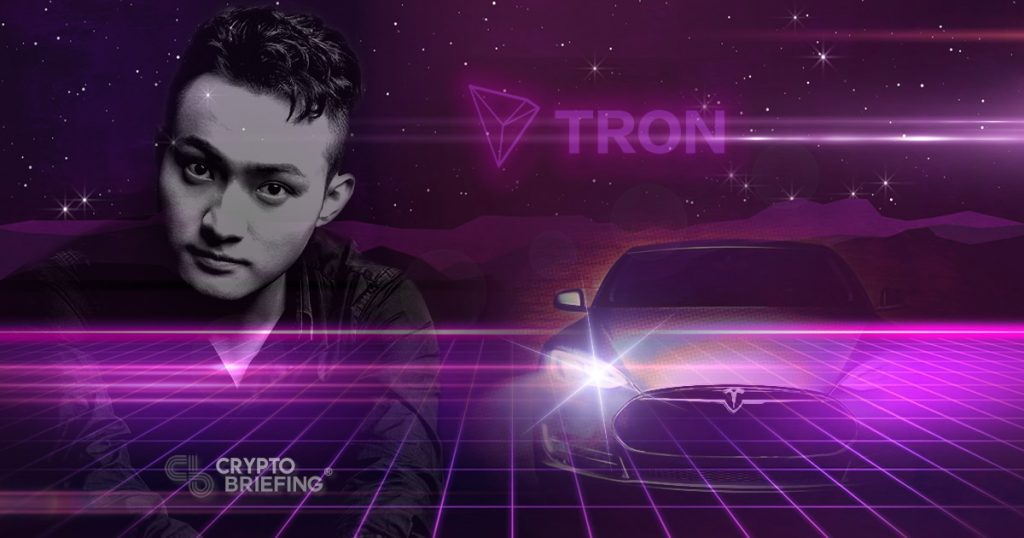 The TRON (TRX) project has always sparked mixed feelings within the crypto community. True believers see it as the wave of the future, while others view the project as something of a laughingstock.
Either way, the project performs an important public service: giving new, naive investors a crash course in the crypto hype cycle. Reports of Justin Sun's latest faux pas provide (yet) another perfect example of big promises gone embarrassingly wrong.
In the latest episode of Sun's Crypto Marketing 101, the TRON founder announced yet another of his blazing social media promotions.
To enter, users had to follow Justin Sun on Twitter and retweet his recent announcement of TRON's partnership with another established cryptocurrency that's under duress for its own reasons, Tether.
Following the announcement, there would be a drawing, and the winner would become the proud owner of a new Tesla Model S. Sun also pledged $20 million (in TRX, natch) as part of the promotions giveaway, and you didn't even have to send him any crypto first.
Some skeptics might take a moment to wonder why an (apparently) successful businessman would be giving away free money to their followers, without even taking the time to ensure that those followers are real. But those doubts are misplaced: there's no need for fiscal prudence when you're already halfway to the Moon.
---
TRON turns on the Autopilot, hilarity ensues
The tweet exploded, receiving more than 54,000 retweets, and gaining Sun a lot of new followers. Two weeks later, Sun uploaded a video using random lottery selection software TWrench to select a winner. Strangely, however, the video was quickly removed due to a random "glitch" in Twitter's upload, and a second winner was selected, this time selected by a different process.
"We shared a video of the selection process for transparency. Due to the large size of the video, Twitter wasn't able to compress it properly resulting in a glitch. We will contact Twitter to make sure this doesn't happen again. We apologize to the community for the mishap."

— Justin Sun (@justinsuntron) March 28, 2019
Savvy community members quickly unearthed the deleted video, and noticed more than a few other oddities. Through what could only be called a considerable lapse in video editing skills, about 34 seconds in, the winner of the "random" drawing flashed on the screen before the drawing even began. How that detail went unnoticed before publishing will remain a mystery.
Here is the original video of @justinsuntron

Enjoy!#trx #tron $trx #Tesla#winners #ETH #bitcoin pic.twitter.com/6baRddu52o

— TRON (@Tronics4L) March 28, 2019
But the anomalies don't stop there. One Twitter user with the handle @CryptoJohnGalt discovered that Sun had repeated the drawing a whopping 88 times before selecting a winner.
TRON 's well-oiled damage control machine leapt into action, not for the first (or probably last) time.
Sun tried to paper over the damage, first by offering a free ticket to the next TRON conference to the original winner. Woohoo! But that actually seemed to exacerbate the problem, as the Twitterati castigated the Tesla-wielding billionaire for being a cheap bastard.
So he doubled down by offering not one, but two Teslas to the contest's winners.
To bring awareness to the blockchain community, keep fostering transparency, reliability & openness in our values, I decided to offer two Tesla! Congratulations @uzgaroth & @LeoHuynhPro thanks for believing in our mission. More info in my statement https://t.co/mECuxQMq0d pic.twitter.com/H9eBLAqNoO

— Justin Sun (@justinsuntron) March 29, 2019
Mistake or otherwise, the latest stumble is unlikely to improve TRON's reputation, which has been well-established ever since the white paper.
Focusing on the (dwindling) bright side, the token still has a $1.54 billion market capitalization, and is in contention for the top ten. But for Justin Sun's many new bots – sorry, followers – the latest misadventure should be an object lesson. What began as a fairly grandiose publicity stunt turned into a technological pratfall – a bit of a downer, for a tech company.
But Justin can take solace in the fact that unlike Tesla's founder, Elon Musk, he isn't the object of an investigation by the SEC.
Uh-oh!
---
The author is invested in digital assets but – thankfully – none mentioned in this article.