Tether Considers Algorithmic Stablecoin: Codename USDTX
USDTX would have to be able to scale securely.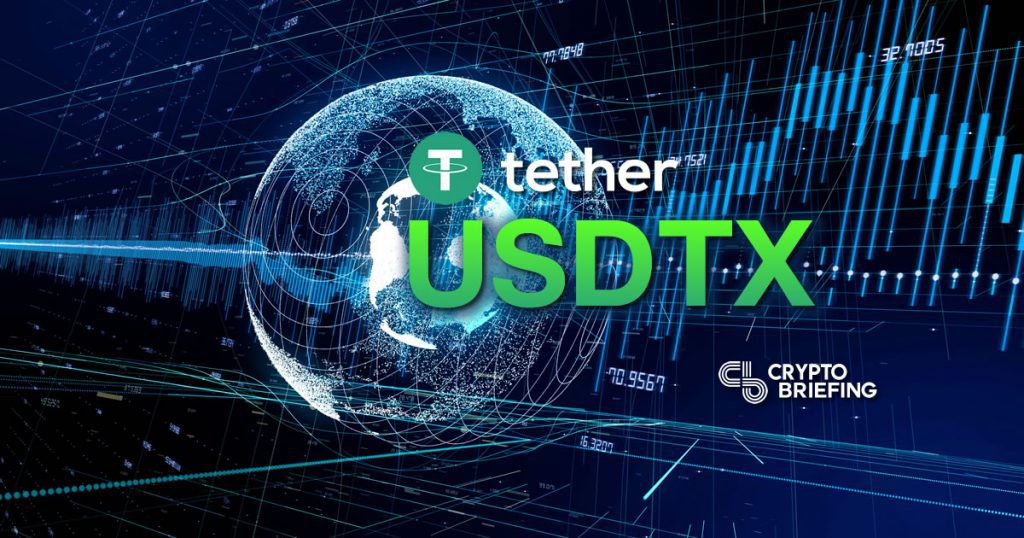 Stablecoin provider Tether is considering creating an algorithmic alternative to its popular USDT token – possibly allowing traders to use cryptocurrency as collateral – as a means to provide another route to issue and trade USD-pegged assets.
Paolo Ardoino, CTO of Tether and affiliated exchange Bitfinex, told Crypto Briefing the company was researching a new algorithmic stablecoin, possibly to be known as the 'USDTX'.
Although details are scarce, 'USDTX' could enable traders access to a store of value through leveraging their cryptocurrency holdings, if Tether goes ahead with the project.
As Tether already operates on the Bitcoin, Ethereum, EOS and TRON blockchains, it also opens up the possibility for traders to use a much wider selection of digital assets as collateral.
The proposed algorithmic Tether would work in much the same way as Dai. However, Ardoino said that they were focused on making sure their offering could scale securely. "Algorithmic stablecoins work well when they're at a reasonable size," he explained, but should Tether be forced "in a disaster event, to liquidate an enormous amount of coins", they risk flooding the market and driving prices down.
An algorithmic Tether has to be able to scale to the same sort of multi-billion-dollar size as its current USDT token, said Ardoino, but it must also be able to mass-liquidate without causing significant disruption to the broader market.
---
The "Backbone of the Industry"
Demand for a scalable algorithmic stablecoin comes from Tether's clients, some of the largest market makers and hedge funds in cryptocurrency. "We have a good relationship with our biggest customers and if they want something we try our best to deliver it," said Ardoino.
Discussions around an algorithmic Tether come nearly two months after the company issued a token pegged to the offshore Renminbi. With Tether now supporting the Yuan, Euro as well as the USD, Ardoino said that they now had the three main world reserve currencies covered and didn't have any plans to add any other currencies at this stage.
"Our goal is to support whatever our users want, to be a leader in technology", Ardoino said, which includes improving the security and underlying technology, as well as increasing adoption.
"Tether is growing like crazy," Ardoino said. After focusing on increasing the number of integrations, the coin is one of the most liquid digital assets in the industry and prevalent in the rapidly expanding DeFi space.
Even with the recent explosion in the number of stablecoin providers, as well as the company facing two lawsuits in New York, Tether's popularity is undiminished. The provider is still experiencing strong month-on-month growth and issued more than 81M Tethers in the first week of October.
Tether's ultimate objective to become the backbone of the industry, said Ardoino. Integrating as many blockchains and applications as possible means they can become the interoperability layer of choice for users interested in moving value between different protocols.
That includes the proposed algorithmic stablecoin, which Ardoino stresses would not supplant the current USDT token as it now stands. Instead, Tether wants the two to complement one another, offering users the choice between leveraging their fiat or their crypto to access a store of value.
Should this go ahead, affiliated exchange Bitfinex could be used as a platform to allow a seamless transition from one asset to the other, providing a means for users to swap the collateral they use while still holding a dollar-denominated digital asset.
Update: shortly after publication of this piece, Joe Morgan – the Senior PR Manager with Tether – contacted us to deny that Tether is planning an algorithmic stablecoin, despite the conversation we have accurately reported in this article. We have updated the title of this article from "Tether Plans Algorithmic Stablecoin: Codename USDTX" to "Tether Considers Algorithmic Stablecoin: Codename USDTX" to reflect Mr. Morgan's comments.