Tether Dominance Demolished By New Stablecoins, Now At 3-Year Low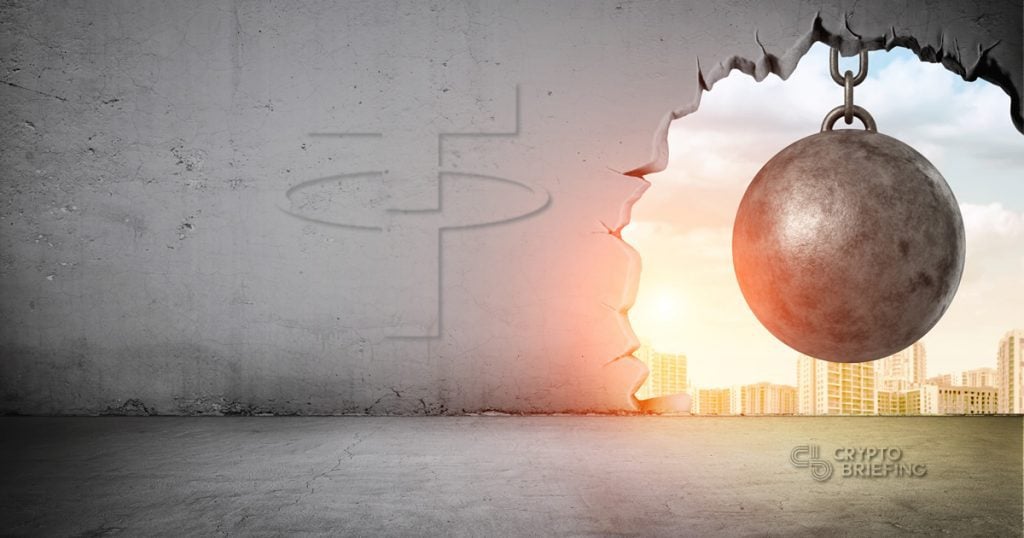 Tether (USDT) has been a mainstay in crypto for years. It is still the largest stablecoin on the market, but Tether dominance in the stablecoin sphere, the market cap percentage attributable to USDT, is eroding fast. Investor confidence is ebbing as the number of alternative stable assets continues to rise. Is USDT facing a death spiral?
Tether's share of the stablecoin market has dropped considerably. Data collected by crypto media source The Block found Tether dominance fell by nearly 6 percentage points, from 92% on October 15th (last Monday), to around 86% this morning. This is reportedly Tether's lowest market share since November 2015, almost three years ago.
USDT had already started to lose its hegemony. It had slipped from approximately 96%, in early September, to 92% by October 14th.
Tether's downward trend accelerated last week. Investors divested out of USDT en masse on Monday when price fluctuations worried the market. Designed as a peg to the US dollar at a 1:1 ratio, tokens unaccountably fell to $0.96. There were concerns USDT was about to drop to zero. The market cap is down by $800m since the beginning of October; trading activity has also suffered, with a similar $800m cut in its 24h trading volume.
---
USDT uncertainty.
The price dominance of one asset is a useful metric for traders. It can indicate the level of diversification within a specific market and investor behavior during price movements. Bitcoin (BTC) dominance can determine the influence of alternative assets compared to bitcoin, which remains the market leader.
Tether was the first stablecoin when it launched towards the end of 2014. The idea behind it was simple. The project would mint tokens that would correspond exactly to the amount of actual fiat currency deposited in their bank accounts. USDT would directly correspond to the money held by Tether; investors could have a position in cryptocurrency but enjoy a stable store of value.
Uncertainty has steadily been building around Tether over the years. Many are skeptical that it has the $2bn it says it has locked away in its accounts. Some believe the project has resorted to generating tokens unbacked to fiat currency, making each USDT practically worthless. To date, none of its reserves have ever been professionally audited.
---
How is the stablecoin market eroding Tether dominance?
There are more than fifty different stablecoins currently active on the market. Not all of these are dollar or fiat pegs. Some are asset-backed tokens, like Digix Gold (DGX) tokens that are backed to gold and Propy (PRO), which is based on real-estate. Others, such as the DAI and ndau token, use a series of mechanisms and monetary controls to keep prices stable.
That said, the number of fiat-backed cryptocurrencies is also on the rise. In the past month, the Winklevoss twins released their own Gemini dollar (GUSD) and Paxos launched their own collateralized stablecoin, the Paxo Standard (PAX). Both are backed 1:1 with the US dollar and have received regulatory approval from the New York Department of Financial Services (NYDFS).
One senior analyst from a large scale cryptocurrency investment firm explained USDT's market share has been eaten away by the rise of regulated fiat backed stablecoins; something Crypto Briefing has also suggested.
The analyst pointed out that the sudden drop in Tether dominance coincided with the sharp rise in PAX. Its market cap nearly quadrupled to $63m in the two weeks since its launch on October 9th, although this had since corrected to $42m at press time.
There used to be little choice when it came to stablecoins, it was either Tether or…Tether. But USDT is no longer the only game in town. Stablecoins are attractive because they represent a port in the storm; a safe bet during turbulent price fluctuations.
Uncertainty surrounds USDT: no one knows for certain if the reserves are even backed by anything. A maturing stablecoin market, with regulated alternatives, will continue to erode Tether dominance.
Unless something changes, it could spell rubble (with a large T).
The author is invested in BTC, which is mentioned in this article.