Tezos News: XTZ Proves The Tezzie Bears Wrong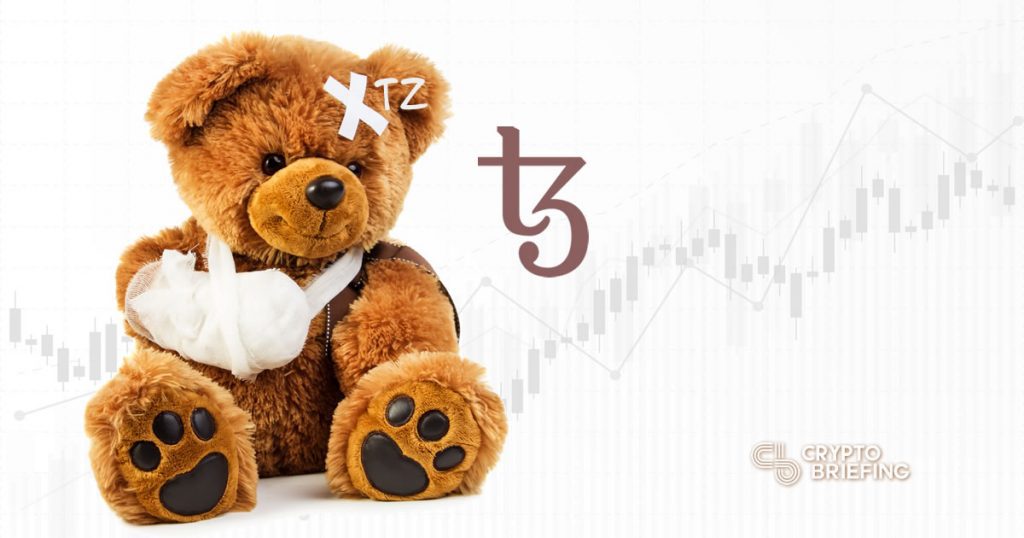 XTZ tokens have so far been the big winner with a batch of positive Tezos news over the past week. Starting at $1.22, the value of XTZ tokens – or 'tezzies' – grew throughout Monday to finish at $1.36. The rally has continued into Tuesday and tezzies were trading at $1.47 by press time as the bears retreated, licking their wounds.
Per token, this may seem incremental; but the Tezos market cap is up by more than a $100m. Why?
Part of this has been a knee-jerk reaction by the market to the surprise news yesterday Kraken would list XTZ on its servers. Exchange users will be able to purchase XTZ for Bitcoin (BTC) or Ether (ETH), as well as the US dollar, Euro or Canadian dollar. Being listed on a well-known exchange is always a big boost for a project's value; it acts as a sign of confidence that encourages greater demand and keeps existing holders from selling out.
It's not just a new listing happening in the Tezos camp. The Tezos Foundation, the body responsible for managing the project's funds, announced at the end of last week it was going to support the training of as many as 1,000 blockchain developers. Although the exact amount allocated has not been specified, the Foundation said they would invest in projects willing to draw-up training programs and provide learning resources to increase the number of programmers building on the XTZ blockchain.
Just under two weeks ago, the Foundation also announced it had issued grants for teams supporting mobile app development for the Tezos blockchain. The teams chosen include one creating a development kit for IOS devices, and another one geared towards Android devices. Another project has focused on improving secure key handling from a mobile device.
---
Tezos news was a lot bleaker in mid-winter
Tezos is a platform blockchain designed for decentralized applications, much like the Ethereum network. It relies on a unique form of Proof-of-Stake (PoS) that allows anyone to validate transactions, no matter the size of their holdings.
Little more than half a year ago, Tezos had been a byword for controversy, intrigue, and strife. Having raised more than $230m in an ICO last summer, the project's management team had descended into civil war.
A long-running dispute between Tezos' founders, Arthur and Kathleen Breitman, with Johann Gevers, the CEO of the Tezos Foundation had reached a crescendo; the SEC Chairman, Jay Clayton, had told Congress that every ICO he had seen was a security sale. Investors, who had still not received their tezzie tokens, bit their fingernails to the bone as the project behind one of the largest public sales in crypto was about to implode.
But it didn't. Gevers was finally dislodged in February. He was replaced by Ryan Jesperson, who started repairing damaged relationships with a demoralized team and irritated investor base.
PricewaterhouseCoopers (PwC) was brought in to audit Tezos' accounts and investors finally managed to access their XTZ tokens in early June.
Tezos' restoration mission culminated when it announced the launch of its mainnet last month. As Crypto Briefing reported at the time, enthusiasm grew around the project. Compared to the chaotic EOS launch, Tezos went off without a hitch. Aside from one minor delay, all went as it should during the two-month beta period.
The project has come a long way in the past seven months, but there have been bumps along the way. US authorities fined Arthur Breitman $20,000 in April for failing to disclose investments while he was working at Morgan Stanley. Disgruntled tezzie holders, who had waited more than a year to touch their investments, promptly dumped their holdings; the price plummeting from $4 to $1.70 in less than an hour.
---
Can XTZ repair the damage done?
Yesterday's Kraken listing will give XTZ much-needed exposure to a whole host of new investors, ones not around a few months ago. Price surges following token listings are fleeting; the Tezos price will likely begin to drop by the end of the week.
It will be development which, long-term, will raise the XTZ price. As the wounds between the Foundation and the Breitmans heal, the substantial war chest, accumulated during the ICO, can go towards the project's long-term development, creating a better quality project. This will attract more users, with higher demand likely to raise the Tezos token price.
Tezos' euphoric early days turned quickly into disillusionment by the end of last year. That the project started 2018 at rock-bottom may play to its advantage. Tezos was allowed to develop, almost uninterrupted, in the spring and the summer months.
Its mainnet launched into beta with little fanfare because many XTZ holders had already sold out. That it launched successfully in September, in stark contrast to other chaotic mainnet releases, was the first big step Tezos took to restoring its name.
Today's news shows Tezos is on the past to recovery. Reputation is hard-won… but easy to lose. The project squandered its social capital last year, time will tell whether a spate of positive Tezos news will be able to reclaim some, if not all, of it back.
The author is invested in BTC and ETH, which are mentioned in this article.