Tezos Staking Thriving Despite Exorbitant Service Fees
Tezos staking is thriving, with 79% of all tokens staked. However, exchanges are eating away at returns with outrageous fees.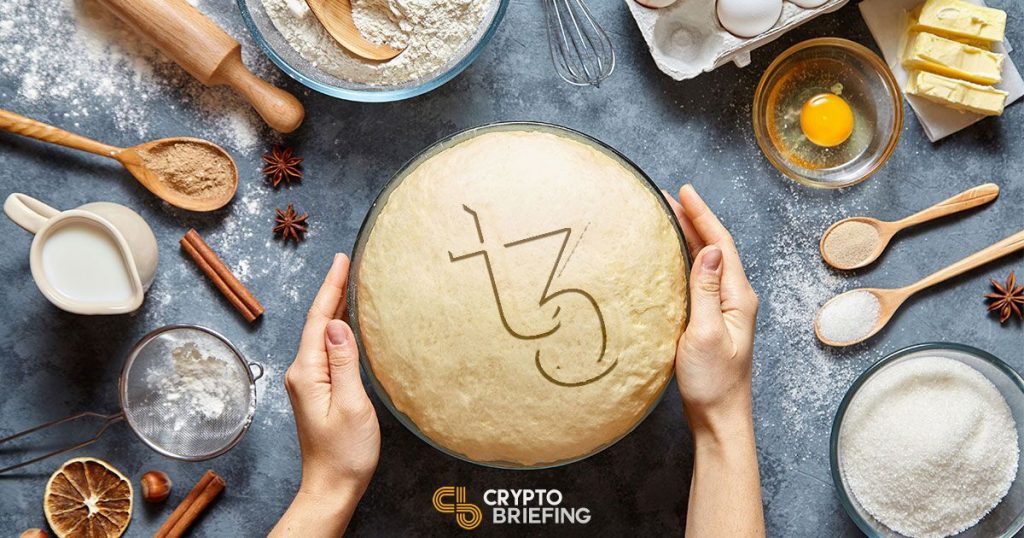 Staking on Tezos is thriving. However, fees as high as 30% are not uncommon among staking providers. Here's how to walk away with more bread.
Much of the growth in staking is largely thanks to centralized services like Coinbase. Tezos staking on centralized exchanges has grown significantly over the past month, increasing 27% since January.
Coinbase holds more than 8% of the network stake through a balance of 58 million XTZ, making it the largest staking provider for Tezos—despite 25% fees.
Tezos Staking at All-Time Highs
While not a new concept, staking saw its popularity rise only in 2019 as more crypto projects began abandoning the proof-of-work (PoW) concept and turning to proof-of-stake (PoS). With projects such as TRON, EOS, Steem, and Tezos taking over the market, the popularity of staking continues to grow.
The growth in popularity isn't felt only on social media—cold, hard data backs up this observation showing that staking everywhere is on the rise.
A perfect example that illustrates just how popular staking has become is Tezos, a PoS blockchain network behind the XTZ coin. Custodial staking of XTZ on centralized exchanges has been growing quickly since the beginning of 2020, according to analytics company Blockwatch Data.
Alexander Eichhorn, the founder of Blockwatch Data, reported that 127 million XTZ were held by custodians at the end of February. The number, he said in the Our Network newsletter, represents 19% of all staked coins and 15% of the total supply of XTZ. This is a 27% increase from January when 31 million fewer coins were staked.
Network-wide staking is also on the rise with a 3% increase since last month and has reached a new all-time-high of 79%. In perspective, only about 3 million new XTZ coins were minted in February, Eichhorn noted.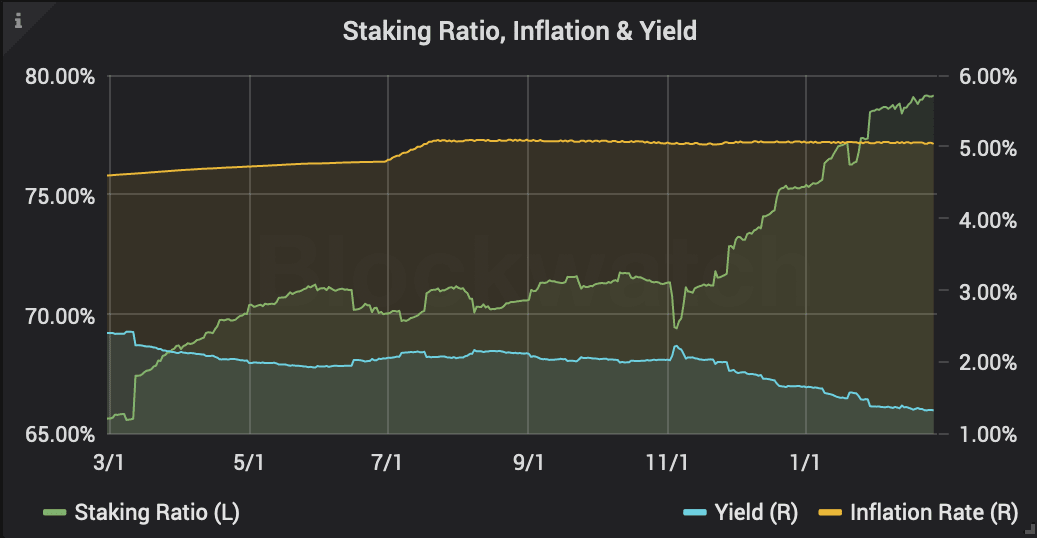 Nobody Seems to Care About Fees
While the popularity of staking was somewhat expected, as it provides a way for users to earn a passive income from their cryptocurrency holdings, the popularity of centralized custodians certainly wasn't.
Einchhorn's take on the growth of custodial staking services was that it was "impressive." Coinbase, the largest cryptocurrency exchange in the U.S., has become the largest staking provider in Tezos in the past 4 months with over 8% of the network stake. With 27%, the Tezos Foundation is the only entity that manages more stake. Kraken, on the other hand, manages only a little over 4% stake in the XTZ network.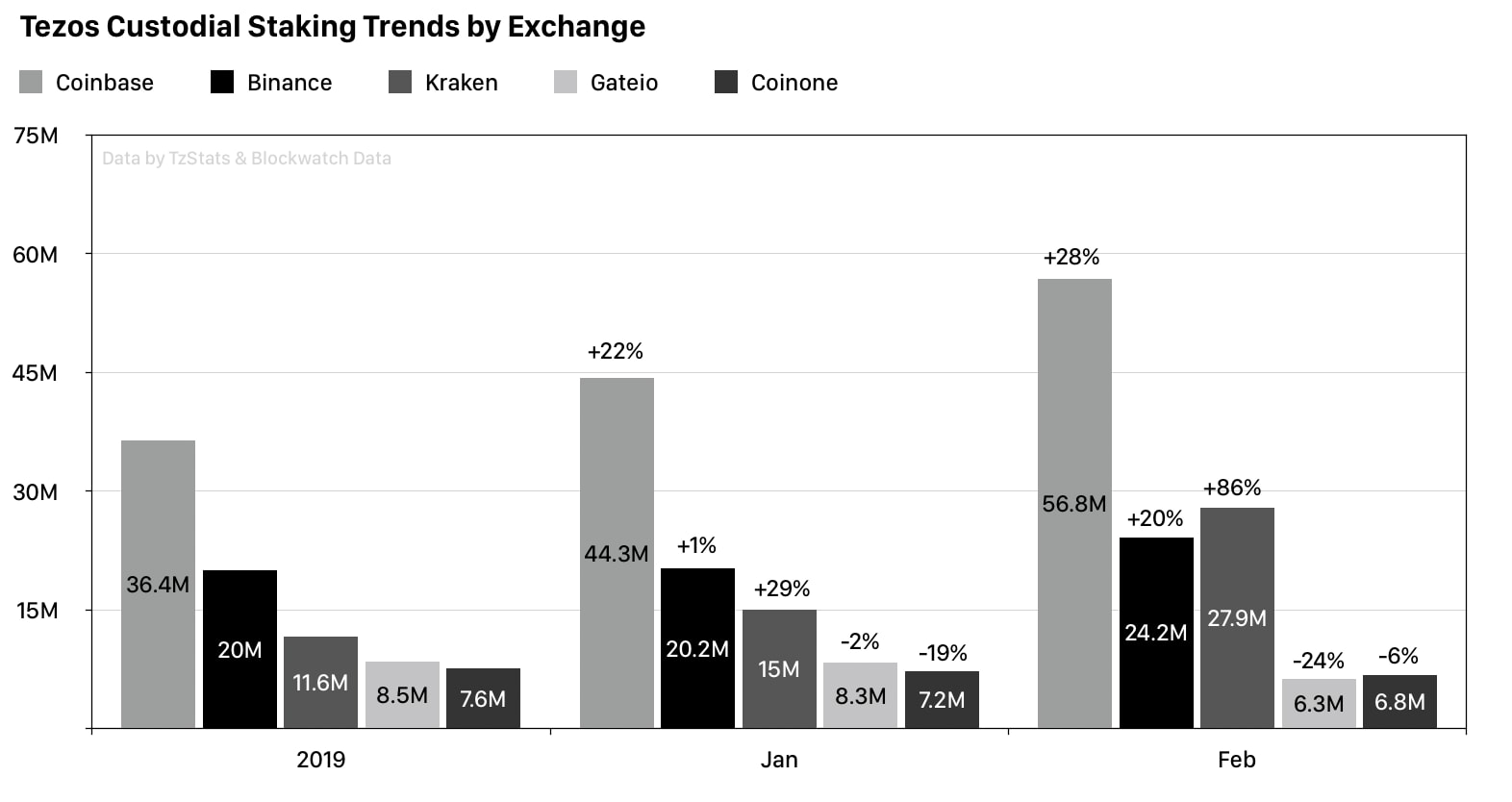 Those interested in staking Tezos should use MyTezosBaker to find and compare different delegation services. According to MyTezosBaker, Coinbase is not the most expensive delegation service. KuCoin charges fees of 50%, Validators.com charges 30% and Gate.io charges 28%.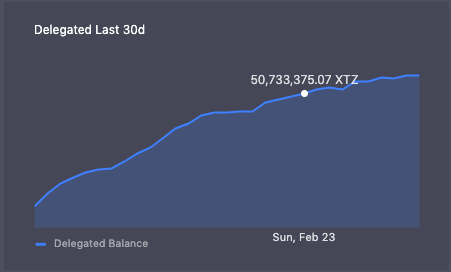 JF Hotte, the founder of XTZ delegating service TezosTacos, finds the number of people staking on high-fee services such as Coinbase astonishing. Hotte believes that the numbers clearly show that many stakers misunderstand how these services work.
"TezosTacos only charges 7% compared with a 25% fee at Coinbase," he told CryptoBriefing. "It is also safer to hold your own coins/keys in a hardware wallet."
Hotte told CryptoBriefing that the Ledger wallet enables users to easily delegate their XTZ from the safety of their hardware wallets while owning their private keys. Hotte concluded, "remember, not your keys, not your cryptos."