TIME Magazine to Hold ETH on Balance Sheet
In a deal with Galaxy Digital, TIME Magazine will accept and hold ETH in exchange for metaverse content.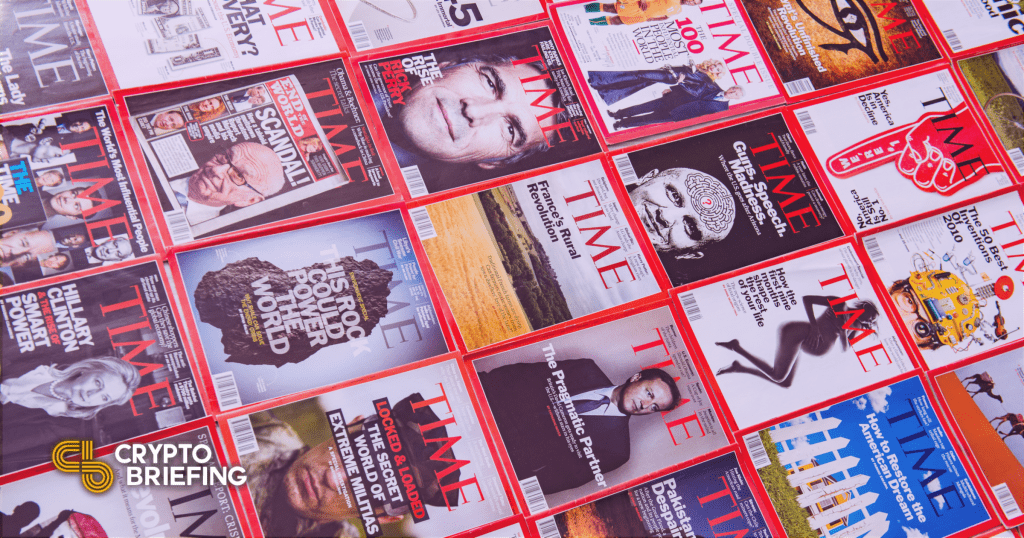 Key Takeaways
Galaxy Digital has entered a content deal with TIME Magazine to cover metaverse topics.
Financed in ETH, the partnership will launch TIME100 Companies in metaverse category.
According to Galaxy, TIME agreed to accept and hold ETH on its balance sheet.
TIME Magazine will hold Ethereum on its balance sheet under a partnership with Galaxy Digital focused on metaverse content. The deal comes with the launch of the TIME100 Companies category on the metaverse.
Galaxy Pays TIME Magazine in ETH for Metaverse Content
According to a Thursday press release, Galaxy Digital's entertainment arm, Galaxy Interactive, has entered a content sponsorship deal with TIME Magazine. With the partnership, the magazine will be launching a new version of its TIME100 Companies, featuring the top global companies and entrepreneurs in the metaverse space.
"Metaverse" is a term used to refer to new virtual worlds that leverage virtual reality and are hosted on public blockchains like Ethereum. There are different metaverse projects that incorporate elements from blockchain gaming, such as non-fungible tokens (NFTs) and other financial incentives, called GameFi.
The partnership with TIME Magazine was financed in Ether (ETH), the native asset of Ethereum blockchain and the second-largest cryptocurrency. As part of the deal, the 98-year old magazine has agreed to accept and hold ETH on its balance sheet, making it the first major media organization to do so.
The Galaxy-TIME partnership also includes a new weekly TIME newsletter, "Into The Metaverse," as well as educational material designed to educate readers on the metaverse topic. Galaxy Digital said it will leverage its expertise to help the magazine cover the fast-emerging metaverse space.
While the metaverse concept was first introduced by crypto projects like Decentraland in early 2020, it reached mainstream consciousness after Facebook rebranded to Meta last month. The social media giant has revamped its strategy to focus on building online virtual spaces, which has become a catalyst for the recent metaverse boom.
In April 2021, TIME partnered with Crypto.com to offer cryptocurrency as a form of payment for digital subscriptions. However, at that time the magazine did not hold ETH but merely used it as a payment method. A month prior, it auctioned three magazine covers as NFTs on SuperRare, a popular crypto marketplace.
"We look forward to partnering with TIME, an iconic brand driving innovation, as we seek to bring readers, creators, and the curious into the metaverse and demystify the tremendous amount of transformation happening within," Mike Novogratz, CEO and founder of Galaxy Digital, said on the partnership.
Notably, in Oct. 2021, Galaxy raised $325 million in a venture capital fund to make investments in NFTs, gaming, and metaverse-related startups.
Disclosure: At the time of writing, the author of this piece owned ETH and other cryptocurrencies.