Token Burn Wars Heat Up as Huobi Outpaces Binance
Token burn wars flare, but CZ doesn't seem to care.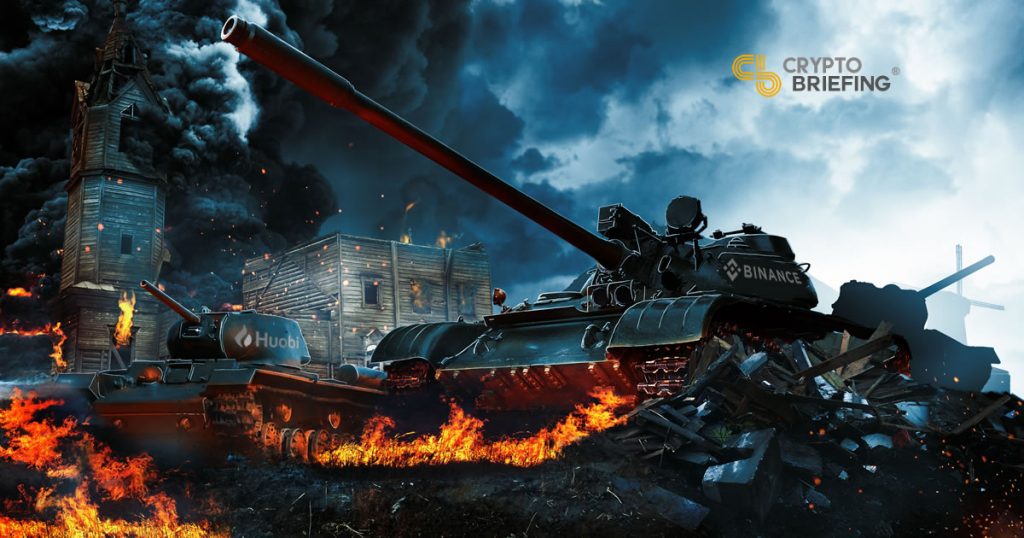 Everybody likes a good supply-sapping token burn. The first quarterly kilning of native exchange tokens took place in October of 2017 at Binance, and burning is now conducted by Huobi and Bitfinex, as well as Tether when trouble brews and people want their real dollars back, among others.
Binance has conducted its ninth quarterly BNB burn, subjecting 2,061,888 BNBs to death by fire. That's the equivalent of around $36.7 million. Back of the envelope calculations, given the exchange burns twenty percent of its profits for the quarter, suggests the company made something in the order of $186 million in Q3, its second most successful quarter ever.
https://twitter.com/BinanceChainBot/status/1184698712276295681
To date, 14.5 million BNB tokens have been burned from the initial 200 million printed. The exchange plans to eventually burn half of all BNB tokens. With about 85 million left to burn, at current rates the process will see ten more years of burnoffs. Their second most successful quarter comes amid a slowdown in trading volume and a fairly quiet market.
---
We Don't Need No Water…
Competitor Huobi also demonstrated a successful third quarter, burning 11,332,100 Huobi Token (HT) tokens, a more than 70 percent year-on-year increase. The market value of that burn is around $40.6 million at current prices.
Huobi burns 20 percent of its Huobi Global and Huobi DM revenues to repurchase and burn its native token every quarter. Their last burn, for Q2 2019, saw over 14 million HTs removed from circulation, worth around $53 million.
In the same quarter, Binance burned just over 800 thousand tokens, worth $23.8 million. Huobi claims continued growth in spot and derivatives trading is behind its growing success.
"Huobi Token plays a core role in the Huobi ecosystem," explained Livio Weng, CEO of Huobi Global. "The continued growth from Huobi's token burns reflects the community's active participation and optimistic outlook for our efforts to provide users with new services, lower fees, and a secure platform to trade on."
Huobi's new platforms, like Huobi OTC Desk and Huobi DM, recently surpassed the 24-hour trading volume of major competitors. The exchange has also recently launched its All Star VIP Fee Structure, FastTrack, and Prime products, which encourage users to participate in the Huobi ecosystem with HT. The company attributes much of its success to these new innovations.
So far, more than 30 million HTs have been burned, representing around 13.8 percent of total circulation.
---
Huobi: More Profitable Than Binance? CZ Not Concerned
Huobi has had two successive burns suggesting around $465 million in profit for quarters two and three of 2019. The equivalent for Binance comes to around $295 million in profit, suggesting its Singapore-based competitor is catching up to the industry leader.
According to Weng, who described the rivalry between the two exchanges as just "healthy competition", Huobi was outpacing its rival "in terms of the speed, innovation and quality of services we put out into the market".
CZ doesn't seem too concerned. On the company's blog post, CZ claims profits may be lower than other exchanges because "we actively fund and invest in long-term growth projects, regardless of market conditions."
---
As Competition Heats Up, Binance Flexes Utility Muscle
Despite recording lower profits than Huobi, CZ placed a clear emphasis on the utility of Binance's native token.
Binance provided graphics demonstrating the exchange's commitment to BNB utility, comparing pre-2019 projects with current-day projects on the Binance and BNB platforms.
Binance's whitepaper reworded the description of its BNB burn in April to remove reference to a token "buy back". CZ explains that simply referring to the burn as a burn more accurately reflects the process the exchange uses in its quarterly bonfire.
The CEO explained on the 9th burn blog post that "Binance does not "buy back" BNB for the burn," implying that a pure burn of held tokens is a sign of a healthier and more transparent exchange than one that first needs to buy its native tokens in order to then burn them.
Binance's longstanding dominance may be coming to an end as it has finally found a competitor.
That illustrates a maturing and healthier ecosystem than the one that caught a cold whenever CZ sneezed.