New Neighbors: Five Projects Migrating To Binance Chain
BNB Chain offers faster transactions, but it is more centralized.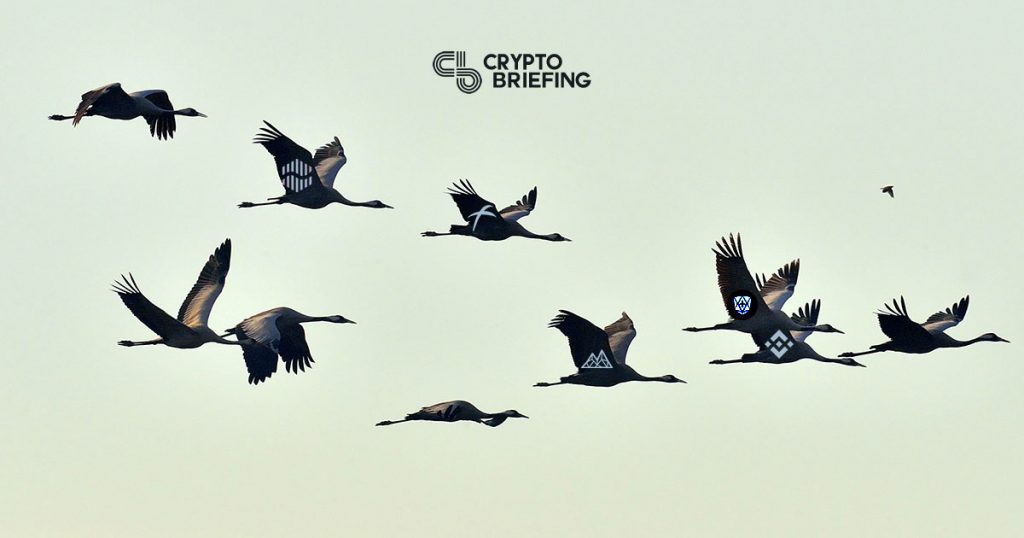 This April, Binance branched out by launching Binance Chain, a brand-new blockchain built to host Binance DEX and a variety of third-party tokens. Since then, the new platform has become a hot destination for crypto tokens in search of a new home.
Here are five notable projects that have recently migrated their tokens to the platform.
---
Mithril: A Social Rewards Network
Mithril is a social network that uses a process called "social mining" to distribute crypto rewards. Basically, content creators can earn MITH tokens by posting content on its social platforms. Mithril also offers a "vault," which allows you to store MITH and swap it for other cryptos. The project is working on a network for merchants as well.
Mithril is particularly notable because it was the first project to migrate its token from Ethereum's ERC-20 standard to Binance Chain's BEP-2 standard. The project cited Binance Chain's usability and security as its reason for moving between platforms, and it also says that Binance Chain's "incredible" one-second block times were a deciding factor.
---
Aeron: An Aviation Safety Platform
Aeron is an aviation safety platform that aims to prevent human-caused flight accidents. To do so, Aeron is using blockchain tech to manage information pertaining to pilot experience, flight logs, and flight school records. The team intends to ensure that aviation records cannot be lost or tampered with, and it's making sure that authorities can obtain accurate data.
This May, Aeron decided to put its ARN token on Binance Chain due to the platform's "speed, security, and transactional efficiency," and it will also put the CryptoBonusMiles token on Binance Chain as well. This will be a gradual change: Aeron will maintain support for the Ethereum version of the ARN token for the coming year.
---
DeepCloud AI: A Decentralized Cloud Computing Project
DeepCloud AI is a cloud computing platform with AI features. As the project's website explains, "the AI matching engine matches the right resources based on application needs and location." This means that DeepCloud AI has applications in plenty of different areas, including smart city infrastructure, supply chain management, TV services, and AI learning.
The project made the leap to Binance Chain in June, when it converted its Ethereum-based DEEP token to to Binance Chain's BEP-2 standard. DeepCloud AI cites Binance DEX's "low-latency and high throughput" as its reason for moving. It also praises Binance DEX's trustless user experience, which means that Binance doesn't maintain central custody of funds.
---
Fusion: A Financial Transaction Ecosystem
Fusion is a blockchain platform for financial applications. For example, it allows developers to build financial asset management tools, create an exchange, manage licenses and royalties, and more. It also aims to provide a high level of interoperability and become "the most connected ecosystem in the cryptocurrency landscape."
Fusion migrated its FSN token to Binance Chain this June, citing the blockchain's speed, security, and user-friendliness as the reason for its decision. Though Fusion is only migrating a portion of its tokens to Binance Chain's BEP-2 standard, the relationship is deep and reciprocal: Binance Coin (BNB) will be available on Fusion as well.
---
Red Pulse: A Market Intelligence Platform
Red Pulse is a market intelligence platform that provides insights on China's market. Essentially, it allows its clients to access research and other data about Chinese companies. Many of Red Pulse's insights are displayed publicly on its website, but it also connects its clients with experts and custom research through its Expert Network.
Red Pulse integrated its token with Binance Chain in May, but the token will continue to co-exist as a NEO NEP-5 token as well. Furthermore, Red Pulse is planning to build a Python SDK for its platform, which will work with both NEO and Binance Chain. The end goal is to keep Red Pulse's information and knowledge adequately preserved across both blockchains.
---
The Bigger Picture
Binance Chain is quickly becoming a notable competitor to Ethereum, NEO, and other blockchains – at least, as far as tokens are concerned. Binance Chain's fast transactions, non-custodial features, and interoperability with other platforms seem to be attracting plenty of projects. Of course, brand recognition probably doesn't hurt, either.
So far, at least 19 projects have relocated to Binance Chain or listed their token on the platform – we've covered Verasity's migration and V-ID's launch as well. Furthermore, Binance Chain has gained support from wallets and exchanges. If it continues to attract support at this rate, Binance Chain could become a very significant platform.
Nevertheless, Binance Chain has attracted controversy. Critics argue that the platform isn't truly decentralized, as it is a BFT-based blockchain with relatively few nodes. On the other hand, this is precisely what allows Binance Chain to handle large transaction volumes. It's not clear if this is an acceptable trade-off, but many projects seem to believe it is.