What Is Mithril? Introduction To MITH Token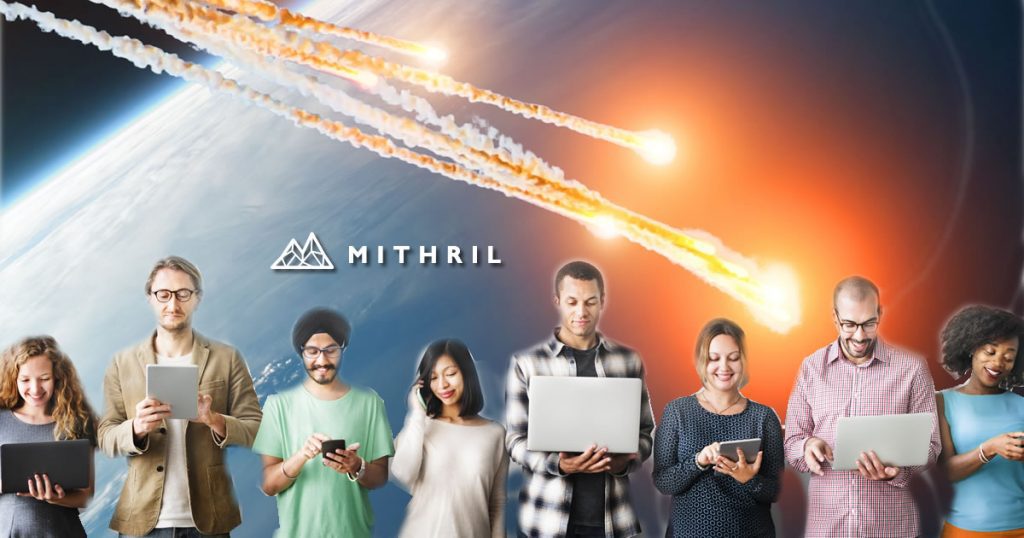 What is Mithril?
Mithril is a cryptocurrency token that represents a new kind of decentralized social media, based on the blockchain, that will pay its users for creating content. User privacy is a hot button right now and user payments could and arguably should be the next stage of social media. Mithril has viable blockchain technology that could be in the right place at the right time.
---
An Introduction to Mithril MITH
Social media is a big business. Pew Research shows 68 percent of American adults are on Facebook alone, and 74 percent of those users access the platform daily. Mark Zuckerberg is worth over $67.1 billion from the tech juggernaut. It's no wonder tech entrepreneurs and startups like Mithril rush to become "the next Facebook."
Mithril is bringing this social trend to the blockchain, along with decentralized competitors like Sapien, Steemit, Sola, Indorse, and Waves. It initially used the Ethereum blockchain to create an app ecosystem that rewards social content creators and curators with MITH tokens for participating.
A migration to Binance Chain's BEP2 standard was announced alongside the Mithril mainnet release April 18, 2019.
Mithril (MITH) is unrelated to Mithril Ore (MORE), an Ethereum-based project.
Founder Jeffrey Huang believes content creatores should profit from the platform instead of being used as advertising fodder. Social mining, together with normalised 'tipping' through Patreon alternatives, is a novel concept, and yet it's easy to see it taking off.
Despite barely being launched in March 2018, Mithril has skyrocketed up the charts to become one of the most valuable cryptocurrencies. So the goodwill is there for Mithrill MITH.
Before exploring Mithril's market viability and determining if it's worth the buzz, let's review MITH, the platform's proprietary BEP2 token, in terms of its market cap and exchange rate.
---
Breakdown of MITH Token
Mithril has a total supply of 1,000,000,000. Its peak price so far was $1.47 on May 11, 2018. The exchange rate since stabilized under $0.50 in 2018 and 2019.
Instead of a public ICO, Mithril held a private ICO crowdsale to accredited investors. During this event, 400,000,000 MITH was distributed and 50,000,000 was retained by the Mithril team for development and marketing.
Mithril MITH tokens are mined by participating on partner applications and this social mining is a game-changer. Creating and sharing content earns Mithril MITH, which can then be spent with partner applications. Because mythril is a crafting ingredient in the Final Fantasy video game series, online searches for how to spend MITH have these pages mixed in, which will likely continue for several years until the platform gains enough big-name retail spending partners to rise up SEO rankings.
Eventually, as with Facebook, a merchant network will get drawn to the ecosystem and low transaction fees, as well as direct payments, should open up social sales for small companies, as well as big business.
The Mithril Vault is the platform's wallet, and it will synchronize and store MITH across all platforms. It will also allow crypto exchange between MITH and other currencies like ETH, and eventually BTC and fiat currencies. The amount of MITH tokens in your Mithril Vault affects your staking level in this Proof-of-Stake blockchain.
MITH is tradeable on many popular crypto markets, including Bitfinex, OKEx, HitBTC, CoinExchange, Bithumb, Bitforex, and LBank, although the vast majority of trading occurs at OKEx. Its trading pairs are typically ETH, BTC, and USDT.
Over $50 million worth of MITH is traded on a daily basis.
---
Social Media and the Scourge of Fake News
Building and populating a social media network isn't easy, and while Facebook and Twitter became media darlings for keeping users engaged for so many years, the platforms are experiencing pushback the since the 2016 US election.
In April 2018, Facebook CEO and founder Zuckerberg was grilled by Congress over Facebook's usage of personal user data and its part in Russian interference of the US election process. Russian companies reportedly sowed the seeds of division among different demographic groups within the country.
Users are increasingly wary of giving personal information to media companies, and even Snapchat, which uses a temporary messaging system, is feeling the squeeze. Monthly active users have declined throughout 2018 on all major social platforms as consumers look to gain control over the data they share.
Mithril thinks it has the answer in its new blockchain-based social platform. Not only will users be rewarded for using the platform itself (which includes popular social features like stories and messenger through its Lit app), but it promises to work with any compatible platform. It's decentralized by its very nature and that offers increased security and control to the end user.
Any of the larger social media platforms like Facebook, Instagram, LinkedIn, Pinterest, YouTube, Twitter, or Snapchat could use MITH to monetize user actions and increase engagement. In fact, these companies are reportedly looking into developing their own cryptocurrencies.
Facebook is looking for ways to facilitate payments on its platforms, a feature it included in FB Messenger back in 2015 and is testing on WhatsApp in 2018. Meanwhile Snap's main investor Lightspeed Venture Partners is also considering a crypto investment fund.
These platforms moving into social media could prove advantageous to Mithril. Facebook already has enough built-in features to facilitate its own cryptocurrency programmed in-house. If it proves profitable, other social platforms will rush to create their own, and many will find it easier to simply adopt an existing crypto like Mithril.
Of course, Mithril isn't the only social media crypto on the blockchain. Steem, Waves, and others have early market advantage and could easily be chosen too. But Mithril is betting on users hoping to go viral and gain Internet popularity.
---
Going Viral in Today's Society
In the 20th century, becoming famous meant working with the existing movie, TV, and music industries. Established studios had an oligopoly on the media, and playing ball with them was the only way for stars like Leonardo DiCaprio and Beyonce to gain recognition and earn a living.
The internet changed all of that, and now social platforms like YouTube and SoundCloud are incubating the new generation of celebrities.
Post Malone, for example, gained the attention of record labels in 2015 by dropping "White Iverson" on SoundCloud, which has over 8.4 million listens. He since broke the record for most simultaneous songs in the Billboard Hot 100's top 20 with 9. The record was previously shared by J. Cole and The Beatles. You read that right – Post Malone outperformed The Beatles on the Billboard music sales charts.
Rob Delaney rose to fame as a Twitter comedian. After gaining a following on the platform (he's now at over 1.5 million followers), Delaney co-wrote and co-starred in Catastrophe, a highly-rated British sitcom available on Amazon Prime.
Meanwhile vloggers Jake and Logan Paul represent the new age of reality stars, and they got their start on Twitters now-defunct Vine platform. Logan sits at just under 18 million YouTube followers, despite a controversial video of a dead body filmed in Japan's suicide forest. His brother Jake has just over 16 million YouTube followers that led to a short-lived Disney contract.
Every day people (especially children and teenagers) are clamoring for the type of self-starting fame these Internet sensations seemingly enjoy. This need for virality regularly spawns stupid, and sometimes even dangerous, social media "challenges" like the Tide Pod Challenge and the Keke Challenge. Several people have died trying to attain fame through social channels.
In reality, the internet stars mentioned above, along with most popular YouTube channels, have dedicated professional staffs. Reaching these levels of virality as an average Joe is all but impossible without industry knowledge. Still, over 2.46 billion people use social media platforms to connect with friends and family while often hoping to reach larger audiences.
---
Mithril Summary
Mithril is yet another blockchain-based social media platform, but that doesn't mean it can't succeed. Facebook was created during the MySpace craze and far outlasted its predecessor. Even with its popularity, Twitter and Snapchat managed to find their own niches and social mining could be the USP it needs.
There are several key factors fueling Mithril's chances of success.
Mithril was an Ethereum-based platform that uses the MITH ERC-20 token to incentivize social media participation. The mainnet is based on Binance Chain as of April 2019.
MITH can be integrated into any social media platform. The Mithril team plans to partner with existing social platforms around the globe to distribute its cryptocurrency and blockchain mining duties.
The Mithril Vault is the platform's wallet and is used for storing funds, staking, and exchanges into other currencies.
With these pieces in place, Mithril could be the next generation of social media platforms. Or it could become a very expensive flop. Partnerships and user adoption are vital to the platform's success. Let's hope they gain traction in these important areas.