Top 5 Decentralized Exchanges by Trading Volume
A brief look at top decentralized exchanges by trading volumes for the past week.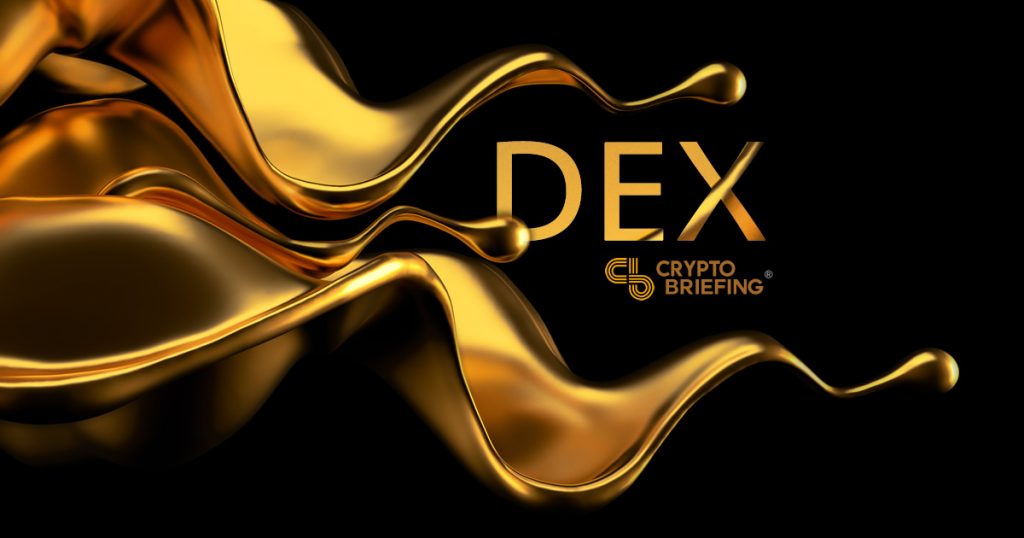 Key Takeaways
Decentralized exchanges (DEXes) recorded $2.4 billion in volume in 2019.
Two top DEXs, Uniswap and 0x, had 7-day trading volumes of $67 million and $25.7 million, respectively.
Data showed that a small number of traders were responsible for DEX volumes.
Once a niche market for the privacy-conscious, decentralized exchanges (DEXes) have now become an integral part of the crypto market as the total trading volume reached $2.4 billion in 2019.
With some of the largest custodial exchanges such as Binance and OKEx launching their own decentralized counterparts, it's a market segment worth keeping tabs on.
These are the top five decentralized exchanges with the highest trading volumes in the past week.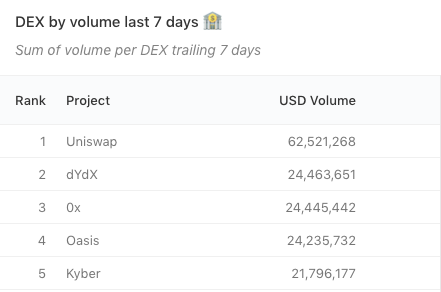 1.Uniswap
A fully decentralized protocol for automated liquidity provision on Ethereum, Uniswap is the largest decentralized exchange by trading volume.
According to data from Dune Analytics, Uniswap recorded a volume of over $62 million in the past week, with over 8,283 traders visiting the DEX during the time. Almost one-third of all DEX volume in the past week happened on Uniswap.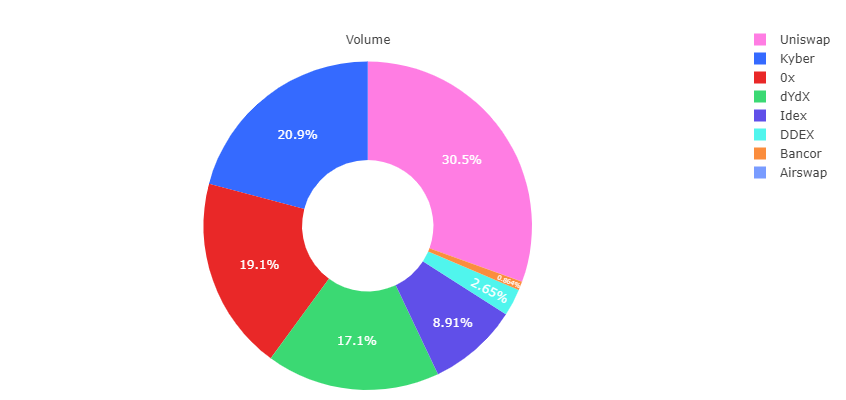 2.dYdX
dYdX, a DeFi-native margin trading protocol, witnessed record growth as crypto markets crashed earlier this month. The platform's business model, particularly free flash loans, provided it with $24.4 million in trading volume in the past week. It accounted for 16.43% of the total trading volume on DEXes.
An interesting fact is that only 598 traders were responsible for the protocol's volume during that period.
3.0x
0x is an open protocol that enables the peer-to-peer exchange of assets on the Ethereum blockchain. Aggregating liquidity from Kyber, Uniswap, Oasis, and other decentralized exchanges, the protocol recorded $24.4 million in volume in the past seven days.
The exchange accounted for 15.15% of the DEX trading volume in the past week.
4.Oasis
A decentralized platform that enables users to exchange tokens, borrow Dai, and earn savings, Oasis is built on top of Maker's smart contracts. The Simple Market and Matching Market smart contracts enable trustless, atomic exchange of ERC20 tokens.
The features have made it the fourth-largest DEX by trading volume, as it saw $24.2 million in the past week, gaining just over 9% of the market share. Just 320 traders were responsible for the volume during the time.
5. Kyber
With 5,198 traders active last week, the on-chain liquidity protocol Kyber Network is one of the most popular DeFi apps.
Kyber, its decentralized exchange, recorded a seven-day trading volume of $21.79 million.