Traceto ICO Review and T2T Token Analysis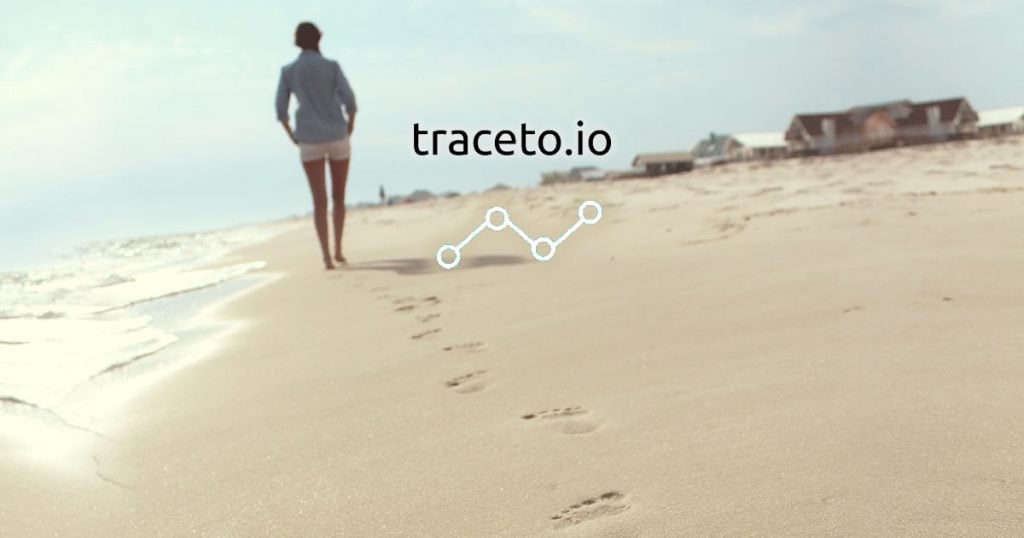 Traceto ICO Overview
The Traceto ICO and T2T Token offer a decentralised Know Your Customer (KYC) network that provides a comprehensive solution for companies in the crypto space by combining automated identity verification with the blockchain.
With the recent explosion in the popularity of the cryptocurrency market, the need for more effective and streamlined approaches to KYC is self-evident. The aspect of anonymity inherent to the technology makes the need for new approaches to KYC even more pressing.
UPDATE: We have reassessed our evaluation of the Traceto ICO based project development since the first publication of this review. Community support for the project has significantly declined as a result of frustrations pertaining to team communication and transparency practices. We have updated our final score of the project accordingly.
Traceto ICO Value Proposition
Traceto is a decentralized digital identity system for streamlining KYC procedures. The parent company behind Traceto, Cynopsis Solutions, offers a KYC software product called Artemis that is already used within the crypto space by likes of Kyber and ICON for conducting KYC/ Anti-Money Laundering (AML) procedures on investors.
Artemis automates the on-boarding, KYC, AML risk assessment and documentation processes for customers. Building off the existing product, Traceto introduces blockchain into the system as a means to meet the increasing challenges presented by KYC in the crypto space.
Personal Identification Information (PII) is uploaded by the User, encrypted with a public key, and will initially be stored on IPFS. Traceto introduces a "liveliness" element to conduct identity verification for users, requiring them to record a short video. Traceto utilizes facial recognition in addition to a time signature of the video upload as mechanisms to further ensure against fraud.
A Corporate Requester, such as an ICO or exchange that requires KYC services, utilizes the Traceto Token to access User reputation scores or identity documents, for a fixed period of time.
Traceto aim to include a unique system of decentralized verification by a network of peers into the overall reputation score assigned to the digital ID of a User. A Verifier is a trusted User who stakes T2T to gain the opportunity to earn T2T by performing KYC related tasks. Verifiers undergo stricter background checks, screening and ongoing due diligence. Verifiers also serve as gatekeepers to User data.
The data, stored in a secure encrypted vault, can only be decrypted by either the Users themselves or the Requester after receiving permission from a minimum number of Verifiers. Verifiers themselves never have access to encrypted data of Users. Instead, they are tasked with conducting an extra level of due diligence incorporated into Traceto's social reputation system.
Verifiers perform an extra level of KYC through information that is available in the public domain, via social media or public records. Traceto intend to utilize social verification to supplement the regular KYC process, as a step toward further decentralization. The resultant reputation score will be included with a User's digital ID.
The Traceto Ecosystem will deploy several DApps to facilitate the KYC network:
User DApp – provides Users an interface to access the Traceto Network. The onboarding process begins when the user uploads his or her PII and passes the liveliness test.
Service Provider DApp – allows a Service Provider to check KYC information and update reputation scores. The scores will be encrypted and put on to the chain. Cynopsis Solutions will act as the initial Service Provider upon launch of the network.
Corporate Requestor DApp – gives Corporate Requesters an interface to pay for Users' KYC requests and renew them upon expiry. It also offers access to User public keys and KYC scores.
Community DApp – allows community Verifiers to conduct social verification of new users, apply to become a Verifier, handle requests from Requester parties to view user documents, and perform other governance roles.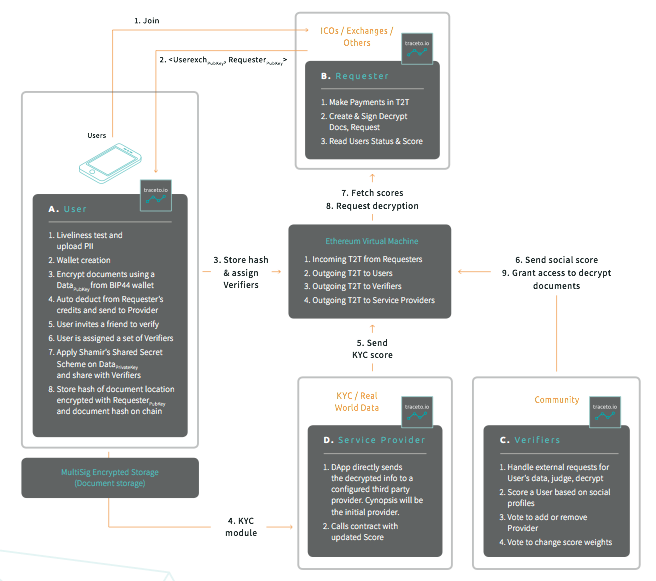 Diagram of Traceto DApp Ecosystem
The Traceto Token (T2T) is built on the Ethereum Network. Corporate Requesters purchase KYC services to onboard new users using T2T. In order to become a Verifier, Users are also required to stake a certain amount of T2T. This stake will be a small initially, but increases as the number of Users and Verifiers increases. Rewards to Verifiers for performing KYC tasks are paid in T2T.
Traceto ICO Team

Chye Kit Chionh is the Founder and CEO of Traceto. Chye is an expert in financial compliance and has almost 20 years of experience with financial and capital markets in Asia, having spent a significant amount of that time with Macquarie Group and ING Bank. His last role with Macquarie was Managing Director and Joint Regional Head of Compliance for all of Asia, before moving on to later found Traceto parent company Cynopsis Solutions. Chye also serves as an Advisor to the Kyber Network.
Dias Lonappan is CTO and Co-Founder. Dias already has 4 years of experience serving as a CTO in the blockchain field with Quantified Assets PTE. In this capacity he ran several blockchain-based projects including healthcare analytics, privacy protection architecture and recording of physical assets based on user public keys.
Gene Yan Ooi serves as Chief Data Scientist and Co-Founder of Traceto. He has been a Software Engineer at Cynopsis Solutions for the past 4 years. He is the creator of one compliance solution product and also helped develop the Artemis KYC software system.
Dan Poh is CMO and Co-founder. Dan has served as Director of Sales for a year with Cynopsis Solutions. He has held various positions within the financial sector at institutions such as Barclays Capital, JP Morgan and Deutsche Bank, where he served as a Compliance Officer.
There are a number of advisors working with the Traceto ICO. Among them is Dr. Loi Luu, CEO of Kyber Network. As exchanges are one of Traceto's major targets for their product, the involvement of Dr. Luu is certainly promising.
A full list of the team and advisors can be found here.
Traceto ICO Strengths and Opportunities
Traceto is not being built from scratch. With an existing KYC product that is already generating revenue, Traceto comes from a company with a track record of success in its target industry. With over 50 clients in the crypto space utilizing Artemis, there is ample opportunity for adoption of Traceto.
One promising partnership that has already been announced is with Kyber Network. Kyber intend to utilize Traceto as their means of conducting KYC. A high-profile integration such as this in the target market could bode well toward the ever-looming question of adoption. Furthermore, as ICOs continue to emerge, a steady pipeline exists that could help Traceto acquire both new users and enterprise customers.
The team themselves are also highly aware of and on the forefront of the regulatory compliance issues that currently threaten the cryptocurrency market. Many legislators around the world are exploiting the lack of regulatory oversight in the crypto space as a reason to push back against wider adoption. Traceto is the product of a team that has decades of experience with financial compliance and regulatory technology.
To this accord, Traceto is built to meet the standards laid out by the Financial Action Task Force, a global regulatory authority comprised of 35 member countries that sets the international policy standards for combating money laundering and financing of terrorism.
By providing a product that properly streamlines compliance with internationally agreed upon standards, specifically tailored toward the crypto space, the adoption of Traceto could help fasttrack wider mainstream acceptance and usage of blockchain technology.
Traceto ICO Weaknesses and Threats
There is no shortage of ICO projects targeting the KYC and identity authentication market. Further, the market valuation of the entire anti-money laundering software market is predicted to reach $1.4 billion by 2023.
The takeaway? There's lots of blockchain competition in a niche market. Traceto address the competition direction via a comparison chart illustrating the differences between their product and Civic, SelfKey and uPort.
While a limited market in a sense does represent a threat, it also presents an opportunity. What the aforementioned market valuation does not necessarily take into consideration are two significant trends that both stand to benefit Traceto.
Firstly, cryptocurrency is predicted to only continue permeating new markets and grow in adoption over the next five years.
Secondly, as previously mentioned, the mainstream adoption of cryptocurrency will almost certainly occur via the introduction of more stringent regulations that are heavily focused on KYC and AML legislation, increasing the demand for such products.
Traceto are particularly well positioned in comparison to the competition within the crypto space as these trends play out. Not only does the team have extensive experience in the field of financial compliance, but they also have a working software product that is already used as a KYC tool by both ICOs and cryptocurrency related businesses.
The team's real-world expertise of regulatory compliance and existing position within the crypto space as a KYC provider are two advantages that hold particular promise for the Traceto ICO.
Conversely, as a product that is specifically targeting the crypto space, if the regulatory environment takes a turn for the worse, it will most certainly impede any niche market advantage.
The Verdict on Traceto ICO
The Traceto ICO offers an important contribution to improving the infrastructure of the crypto space. With a team that has an extensive background in both RegTech and blockchain, Traceto is well poised to leverage a successful track record and capture their target market.
Still, development is still in the early stages and the success of the product rests heavily on its viability and usability upon deployment with partners like Kyber.
Learn more about the Traceto ICO from our Telegram Community by clicking here.
Having initially placed in the top 10% tier, subsequent developments since our first look at the Traceto ICO (T2T Token) have led us to downgrade the score of the project to a pass.
---
We have rated hundreds of projects to unearth ICOs in which members of our team intend to invest.
We won't often go into further depth on projects that we don't consider as candidates for our investments after the initial rating process, which is why you will usually see our stamp on our detailed ICO reviews – they are the best we have found. However, on occasion, we might also rate a well-hyped project that does not meet our personal investing criteria.
The Crypto Briefing Top 10 stamp is awarded to ICO projects that we rate in the top 10% of all projects.
TRACETO ICO REVIEW SCORES
SUMMARY
The Traceto ICO (T2T Token) offers a working off-chain product with existing partnerships – and a team with direct and relevant experience. These fundamentals give the project excellent traction, and the growing crypto sphere means their KYC solution may find a lot of open arms. But three threats balance out the opportunity – a limited marketplace, stiff competition, and the prospect of a downward slide in crypto interest in an unfavorable regulatory environment.
Founding Team……………………….7.4
Product…………………………………..5.1
Token Utility…………………………..9.2
Market…………………………………..4.4
Competition…………………………..7.8
Timing……………………………………6.5
Progress To Date……………………7.6
Community Support & Hype…..3.5
Price & Token Distribution……..5.4
Communication……………………..3.2
FINAL SCORE……………………….6.0
UPSIDES
Expert team in RegTech, financial compliance and blockchain technology

Exceptional network of clients throughout the crypto space

Highly needed infrastructure project that could facilitate market maturation
DOWNSIDES
Blockchain development in nascent stage

Network launch still a ways off

Many competitors vying for wider identity verification market
Today's Date: 3/16/18
Project Name: Traceto
Token Symbol: T2T
Website: https://traceto.io
White Paper: https://traceto.io/static/wp/traceto_io_whitepaper_2002_v1_27.pdf
Crowdsale Hard Cap: $30 million USD
Total Supply: 1 billion
Token Distribution: 30% to TGE, 30% to Company, 25% to team, 15% to Marketing, Operations and Admin
Price per Token: 1 T2T = $0.10 USD
Maximum Market Cap (at crowdsale price): $100 million USD
Accepted Payments: ETH
Countries Excluded: US, China, Canada
Bonus Structure: N/A
Presale Terms: Closed
Whitelist: Sign Up to Mailing List
Important Dates: TBA
Expected Token Release: TBA
Additional Information: https://t.me/tracetoio
---
ICO Review Disclaimer
The team at Crypto Briefing analyzes an initial coin offering (ICO) against ten criteria, as shown above. These criteria are not, however, weighted evenly – our proprietary rating system attributes different degrees of importance to each of the criteria, based on our experience of how directly they can lead to the success of the ICO in question, and its investors.
Crypto Briefing provides general information about cryptocurrency news, ICOs, and blockchain technology. The information on this website (including any websites or files that may be linked or otherwise accessed through this website) is provided solely as general information to the public. We do not give personalized investment advice or other financial advice.
Decentral Media LLC, the publisher of Crypto Briefing, is not an investment advisor and does not offer or provide investment advice or other financial advice. Accordingly, nothing on this website constitutes, or should be relied on as, investment advice or financial advice of any kind. Specifically, none of the information on this website constitutes, or should be relied on as, a suggestion, offer, or other solicitation to engage in, or refrain from engaging in, any purchase, sale, or any other any investment-related activity with respect to any ICO or other transaction.
The information on or accessed through this website is obtained from independent sources we believe to be accurate and reliable, but Decentral Media LLC makes no representation or warranty as to the timeliness, completeness, or accuracy of any information on or accessed through this website. Decentral Media LLC expressly disclaims any and all responsibility from any loss or damage of any kind whatsoever arising directly or indirectly from reliance on any information on or accessed through this website, any error, omission, or inaccuracy in any such information, or any action or inaction resulting therefrom.
Cryptocurrencies and blockchain are emerging technologies that carry inherent risks of high volatility, and ICOs can be highly speculative and offer few – if any – guarantees. You should never make an investment decision on an ICO or other investment based solely on the information on this website, and you should never interpret or otherwise rely on any of the information on this website as investment advice. We strongly recommend that you consult a licensed investment advisor or other qualified financial professional of your choosing if you are seeking investment advice on an ICO or other investment.
See full terms and conditions for more.
Founding Team
This category accounts for the leaders, developers, and advisors.
Poor quality, weak, or inexperienced leadership can doom a project from the outset. Advisors who serve only to pad their own resumes and who have ill-defined roles can be concerning. But great leadership, with relevant industry experience and contacts, can make the difference between a successful and profitable ICO, and a flub.
If you don't have a team willing and able to build the thing, it won't matter who is at the helm. Good talent is hard to find. Developer profiles should be scrutinized to ensure that they have a proven history of working in a field where they should be able to succeed.
Product
What is the technology behind this ICO, what product are they creating, and is it new, innovative, different – and needed?
The IOTA project is a spectacular example of engineers run amok. The technology described or in use must be maintainable, achievable, and realistic, otherwise the risk of it never coming into existence is incredibly high.
Token Utility
Tokens which have no actual use case are probably the worst off, although speculation can still make them have some form of value.
The best tokens we review are the ones that have a forced use case – you must have this token to play in some game that you will probably desire to play in. The very best utility tokens are the ones which put the token holder in the position of supplying tokens to businesses who would be able to effectively make use of the platforms in question.
Market
There doesn't have to be a market in order for an ICO to score well in this category – but if it intends to create one, the argument has to be extremely compelling.
If there is an existing market, questions here involve whether it is ripe for disruption, whether the technology enables something better, cheaper, or faster (for example) than existing solutions, and whether the market is historically amenable to new ideas.
Competition
Most ideas have several implementations. If there are others in the same field, the analyst needs to ensure that the others don't have obvious advantages over the company in question.
Moreover, this is the place where the analyst should identify any potential weaknesses in the company's position moving forward. For instance, a fundamental weakness in the STORJ system is that the token is not required for purchasing storage.
Timing
With many ICO ideas, the timing may be too late or too early. It's important for the analyst to consider how much demand there is for the product in question. While the IPO boom funded a lot of great ideas that eventually did come to fruition, a good analyst would recognize when an idea is too early, too late, or just right.
Progress To Date
Some of the least compelling ICO propositions are those that claim their founders will achieve some far-off goal, sometime in the future, just so long as they have your cash with which to do it.
More interesting (usually) is the ICO that seeks to further some progress along the path to success, and which has a clearly-identified roadmap with achievable and reasonable milestones along the way. Founders who are already partially-invested in their products are generally more invested in their futures.
Community Support & Hype
Having a strong community is one of the fundamental building blocks of any strong blockchain project. It is important that the project demonstrates early on that it is able to generate and build a strong and empowered support base.
The ICO marketplace is becoming more crowded and more competitive. While in the past it was enough to merely announce an offering, today's successful ICO's work hard to build awareness and excitement around their offering.
Price & Token Distribution
One of the biggest factors weighing any analysis is price. The lower the price the more there is to gain. But too low of a price may result in an under capitalized project. It is therefore important to evaluate price relative to the individual project, its maturity and the market it is going after.
The total supply of tokens should also be justified by the needs of the project. Issuing a billion tokens for no reason will do nobody any good.
Communication
Communication is key. The success of a project is strongly tied to the project leaders' ability to communicate their goals and achievements.
Things don't always go as planned but addressing issues and keeping the community and investors in the loop can make or break a project.