VeriME ICO Review & VME Token Analysis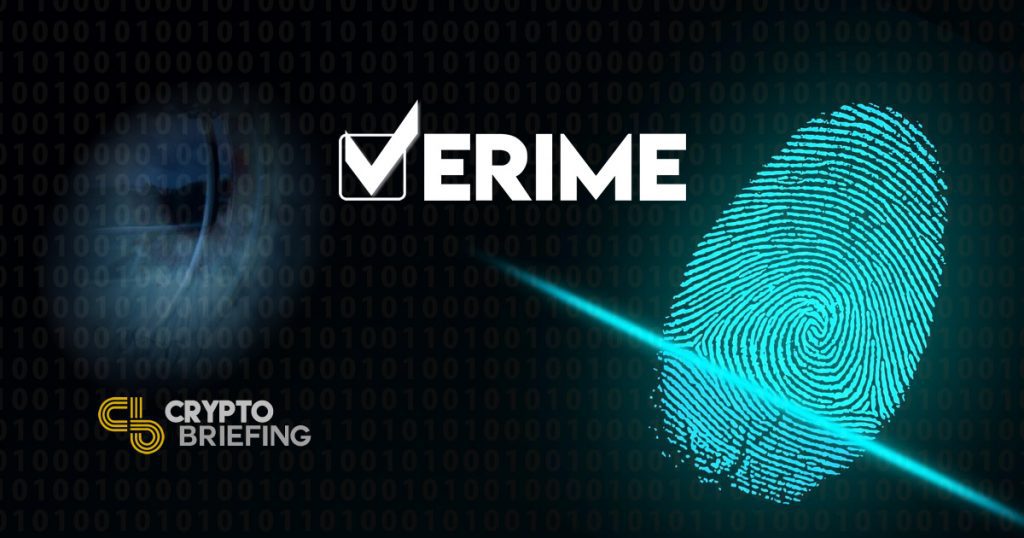 VeriME ICO Overview
The VeriME ICO and VME Token offer a new way to conduct KYC based on blockchain technology. KYC compliance is a rapidly emerging challenge for enterprises, with an average onboarding period of 26 days for financial institutions.
Anyone who has participated in an ICO is already familiar with how frustrating and time consuming this process can be. Manual KYC processing incurs high costs due to the human resources required, and leaves institutions more vulnerable to data leaks and fraud. This issue is encountered consistently by consumers across sectors- applying for insurance, credit cards, and even making purchases from eCommerce sites, all require identity verification of some sort.
VeriME ICO Value Proposition
The VeriME ICO is offering a blockchain based "Verification as a Service" [VaaS] product to address inefficiencies of current KYC solutions. The VeriME platform facilitates a streamlined KYC process for customers and merchants, which in turn, will lead to a faster, more cost-efficient sales cycle. The platform consists of two major components – D-KYC and D-Secure.
D-KYC is a digital identity verification platform that facilitates the KYC process remotely and completely online without requiring customers to meet, fill out forms and submit documents. This is made possible through the VeriME App.
The VeriME App allows a customer to simply take a photo of his or her identity document along with a selfie. VeriME automatically uses facial-recognition software to match the face on the identity document with the selfie, and then pulls all required data from the document itself. Users then scan their fingerprint, and an immutable, digital identity is created, secured on the blockchain.
D-Secure allows for instantaneous authentication of VeriME users. For enterprises, this solution has the added benefit of providing full chargeback/dispute protection. Merchants can make requests via their websites or directly to the VeriME App itself. Web requests for authentication simply require scanning a QR code with the VeriME App. Authentication requests can also be sent to the app directly and verified via fingerprint.
Not only is the process of customer onboarding made simpler and more efficient, but additional costs can be avoided by the reduced risk of data leaks, identity theft and fraud.
The VME Token (ERC-20) is the underlying means of value transaction within the VeriME ecosystem. Enterprise users will use VME to conduct KYC procedures via the platform. VeriME will offer a Basic and Advanced service, depending on the scenario, which differ in price. VeriME have incorporated several incentive mechanisms for both the D-KYC and D-SECURE systems to encourage adoption and sustainability of the ecosystem.
The first 2,000 Partners to integrate VeriME for D-KYC will be awarded enough VME to conduct 10,000 Basic D-KYC transactions. The tokens will be non-transferable until the partner organization has reached this threshold so as to discourage abuse of the incentive system.
As another incentive for customers to adopt the system, a usage fee equivalent of 1/2 or 1/3 of the service fee per D-KYC transaction will be rewarded to each customer for using VeriME for identity verification.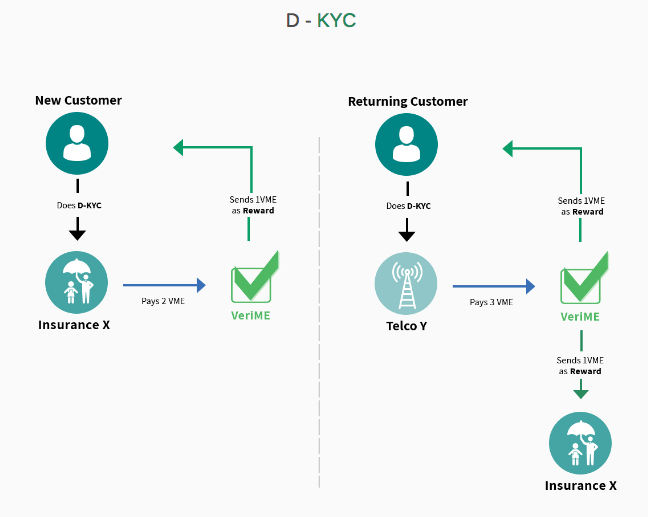 Example of the D-KYC Transaction System
VeriME ICO Team
Nguyen Hoa Binh is the Founder of VeriME. He currently serves as Group CEO and Founder of NextTech Group, a multinational conglomerate of 40+ companies in commerce, logistics and fintech with an annual revenue over $90 million. Prior to NextTech, he became well known in Vietnam for founding PeaceSoft, a leading group in the e-Commerce and e-Payment industry.
Sanjeev Kumar is Co-founder of VeriME. Sanjeev has 20 years of experience in the digital payments industry. Prior to VeriME, Sanjeev served as Chief Product and Marketing Officer at Omise, the Thai payments start-up that spawned OmiseGo. Sanjeev also held various senior leadership positions in the payments sector, including 6 years as a Senior Manager with Visa.
Nguyen Phu is CEO of VeriME. He formerly worked with NextTech Group, designing and developing ERP systems for corporate governance and has spent the last three years researching blockchain applications for such use cases.
According the the VeriME Whitepaper, CTO Le Van Luong has 9 years of experience in fintech, biometrics and telecom, in addition to more recent work with payment systems and cryptocurrency. He also previously served as Head of the Research and Development wing of the Vietnam Science Academy. His LinkedIn page, however, has not been updated to reflect his work experience.

On the adviser end, entrepreneur and blockchain consultant Nathan Christian is lending his hand. He is also serving in an advisory capacity with other projects such as Friendz and Omnitude.

Stuart Thornton is also serving in an advisory capacity to the VeriME ICO. He has previously advised ICOs such as TenX and is an experienced business mentor. He has experience in various leadership capacities with companies such as Vodaphone and World Pay.

The complete list of the team can be found here.
VeriME ICO Strengths and Opportunities
VeriME already have an offchain product which is available on Google Play and the App Store. Their offchain app has been utilized by more than 30,000 users in a number of pilot projects with 15 companies in Vietnam. Among the most impressive partner companies are WeShop, one of Southeast Asia's largest eCommerce sites, and NganLuang.vn, Vietnam's largest online payment gateway.
Besides these pilot projects, VeriME has already solidified a number of other strategic partnerships. Vietnam Military Bank recently joined with VeriME as a verification partner, with CEO Vu Thanh Trung emphasizing the need for improved identity verification and authentication solutions. This is a positive indicator from a regulatory angle, as the Vietnamese government stance toward cryptocurrency is currently being debated by top financial officials.
Beyond Vietnam, VeriME also secured a partnership with Moin, a South Korean blockchain based cross-border remittance service provider. The VeriME ICO has made tremendous progress securing large-scale partnerships for the product.
VeriME ICO Weaknesses and Threats
KYC is one area in particular where blockchain has the potential to drastically improve current practices. As with any area where both tech and timing are perfect, there's bound to be a lot of contenders in the market. Thomson Reuters have launched their own Ethereum based digital identity product, with KYC onboarding being one of many use cases set for trials.
In the ICO space, Traceto.io has also garnered attention for their own KYC onboarding solution. While a couple of emerging contenders may not seem much of an issue, the market valuation of the entire anti-money laundering software market (KYC being a part) is predicted to reach $1.4 billion by 2023.
With such a small market valuation, the success of VeriME will rely heavily on capturing the regional Asian market where they already have developed relationships with governments and enterprises. VeriME have posted a comparison of the platform to other KYC providers on Medium.
The Verdict on VeriME ICO
The VeriME ICO is run by a highly capable team who have already demonstrated their ability to deliver through a working offchain product and myriad of partnerships. That said, targeting a market with a relatively low valuation places a limit on long-term growth prospects, especially with the threat of competition from established tech players introducing their own solutions.
As a Top 10% rated ICO, we will be placing a small bet on VeriME.
---
We have rated hundreds of projects to unearth ICOs in which members of our team intend to invest.
We won't usually go into depth on projects that we don't consider as candidates for our investments, which is why you will usually see our stamp on our ICO reviews – they are the best we have found. However, on occasion, we might also rate a well-hyped project that does not meet our personal investing criteria.
The Crypto Briefing Top 10 stamp is awarded to ICO projects that we rate in the top 10% of all projects.
---
VERIME ICO REVIEW SCORES
SUMMARY
The VeriME ICO is a strong solution to an emerging challenge. Know Your Customer requirements are likely to continue and possibly even become more stringent, both in the ICO world and in the wider financial markets. However, even with strong market penetration the company will be limited by the scope of the opportunity, and threats from established players may limit their total market possibilities further.
Founding Team……………………….8.6
Product…………………………………..5.1
Token Utility…………………………..8.8
Market…………………………………..3.0
Competition…………………………..7.5
Timing……………………………………9.5
Progress To Date……………………8.8
Community Support & Hype…..7.9
Price & Token Distribution……..5.4
Communication………………………10
FINAL SCORE……………………….7.5
UPSIDES
Promising number of quality partnerships with enterprises and government

Lead team members highly experienced in fields of FinTech and eCommerce

Immediate use utility for blockchain product
DOWNSIDES
Relatively low market valuation for AML/KYC products

High risk of competition from established tech companies

Little progress on blockchain integration
Today's Date: 2/27/18
Project Name: VeriME
Token Symbol: VME
Website: https://www.verime.mobi/
White Paper: https://www.verime.mobi/static/dl/whitepaper.pdf
Crowdsale Hard Cap: $30 million
Total Supply: 1 billion
Token Distribution: 30% to crowdsale, 21% to partner incentives, 18% to token reserve, 15% to VeriMe team, 10% to bonuses, 3% for bounties, 3% for advisors
Price per Token: 1 VME = 0.000333333 ETH or 1 ETH = 3000 VME Tokens
Maximum Market Cap (at crowdsale price): $100 million
Accepted Payments: ETH, BTC, LTC, USDT, NEO, XRP, SGD, USD
Bonus Structure: March 1st – 8th (20%), 9th – 15th (15%), 16th – 22nd (10%), 23rd – 31st (5%)
Presale Terms: N/A
Whitelist: https://www.verime.mobi/registration
Important Dates: March 1st Crowdsale
Expected Token Release: TBA
Additional Info: https://www.verime.mobi/ico
---
ICO Review Disclaimer
The team at Crypto Briefing analyzes an initial coin offering (ICO) against ten criteria, as shown above. These criteria are not, however, weighted evenly – our proprietary rating system attributes different degrees of importance to each of the criteria, based on our experience of how directly they can lead to the success of the ICO in question, and its investors.
Crypto Briefing provides general information about cryptocurrency news, ICOs, and blockchain technology. The information on this website (including any websites or files that may be linked or otherwise accessed through this website) is provided solely as general information to the public. We do not give personalized investment advice or other financial advice.
Decentral Media LLC, the publisher of Crypto Briefing, is not an investment advisor and does not offer or provide investment advice or other financial advice. Accordingly, nothing on this website constitutes, or should be relied on as, investment advice or financial advice of any kind. Specifically, none of the information on this website constitutes, or should be relied on as, a suggestion, offer, or other solicitation to engage in, or refrain from engaging in, any purchase, sale, or any other any investment-related activity with respect to any ICO or other transaction.
The information on or accessed through this website is obtained from independent sources we believe to be accurate and reliable, but Decentral Media LLC makes no representation or warranty as to the timeliness, completeness, or accuracy of any information on or accessed through this website. Decentral Media LLC expressly disclaims any and all responsibility from any loss or damage of any kind whatsoever arising directly or indirectly from reliance on any information on or accessed through this website, any error, omission, or inaccuracy in any such information, or any action or inaction resulting therefrom.
Cryptocurrencies and blockchain are emerging technologies that carry inherent risks of high volatility, and ICOs can be highly speculative and offer few – if any – guarantees. You should never make an investment decision on an ICO or other investment based solely on the information on this website, and you should never interpret or otherwise rely on any of the information on this website as investment advice. We strongly recommend that you consult a licensed investment advisor or other qualified financial professional of your choosing if you are seeking investment advice on an ICO or other investment.
See full terms and conditions for more.
Founding Team
This category accounts for the leaders, developers, and advisors.
Poor quality, weak, or inexperienced leadership can doom a project from the outset. Advisors who serve only to pad their own resumes and who have ill-defined roles can be concerning. But great leadership, with relevant industry experience and contacts, can make the difference between a successful and profitable ICO, and a flub.
If you don't have a team willing and able to build the thing, it won't matter who is at the helm. Good talent is hard to find. Developer profiles should be scrutinized to ensure that they have a proven history of working in a field where they should be able to succeed.
Product
What is the technology behind this ICO, what product are they creating, and is it new, innovative, different – and needed?
The IOTA project is a spectacular example of engineers run amok. The technology described or in use must be maintainable, achievable, and realistic, otherwise the risk of it never coming into existence is incredibly high.
Token Utility
Tokens which have no actual use case are probably the worst off, although speculation can still make them have some form of value.
The best tokens we review are the ones that have a forced use case – you must have this token to play in some game that you will probably desire to play in. The very best utility tokens are the ones which put the token holder in the position of supplying tokens to businesses who would be able to effectively make use of the platforms in question.
Market
There doesn't have to be a market in order for an ICO to score well in this category – but if it intends to create one, the argument has to be extremely compelling.
If there is an existing market, questions here involve whether it is ripe for disruption, whether the technology enables something better, cheaper, or faster (for example) than existing solutions, and whether the market is historically amenable to new ideas.
Competition
Most ideas have several implementations. If there are others in the same field, the analyst needs to ensure that the others don't have obvious advantages over the company in question.
Moreover, this is the place where the analyst should identify any potential weaknesses in the company's position moving forward. For instance, a fundamental weakness in the STORJ system is that the token is not required for purchasing storage.
Timing
With many ICO ideas, the timing may be too late or too early. It's important for the analyst to consider how much demand there is for the product in question. While the IPO boom funded a lot of great ideas that eventually did come to fruition, a good analyst would recognize when an idea is too early, too late, or just right.
Progress To Date
Some of the least compelling ICO propositions are those that claim their founders will achieve some far-off goal, sometime in the future, just so long as they have your cash with which to do it.
More interesting (usually) is the ICO that seeks to further some progress along the path to success, and which has a clearly-identified roadmap with achievable and reasonable milestones along the way. Founders who are already partially-invested in their products are generally more invested in their futures.
Community Support & Hype
Having a strong community is one of the fundamental building blocks of any strong blockchain project. It is important that the project demonstrates early on that it is able to generate and build a strong and empowered support base.
The ICO marketplace is becoming more crowded and more competitive. While in the past it was enough to merely announce an offering, today's successful ICO's work hard to build awareness and excitement around their offering.
Price & Token Distribution
One of the biggest factors weighing any analysis is price. The lower the price the more there is to gain. But too low of a price may result in an under capitalized project. It is therefore important to evaluate price relative to the individual project, its maturity and the market it is going after.
The total supply of tokens should also be justified by the needs of the project. Issuing a billion tokens for no reason will do nobody any good.
Communication
Communication is key. The success of a project is strongly tied to the project leaders' ability to communicate their goals and achievements.
Things don't always go as planned but addressing issues and keeping the community and investors in the loop can make or break a project.