Tron Targets Gaming For dApp Dominance As TRX Price Slips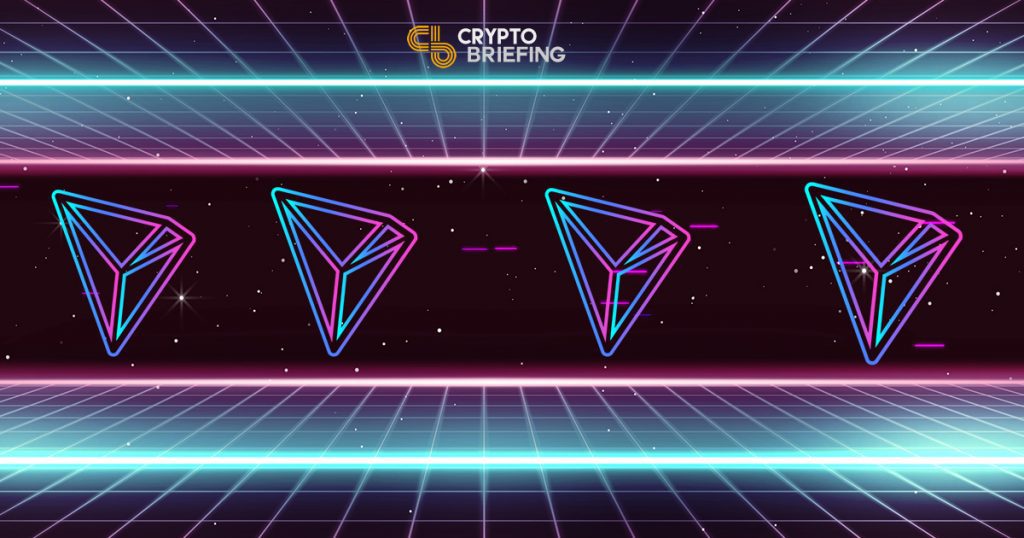 What a difference a day makes. Yesterday Tron was looking to muscle Cardano out of the way for the No. 10 spot among cryptocurrencies based on market cap, and today it's slipped down to the No. 12 position.
After blazing its own trail for most of the week, TRX is down by double-digits today, amid a sell-off in the broader crypto market. Despite today's declines, the coin is still up 27% from Monday, and rating agency Weiss Ratings has taken notice of the Tron dApp push.
#Tron (#TRX) has surged as much as 53%, outpacing its competitors and recovering more than twice the value of #Ethereum, #Bitcoin Cash, and #EOS. Tron's become one of the most widely used ledgers for the blockchain in the world, so it's gotten a boost in its adoption grade.

— Weiss Crypto (@WeissCrypto) November 29, 2018
Tron, whose market cap is currently hovering at $939 million, must now overtake privacy coin Monero as well as Cardano to get back in the top ten. Tron Foundation Founder Justin Sun has been gunning to overtake Ethereum as "the world's largest decentralized protocol," a goal that is making headway despite today's downturn in price.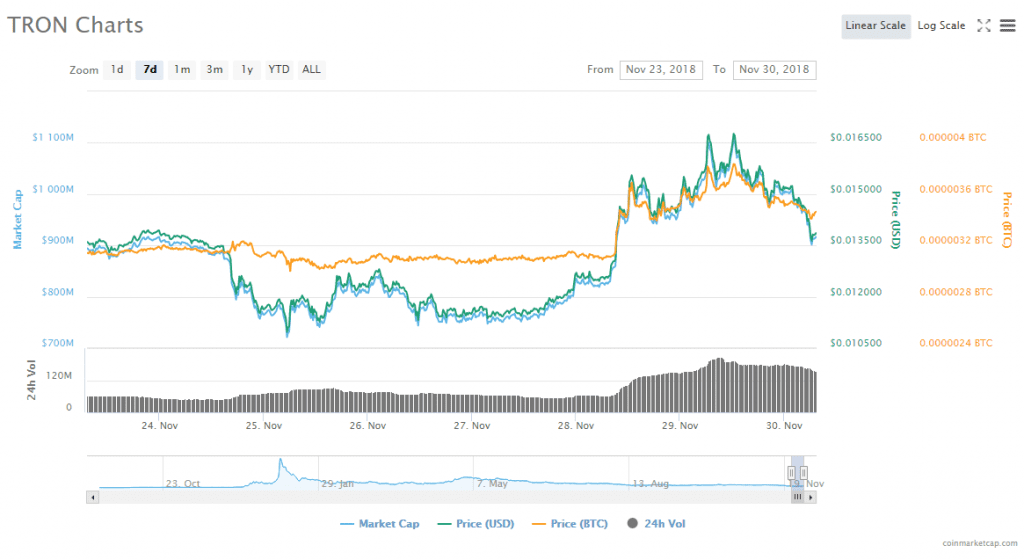 Tron's Mainstream Push
There is no shortage of catalysts for Tron, and its ability to trade on merit is a feat that few other coins can accomplish. Most recently, Sun has set his sights on capturing mainstream users with killer decentralized apps and online gaming is the first target.
Tron has recently unveiled TRON Arcade, a $100 million fund dedicated to the red-hot sector of online gaming, where Ethereum is already boasting robust development. Sun has been urging developers to build on his network, as its larger competitor grapples with poor scaling and a weakened price.
The Tron network, meanwhile, boasts 2,000 transactions per second while Ethereum remains stuck in the double-digits. Sun stated in a press release:
TRON Arcade will play a crucial role in encouraging developers to join in our mission and provide the best blockchain gaming experience to users around the world.
Touché.
Based on this week's dApp activity on Tron from Tron's dApp store DappHouse , half-a-dozen dApps were added to Tron while the number of transactions and accounts rose by 11% and 6%, respectively. Gambling remains a leading category, followed by games.
As one early stage investor explained in a Twitter thread, "human vices lead." Meanwhile, according to the Tron Foundation's blog:
Many developers on Ethereum (ETH) and EOS have started to migrate to TRON.
Their reasons for doing so are three-pronged:
"Low development"
"Fast transaction speed"
"Lower user thresholds"

According to Sun in a recent interview with The Bad Crypto Podcast, the Tron protocol is looking to products like the Atlas Project and the integration of BitTorrent to catapult the blockchain into the mainstream. Basically, Tron is "adding an incentive plan to the BitTorrent system," Sun said, which he expects could give the project "a second life."
A new BitTorrent (BT) token, designed to incentivize users, is scheduled to make its debut in 2019. Sun said that the entertainment industry, including musicians, will be able to raise crypto for their projects with BT tokens.
While there's no shortage of exchanges to trade Tron, the Coinsuper exchange just added the TRX/USD pair. Along with Exmo, Bittrex, YoBit and several smaller exchanges, Tronix is well on its way to becoming a base currency in its own right.
The author is invested in ETH.