US Authorities Recover 28 Bitcoins From Bitfinex Hack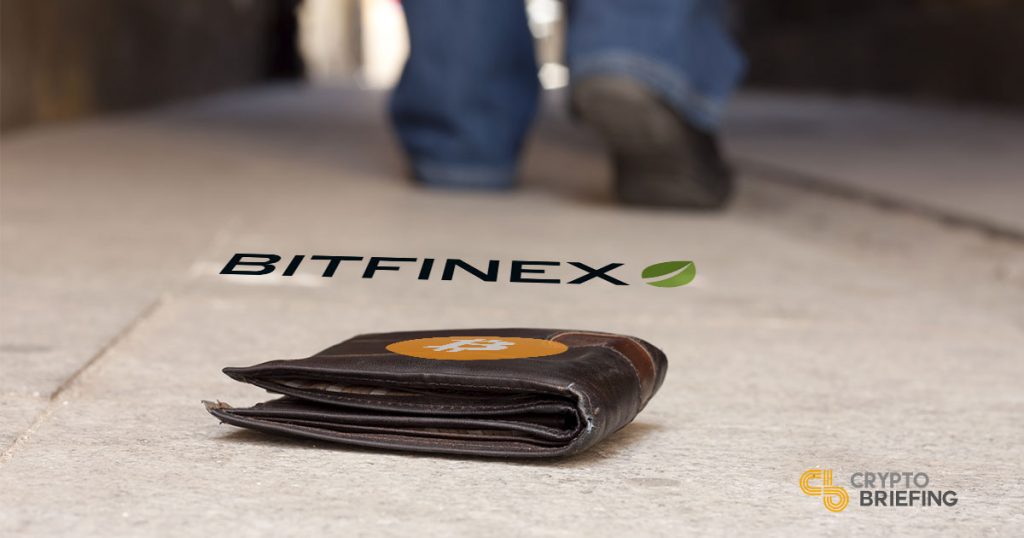 Better late than never. Bitfinex, a major crypto exchange registered in the British Virgin Islands, has announced that U.S. authorities have recovered nearly 28 BTC from an August 2016 security breach and returned the funds to the exchange.
The recovered funds will reportedly be spread across some 5,000 investors. That may be a drop in the bucket compared to the approximately 120,000 bitcoins that were stolen, but it's not every day you hear about any government returning funds to a crypto exchange, let alone the United States.
At the time, the stolen coins were valued at $72 million, but at today's prices would be nearer to $456 million.
The recovered funds amount to approximately $110,000, which Bitfinex says it is converting into U.S. dollars and returning to Recovery Right Token (RRT) token holders. Anneka Dew, Bitfinex Vice President of Communications and Marketing, told Crypto Briefing:
"Bitfinex has retrieved BTC from the U.S. government. This has been converted to USD to share equally amongst RRT holders. The entitlement for RRT holders is set out in USD. Accordingly, we wanted to liquidate the BTC and use what was actually received to distribute to users. This avoids the difficulty of our assigning or deeming a price in USD for a BTC distribution to users."
RTT tokens were created on the heels of the attack "to compensate victims of the security breach and, thereafter, to offer a priority to early BFX token conversions." The value of the coins was contingent on the recovery of losses suffered by the exchange.
Bitfinex said that they were informed in November 2018 about the recovered bitcoins.
It gives us great pleasure to report we have received bitcoins from the U.S. government that were proceeds of the 2016 security breach. In line with our original recovery plan, this is being converted to USD and paid to RRT holders.

Find out more here – https://t.co/UwCMNERes9

— Bitfinex (@bitfinex) February 25, 2019
---
A Group No One Wants to Join
Bitfinex has the dubious distinction of being home to one of the biggest bitcoin hacks of all time, rivaling the now-defunct Mt. Gox. It's been half a decade since hackers stole $460 million in BTC from Mt. Gox, and creditors are still battling it out in the courts. Since then, Coincheck lost $534 million in NEM coins in an attack about a year ago. Coincheck has similarly been working to regain the trust of investors and has since reportedly begun accepting new accounts.
Canadian bitcoin exchange QuadrigaCX is the latest example of what can go wrong at an exchange. QuadrigaCX lost access to $190 million in crypto funds, leaving investors with little to no recourse and the industry scrambling to determine exactly what happened after the untimely death of the exchange's CEO.
The Bitfinex team, however, took a different tack from other hacked exchanges by "generalizing the losses across all accounts." After the attack, Bitfinex announced that customers would lose a little more than one-third of their account balances and would also be credited with BFX tokens, which the exchange has since redeemed at $1 per BFX token.
The latest recovery, however, was unexpected, and the exchange said in a statement:
"It gives us great pleasure to be able to reimburse our traders that were loyal to us and believed in us at a very difficult time. We would like to thank U.S. federal law enforcement agencies for their ongoing efforts to investigate the security breach and their commitment to seizing and returning stolen assets."
According to Reuters, both U.S. and European authorities probed the attack. Bitfinex declined to comment on whether more funds would be recovered, but they will "continue to assist law enforcement with their investigations." The exchange also invited the hacker or anyone "harboring information pertaining to the breach" to communicate over any available channels.
---
The author is invested in digital assets, but none mentioned in this article.