Value DeFi Attacker Returns $95,000 in Response to On-Chain Messages
Value DeFi was exploited for over $5 million over the weekend, in yet another example of a DeFi flash loan attack. The attacker has since returned $95,000 following a series of messages from other users.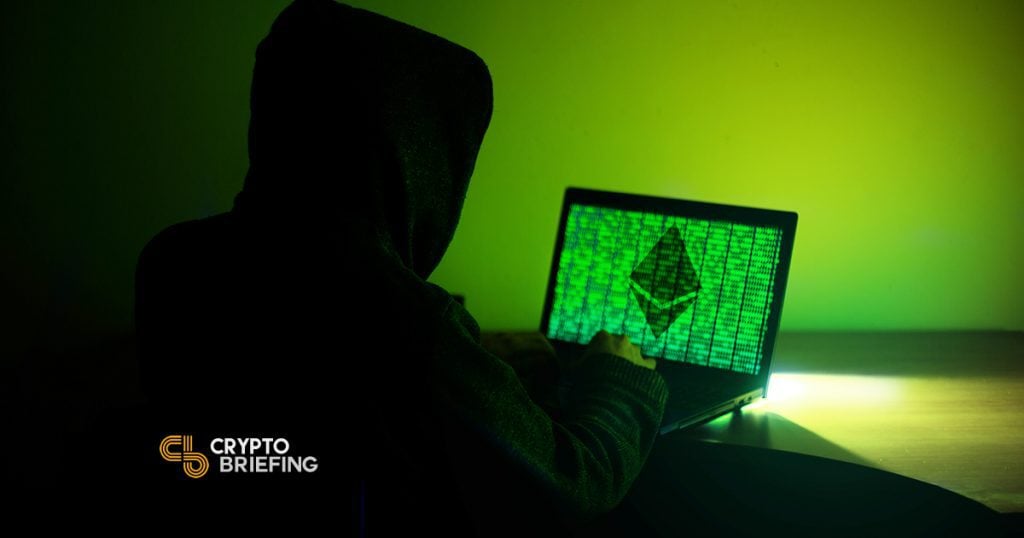 Key Takeaways
Following this weekend's Value DeFi exploit, a number of users have contacted the attacker on the blockchain urging them to return the funds.
The Value DeFi team attempted to negotiate with the attacker, suggesting that they keep $1 million as a bounty. They also confirmed their plans to compensate the Value DeFi community.
The attacker has sent back $95,000 in Dai across two transactions, still holds over $5 million.
The attacker behind this weekend's Value DeFi flash loan exploit has returned $95,000 of their takings.
On Saturday, they executed a complex attack on the protocol's MultiStables vault. The multi-step process saw the exploiter take out a loan for 80,000 ETH before netting around $5.4 million in Dai.
Today's update comes following a lengthy series of messages in which Ethereum users contacted the attacker requesting the funds to be returned. One user got in touch on Sunday afternoon, claiming to be a nurse who had lost $100,000 in the attack.
In their message, they wrote:
"I lost $100,000 in your attack. I am a nurse. These are all my savings. I hope you can return it to me. Everyone will get sick. Think of the nurses who care you when you are sick. I wish you always healthy and enjoy the happiness of the world. GOD BLESS YOU."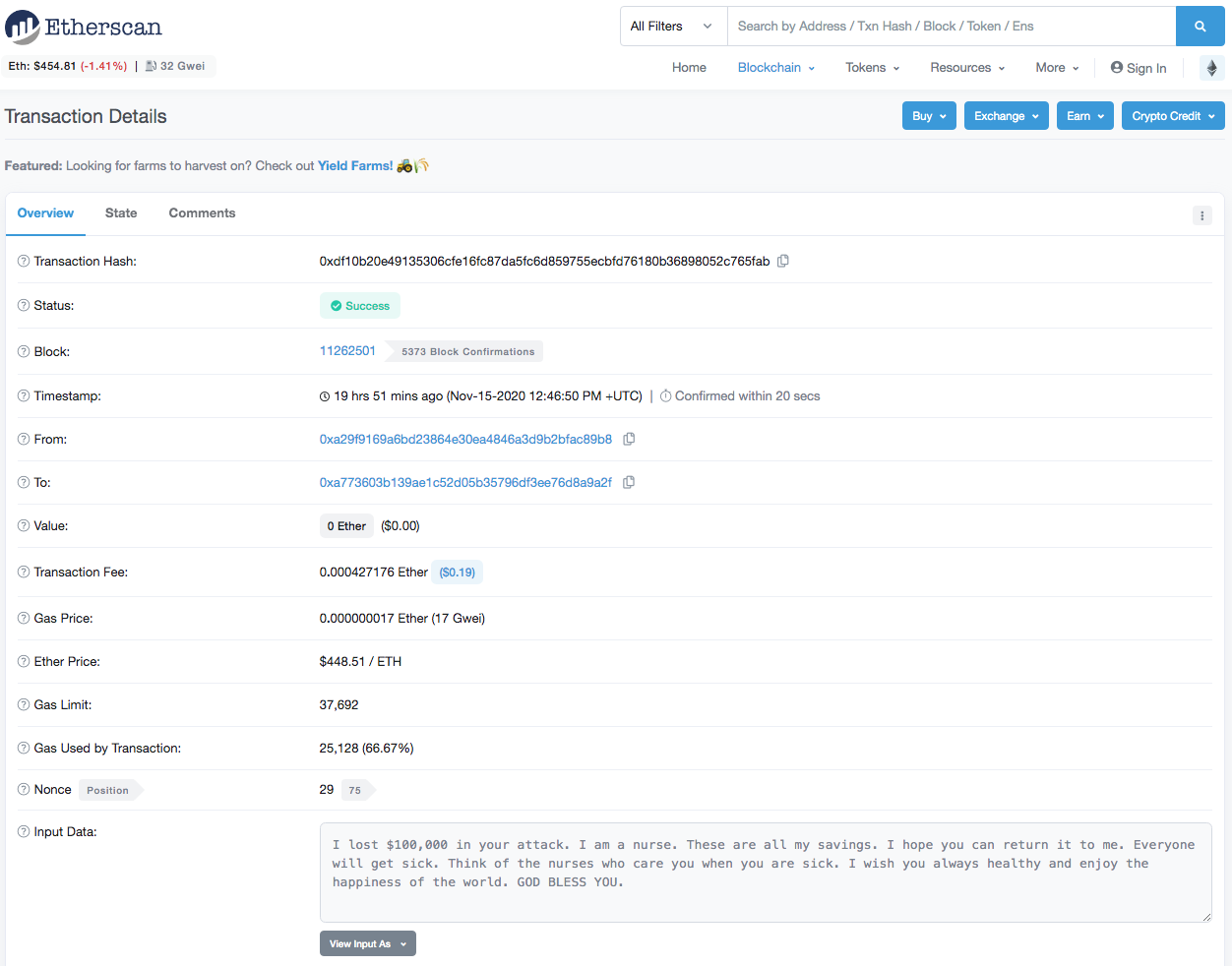 The attacker then replied with the following message:
"I don t expect to get your money, but as we have seen, there are so many people who lack knowledge and caution, and sooner or later those money will be lost. Some wounds are painful, but very effective. I respect your work very much, have a nice day"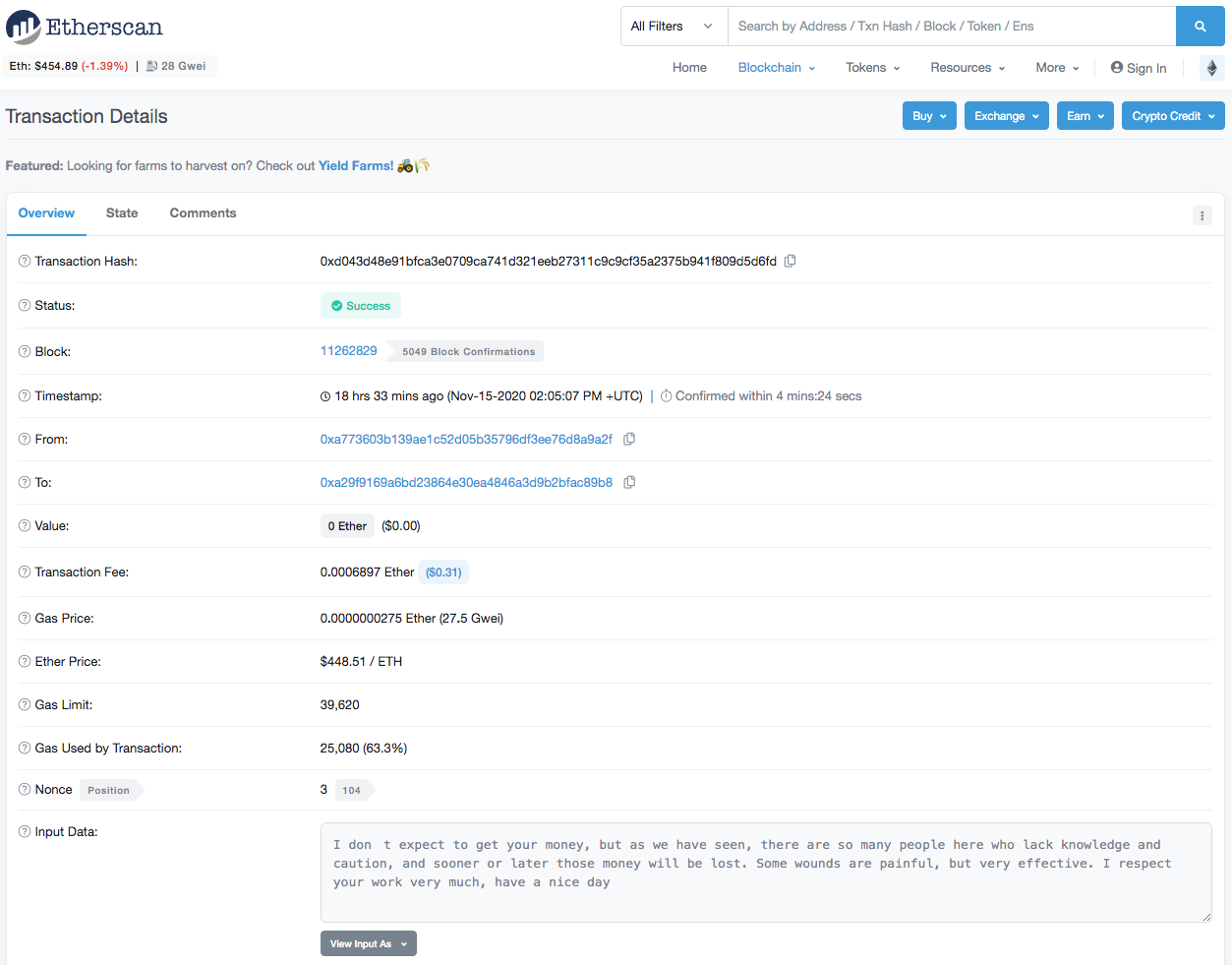 A few minutes later, the attacker decided to return 50,000 DAI to the same address. DAI is a popular stablecoin that stays roughly pegged to the U.S. dollar.
The Value DeFi team also contacted the attacker, requesting that they return the majority of their funds and keep $1 million as a bounty reward. They outlined their plans to compensate all Value DeFi users who lost funds in the attack. Their message read as follows:
"Point well-proven! Clearly we were not as knowledgable as we thought we were. How about 1mil DAI as a bounty and you return the DAI back to our affected users. We have a plan to make whole all those affected in our community, and this would accelerate the process."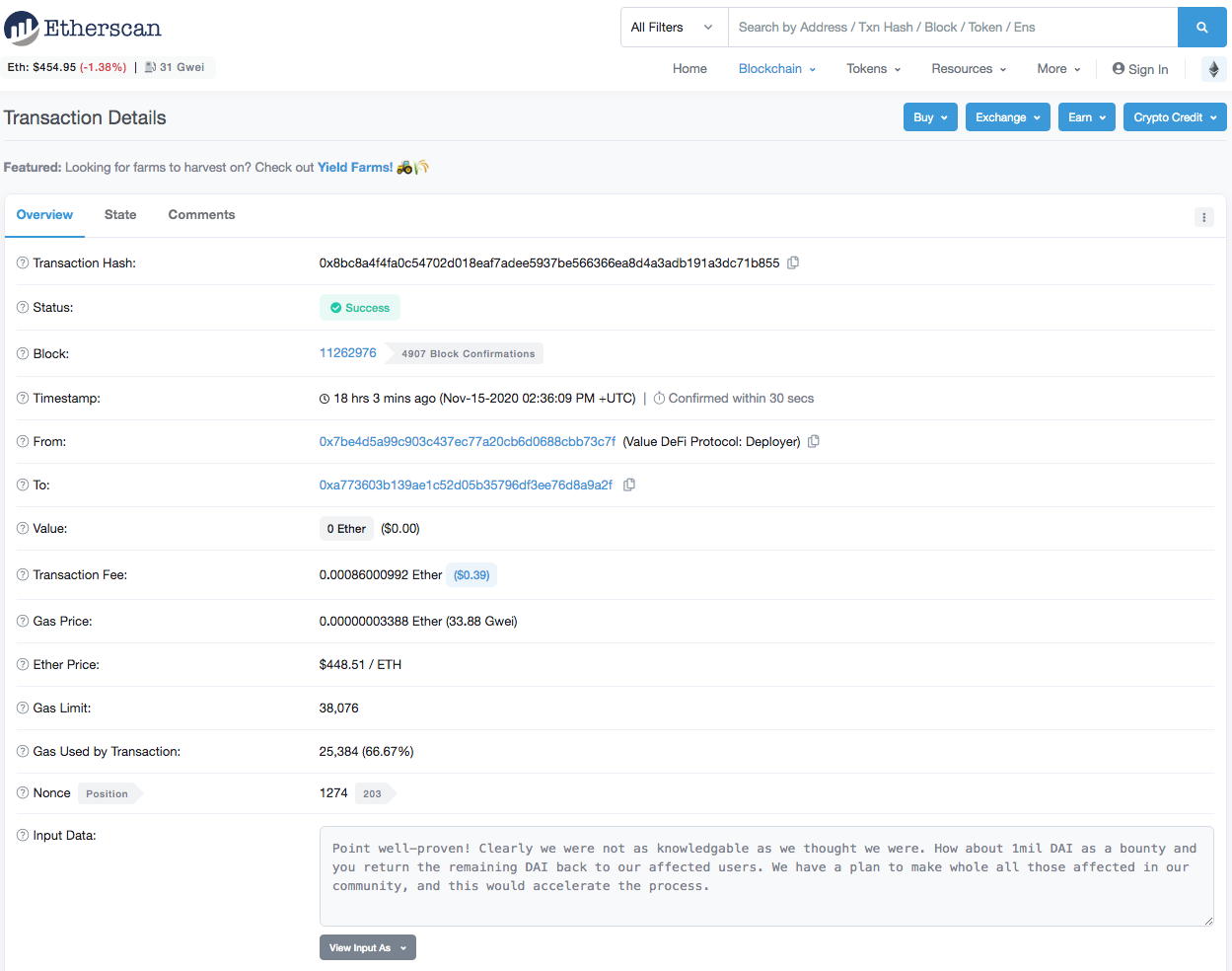 Another user said that they were a 19-year-old university student who had lost "200k [of his family's] life saving for high yield return that I boasted about." The attacker later sent them 45,000 Dai.
Ethereum's immutable smart contract design enables addresses to interact with each other by sending notes, which can easily be traced on the public ledger using tools like Etherscan. Previously, Ethereum's immutability has enabled protestors in China to fight the state's oppressive censorship.
Dozens of Ethereum users have since written to the attacker urging them to return the funds, with some calling their moral fiber into question. "Stealing other people's money is not [the] right thing, I sincerely hope you can return money back to these poor people," one wrote.
The full trail of messages can be viewed here.
At the time of writing, the attacker hasn't sent any further replies nor compensated any other users. That leaves them sitting on over $5 million from the exploit.