Vitalik Buterin Criticizes Square, Facebook Crypto Plans
The Ethereum leader commented on Dorsey and Zuckerberg's recent crypto efforts.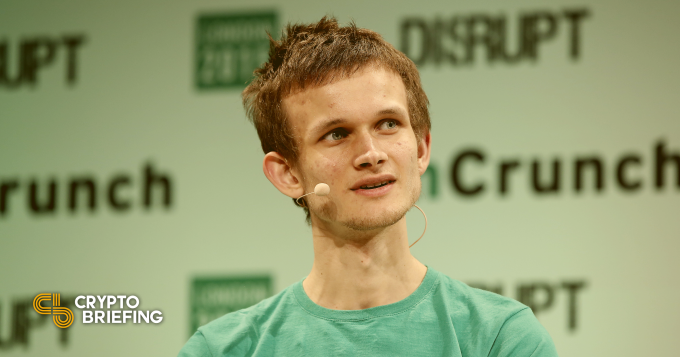 Key Takeaways
In a Bloomberg interview, Ethereum founder Vitalik Buterin commented on blockchain plans from Square and Facebook.
Buterin criticized Square's DeFi plans, suggesting that the firm will need to maintain control over user funds.
He also criticized Facebook, calling the recent revival of Libra under the name Diem a "rebirth of dead ends."
Ethereum creator Vitalik Buterin appeared on Bloomberg today to comment on blockchain efforts from Square and Facebook.
Buterin Is Skeptical of Dorsey's DeFi Plans
In July, Twitter and Square CEO Jack Dorsey announced plans for a Bitcoin-based DeFi platform that drew comparisons to Ethereum.
Buterin stated that he is "skeptical" about Square's upcoming DeFi plans due to the fact that the firm will rely on Bitcoin.
He said that Ethereum has native functions and smart contracts that operate like "lockboxes." These functions ensure that the terms of a DeFi investment cannot be broken and do not require the DeFi service to hold onto user funds.
But according to Buterin, Square will likely need to control user funds through a multi-sig wallet owned by different participants.
"Jack is basically going to have to create his own system that enforces those rules," Buterin said. "It looks similar [to Ethereum], but it'll end up being something with a much weaker trust model."
Buterin Calls Facebook's Diem a Dead End
Buterin also commented on Facebook and its Diem cryptocurrency project. He said that Facebook founder and CEO Mark Zuckerberg is "clearly trying figure out what the next stage [of] the Internet is" before Facebook becomes obsolete.
He acknowledged Diem's previous identity, Libra, and called Facebook's decision to rename the project a "rebirth of dead ends."
Buterin said that Facebook's problem is that "a lot of people mistrust them," adding that the company's attempts to assemble a Diem blockchain consortium failed to help it regain trust. "Even that was not enough," Buterin said. Several former Diem members, including PayPal, Visa, and Mastercard left the group in 2019.
Despite Buterin's negative stance toward Diem and its extremely slow rollout, the project has not formally been canceled. Diem has reaffirmed its plans to launch a stablecoin as recently as May.
Ethereum-Based Competitors Are Possible
On whether community-owned successors to Facebook and Twitter could be built on the blockchain, Buterin said that "multiple projects are already trying to do that, and lots are based on Ethereum." He said that this "can be a threat, but also an opportunity."
The most recent attempt at an Ethereum-based social network comes from Aave, which proposed a Twitter competitor in July.
In the remainder of the interview, Buterin touched on various other topics, including scalability and the transition to Ethereum 2.0, regulatory enforcement, and DeFi projects.
Disclaimer: At the time of writing this author held less than $75 of Bitcoin, Ethereum, and altcoins.