WaBi Token Progress Report: A Leap Too Far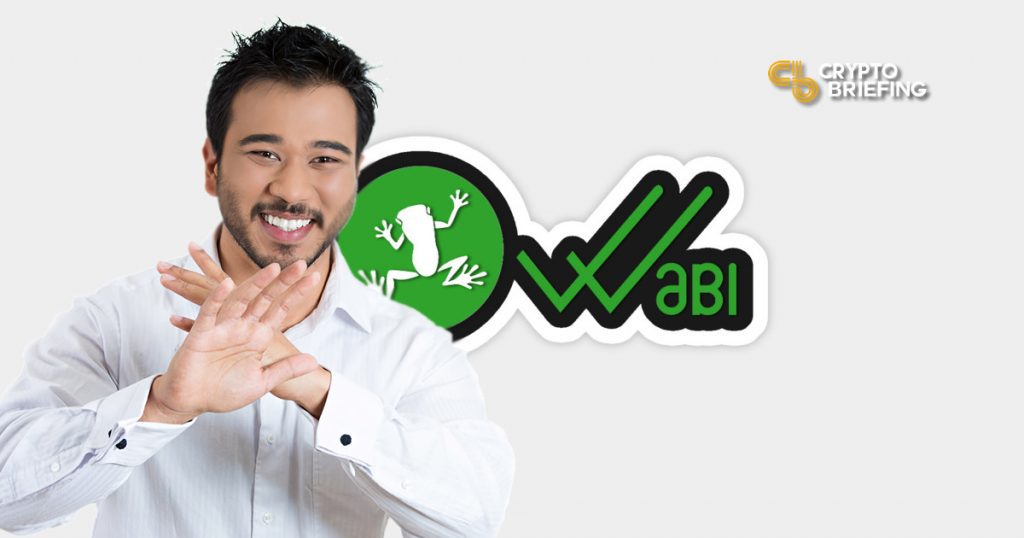 Overview on WaBi
WABI is a cryptocurrency that provide an incentive for customers to utilize an anti-counterfeit service offered by parent company Walimai. Walimai was established in 2014 to provide an verification service to assure the quality of consumer products.
The company decided to build a Hyperledger-based proprietary blockchain as a supply-chain monitoring solution, and later introduced WaBi on the Ethereum Network in 2017 as a loyalty token to incentivize use of the service among the company's target demographic in China.
The project currently offers a standalone mobile app, and is developing an integrated platform for WeChat. In addition, WaBi plan to launch WaBiPay to ease integration of the blockchain-based loyalty system with 3rd party retailers.
WaBi Tokens (WABI) function as a way for consumers to gain loyalty points scanning anti-counterfeit labels on Walimai protected products. Consumers who choose to make purchases with WaBi token through Walimai retain channels will benefit from discounted prices, improved delivery terms, and bonus WaBi with every purchase.
For enterprises, WaBi bill the project as a way to foster customer retention through a reward-based loyalty system. In May 2018, WaBi announced the proprietary chain would be open for public participation, inviting community members to run masternodes for auditing supply-chain transactions by staking WaBi tokens.
---
WaBi Proposed Roadmap
On January 20th, 2018, WaBi released an updated roadmap on their Medium page. An excerpt of the roadmap is provided below.
Q1 2018 (Ends 31st of March)
Business Development

– Initiate discussions with

Fortune 500

companies in the food, alcohol, and pharmaceutical industries

[Negotiations already in-progress with 2 out of 3 industries as of 01/20/2018]

Sales Network

– Partner with industry-appropriate Chinese influencers with substantial online followings (circa 50.000 followers)

Technology

– Design the digital touch shelves

Thought Leadership and PR

– Redesign and update the websites Walimai.com and Wacoin.io
Q2 2018 (Ends 30th of June)
Brand Portfolio-

Start sales of alcohol products protected by Walimai labels

Technology –

Launch Walimai Masternodes and mobile APPs v3, finalize Walimai label v4 (new feature: proof of consumption)

Sales Network-

Partner with at least 1 influencer with 1 million followers in China and expand the baby store Walimai shelves to 3 additional provinces

Technology-

digital touch shelves are production-ready
Q3 2018 (Ends 30th of September)
Business Development

– Integrate WaBi into other loyalty/payment solutions

Brand Portfolio

– Extend total portfolio of Walimai protected products to at least 200 SKUs (including baby products, cosmetics, and alcohol)

Technology

– Produce the digital touch shelves

Sales Network

– Launch the P2P (person-to-person) sales platform in several provinces
Q4 2018 (Ends 31st of December)
Technology

– Open up sales in some of the following regions (South East Asia, Latin America, Europe)

Sales Network

– Sales of Walimai products in at least 100 cities, 1000 stores
---
WaBi Project Business and Product Development Progress:
Usage of the Token
One of the primary channels for use of the WaBi Token is the dedicated WeChat app developed by Walimai. On January 1st, 2018, WaBi released a Medium post along with a brief video demo of the application.
The app purportedly allows consumers who earn WaBi tokens to order Walimai protected products, check their loyalty points (i.e. WaBi balance), and purchase items with either fiat money or WaBi tokens. However, in a July 31st progress report released on Medium, the team indicated the WeChat integrated app is still in the testing phase and has been rescheduled for released before a rebranding campaign in Q3/Q4 2018.
In a May 24th Medium post, the WaBi team stated that, "WaBi is already being utilized by everyday customers." The abovementioned July 31st progress report elaborated more on the specifics, indicating that WaBi tokens are currently only rewarded to customers through the standalone app offered by parent company Walimai.
When we asked the WaBi team directly on their official Telegram discussion channel for any media demonstrating active use of the token by customers, WaBi Social Media Manager Wouter de Hoogt indicated the team are currently working on a public block explorer and that more media would be released soon.
In an August 30th repost of an AMA with the project founders, one project supporter asked the team to disclose numbers on how many customers have actually utilized the token for purchases. The following response was provided:
"We're holding off on publication of numbers at the moment. Give us some time to complete rebranding, launch the new version of the shop with all planned 200 SKUs, etc. Right now, whether it's 10,000 or 1,000,000 doesn't really matter. It would still be peanuts when compared to where we want to get next year."
On May 24th, the project announced the Walimai supply chain ledger testnet was up and running, with a mainnet launched planned for the summer. Less than a month later, the team released details to WaBi holders on how to run a masternode, in an effort to open up the proprietary chain for public participation. In early July, the team selected 30 entrants to run masternodes. The project has yet to release a block explorer for the Walimai chain.
---
WABI Token Performance
WABI holds 363rd place on CoinMarketCap at the time of publishing, with a market cap of $7,118,746 USD. The total supply of WABI is 99,218,023 tokens, with 45,248,033 currently in circulation.
WABI rose to an ATH of $5.39 on January 11th, 2018, dropping to $2.33 less than a week after the peak. From January 17th until the 21st, the price rose again to $3.81 before once again experiencing a dramatic drop to $1.06 by February 6th. After 12 days of dramatic price fluctuations, on February 18th, WABI fell below $2.00 for the last time. Following a brief recovery in May which saw a high of $1.49, the token has followed a steady downtrend to the current price of $0.15.
---
Our Verdict on the WaBi (WABI) Project
With a roadmap containing only one milestone mentioning the WaBi token itself, the team appear to be focusing their efforts on growing parent company Walimai.
An eight month delay on the WeChat app rollout and a regulatory environment for crypto-based payments wrought with uncertainty both pose significant issues for WaBi.
On a more fundamental level, the need to integrate blockchain technology with a loyalty rewards system at all remains highly questionable. While the demand for anti-counterfeit services by Chinese consumers certainly presents an opportunity for parent company Walimai, the question of how WaBi token fits into this picture looms large as the end of 2018 quickly approaches.
We also note that we reached out to WaBi for comment on this article, and no response was forthcoming.
We will not be adding any WABI to our holdings.
Learn more about the progress of WABI Token from our Telegram Community by clicking here.
Published: 9/12/18
Token Name: WABI
ICO Date: 11/28/17
Raised: $11,5000,000 USD
Crowdsale Token Ownership: 46%
ICO Price: 1 WABI = 0.25 USD
Current Price: $0.15 USD
Token Return: x0.63
Market Cap: $7,118,746 USD