WallStreetBets 2.0 Launching On-Chain Investment Pool
The Reddit group behind GameStop's stock short squeeze is decentralizing.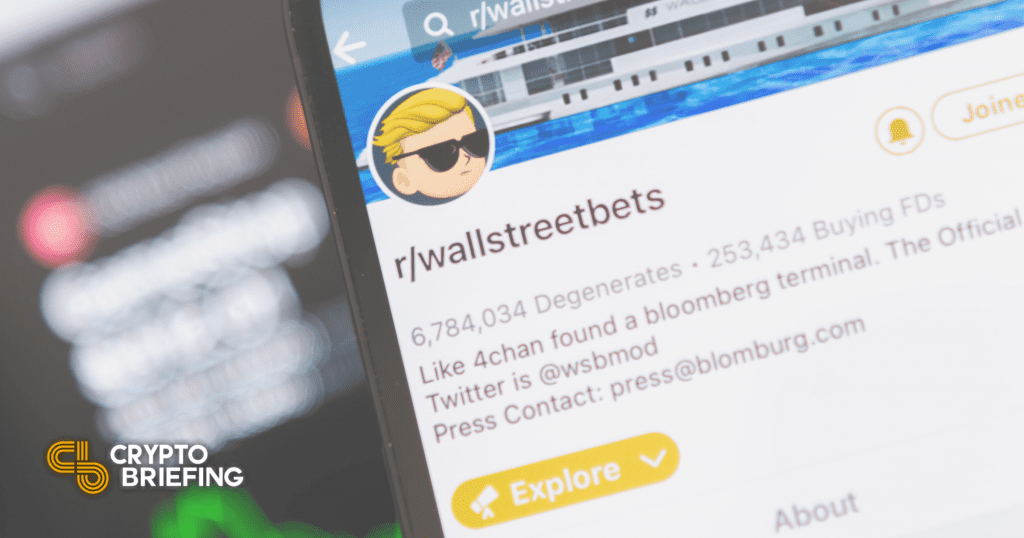 Key Takeaways
A group of moderators from the WallStreetBets subreddit have announced their plans to launch WallSteetBets 2.0 on a blockchain.
The new version will discuss tips, pool investments, and place bets based on community votes.
The reason for the shift is to achieve freedom from centralized governments and privately owned online platforms.
A group of moderators from the now-infamous subreddit WallStreetBets have announced their plans to launch a decentralized pool for investors to bet on stocks built using smart contracts.
DeFi Pools Competing Against Hedge Funds
WallStreetBets is launching a DeFi pool called WallStreetBets 2.0.
The pool, launched by moderators on the WallStreetBets subreddit, is to "pool their money together to have more power and influence in the market than the largest hedge funds."
The group will pilot a smart contract-built pool targeting short orders from hedge funds. The smart contract will be "public, audited, and immutable code."
In their widely publicized GameStop campaign, users of the WallStreetBets forum led a bid to pump GME's stock over 1,900% in January. The price rally caused liquidations for Melvin Capital and various other funds that had taken short positions.
However, as the market turned to frenzy, platforms like Robinhood took the decision to halt trading on GME, DOGE and other crypto assets (the group turned to DOGE following the GME rally). There was also a legal hearing after the incident, where Reddit user Roaring Kitty and others testified.
Thus, the decision to use blockchain for decentralization is motivated by a need for autonomy. The description on the WallStreetBets 2.0 website reads:
"It's time to stop using a broken financial system that is archaic and inefficient. It's time to decentralize."
According to the moderators, the move into DeFi will allow them to time entry and exit from stocks in an orderly manner and help prevent investors from facing "bag holding".
Nonetheless, a few community members are apparently split between decentralized proponents and some "remaining mods" who reject the idea.
The team has not yet confirmed the platform on which WallStreetBets 2.0 will launch. Sam Bankman-Fried, CEO of the FTX exchange and quantitative trading outfit Alameda Research, suggesting launching on Solana. Bankman-Fried has been a heavy advocate for the Layer 1 blockchain and its surrounding ecosystem.
launch it on @solana obv

— SBF (@SBF_FTX) March 1, 2021
Still, if Solana doesn't appeal, there are several other smart contract platforms that they could choose from. Binance Smart Chain is one, though a cryptocurrency exchange-owned chain may not match the group's plans to decentralize. There's also Ethereum, by far the most used smart contract chain and the current home of DeFi.
Disclosure: The author held Bitcoin at the time of press.