Weekly Roundup: Cosy Moments, A Tipple Of Ripple, Pulling A Homer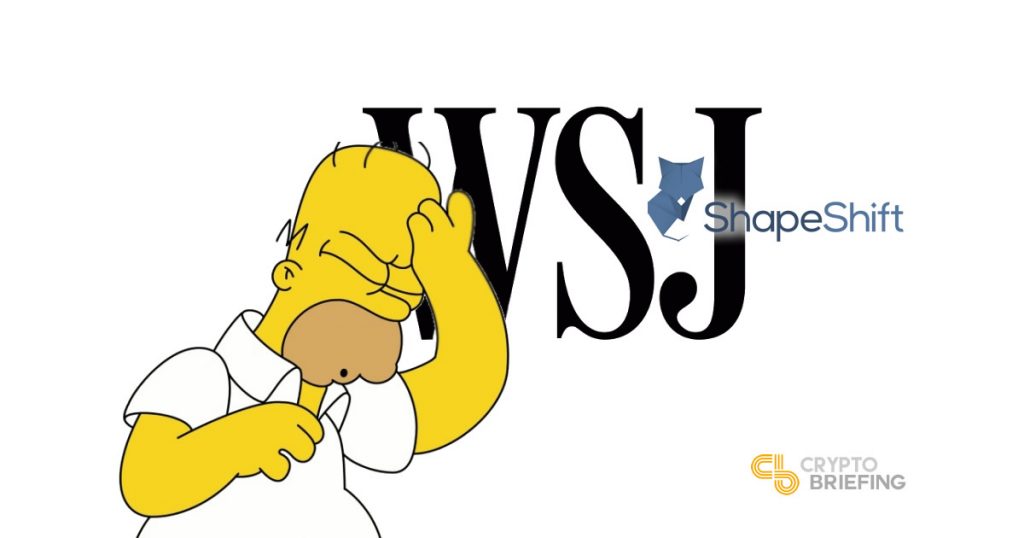 Most Americans are sadly under-educated in the work of PG Wodehouse, one of the giants of English humor. In one of his few novels set in the United States, the hero inexplicably finds himself filling in for the editor of a homestyle magazine. Since it's set in New York, and since the author is Wodehouse, the new editor starts picking fights with slumlords and gangs under the unforgettable motto:
"Cosy Moments Cannot Be Muzzled."
This isn't Cosy Moments, and we rarely cover family affairs (although we suspect Wodehouse may have enjoyed some of Homer's D'oh! moments). We prefer to spend our week covering the benefits of security tokens, the gradual progress of Quarkchain's code, and the crypto platforms that are best positioned to win the market.
But we've also saved a few moments in our Friday schedule for the quarrels and gossip within the cryptosphere–even if it means starting a few fights. Because…
Crypto Briefing Cannot Be Muzzled.
---
xRapid Live in Three Institutions….Almost
We hate saying "we told you so," but we did, you know. Hours after Crypto Briefing implied that the press circus around Swell would be a logical time to launch xRapid, the entire Crypto media, including CNBC, echoed with the news that the XRP liquidity network was now "live for the first time with three financial firms."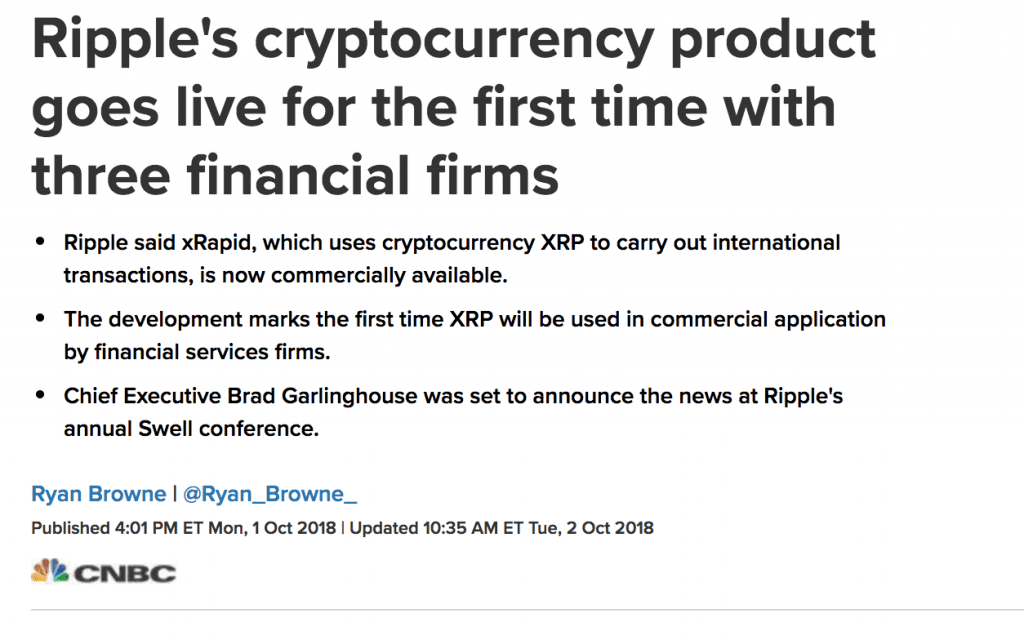 Other followed along, with CoinDesk reporting that "3 Companies Are Now Using XRP For Real Payments."
Except….that's not exactly what Ripple announced. The published statement merely declared xRapid to be "commercially available and moving into production," which doesn't quite suggest live payments at all three institutions.
"We have signed a production contract and are currently building out our plan," said the COO of Catalyst Corporate Credit Union, and Mercury FX's CEO was "excited to roll commercial payments out within the quarter." That doesn't sound live to us.
An email exchange with Ripple's press agents confirmed our suspicions, and a later article clarified:
…xRapid is moving into production with partners MercuryFX, Cuallix and Catalyst Corporate Federal Credit Union. As of today, Ripple is now sending live payments using XRP for on-demand liquidity from U.S. to Mexico with Cuallix.
CNBC, it seems, was one for three, along with most of the Crypto media space.
This shouldn't dim the shine from xRapid, the adoption of which represents a formidable coup that will put XRP to actual, real-life use. But it says quite a bit about CNBC and much of the crypto media space, who were so eager to publish the news that they didn't bother to actually read it.
---
Venezuela: Maduro Pulls a Tron
The Bolivarian Republic is not known for freedom of the press, but they've proven themselves pretty liberal with a Xerox machine. President Maduro recently announced a reboot of the failed Petro cryptocurrency, and some developers found the code a bit….familiar.
The new cryptocurrency has some remarkable features: an X11 proof-of-work scheme as well as InstantSend functionality maintained by a network of incentivized masternodes.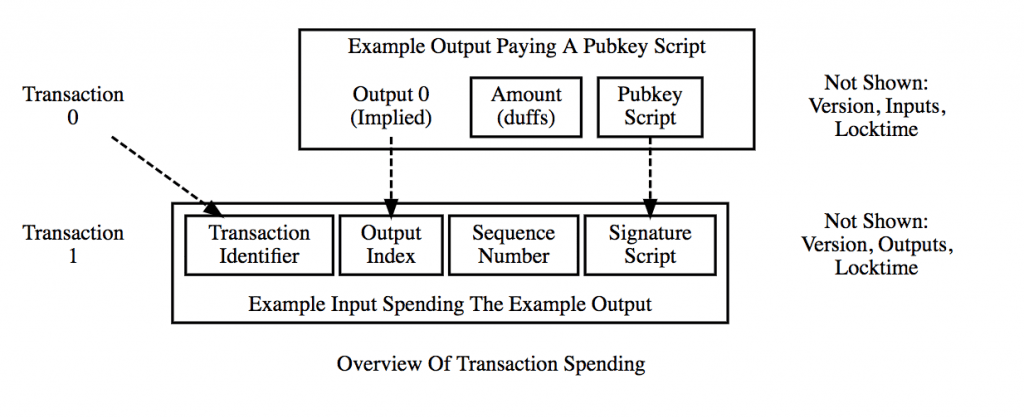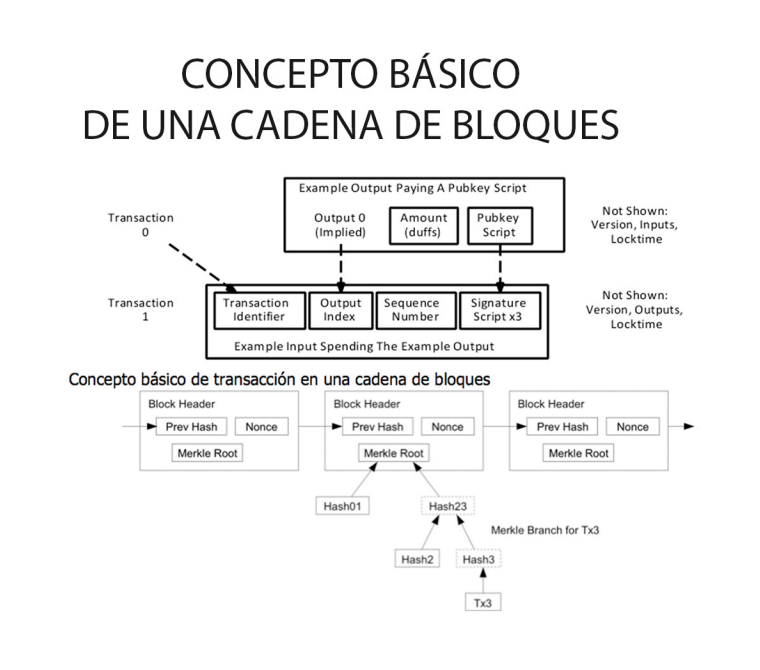 According to Ethereum Core Developer Joey Zhou: "Venezuela's new Petro token is a blatant Dash clone."
As the most successful digital currency in the country, with adoption by over a thousand merchants, it's no surprise that the government would literally steal a page from the Dash playbook. But we can't help wondering: if the "Petro" is created through mining rewards and master node rewards (both Miners and Masternodes, it seems, are under government control) then in what sense is it "backed" by the country's oil reserves?
---
ShapeShift CEO Shocked – SHOCKED! – By Investigation by Investigative Journalists
Last week the Wall Street Journal published an embarrassing hit piece on ShapeShift, a popular in-wallet exchange, whose CEO made their job significantly easier by cooperating with their investigation over a five month period.
"Over a period of five months, we were open and accommodating of their questions," CEO Erik Voorhees wrote in an angry rebuttal, "while in contrast they misrepresented their intentions until very recently." Voorhees explains at length his perception of inaccuracies of the Journal's report, some of which could be true.
It's not easy to get all the technical details right, but that's beside the point. Whether or not Voorhees thinks he has done anything wrong, a crypto boss spending five months thinking aloud to the Wall Street Journal is like Hillary Clinton sharing her browser history with Fox News.
And we're not the only ones who do so. Reading between the lines of the Journal's report is like an episode of The Office, where the employees desperately try to stop their boss from shoving his foot further down his own throat. Unfortunately, there's no Toby or Pam Beasley at ShapeShift's Denver Office, but here's their Chief Legal Officer:
Ms. McGregor said she wants to separate Mr. Voorhees's views from the company's [the WSJ reports]. "Just because it's the personal philosophy of the CEO doesn't mean that's how the business is going to be run," she said. "He's not pro-money-laundering."
There's no indication that Mr. Voorhees has a "World's Best Boss" mug, but hopefully the next time Journal reporters call, he'll recall the hard-earned business nous of the Dunder Mifflin paper company. "Fool me once, strike one," says management guru Michael Scott."Fool me twice….strike three."
Words of wisdom for those in the crypto space who would ally themselves with the mainstream business press, perhaps seeking some form of validation for our industry (or their achievements):
THEY ARE NOT YOUR FRIENDS. THEY ARE NOT YOUR FRIENDS. THEY ARE NOT YOUR FRIENDS.
They say mean things about us, and they're often wrong. Hey, WSJ… have you met Lindsay Lohan?
---
The author is invested in Dash, XRP and other digital assets.