What Is Decentraland?  Introduction to LAND and MANA Token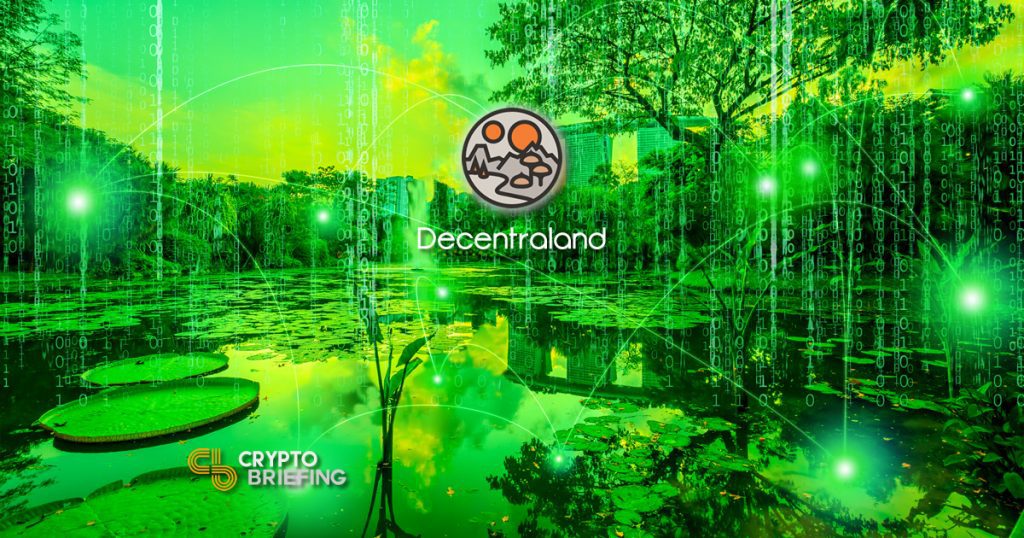 What Is Decentraland?
Decentraland is a blockchain-based virtual reality platform built on the Ethereum blockchain. Like Minecraft or Second Life, there's no real objective in Decentraland. Instead, users traverse a virtual world, buying non-fungible plots of digital LAND on which to monetize through tokenized, decentralized games, apps, etc. LAND is purchased using MANA, Decentraland's native ERC-20 cryptocurrency token.
According to the Entertainment Software Association, consumers spent $36 billion on the video game industry in 2017 alone. And CCS Insight predicts 121 million mixed reality headsets will be sold in 2022, up from 22 million sold in 2018. The growing sector of virtual and augmented realities includes more than consumers too.
Decentraland lets you build anything on your plots of LAND, and we've already seen what happens when people are given such power. Minecraft servers, for example, contain exact replicas of fantasy worlds, working computers, and all levels of creations. The PlayStation-exclusive LittleBigPlanet has over six million community-created levels that include recreations of other games (Plants vs Zombies is a classic), a working piano, computers, and more.
Not only does Decentraland provide a digital VR land to build on, but it's hosted on Ethereum's decentralized servers. The world is rendered using BitTorrent and Kademlia DHT networks too, making it a combination of blockchain and torrent P2P technology.
Hosting game servers takes a large chunk of the ~$6 billion dedicated hosting market, and giants like Microsoft, Sony, Electronic Arts, Valve, Twitch, and Blizzard know it's neither cheap nor easy keeping people happy in virtual worlds.
Is this blockchain-based VR world powered by cryptocurrency just a jumble of trendy buzzwords, or is this digital world the best blockchain-based OS IRL?
Let's begin our exploration of Decentraland's creative project by tapping MANA, the native ERC-20 cryptocurrency token of the Decentraland network.
---
MANA Cryptocurrency Summary
There is a total supply of 2,644,403,343 MANA. The peak price so far was $0.259307 on January 8, 2018.
The Decentraland ICO occurred from August 8 through 26, 2017, raising approximately $24 million worth of ETH, BTC, and other altcoins. Of the initial supply:
40 percent was sold in the ICO crowdsale

20 percent was distributed to the community and partners

20 percent was distributed to the founding team

20 percent was retained by the Decentraland Foundation.
The money raised from the ICO will be used to fund research and development, marketing and community development, and business and legal operations.
MANA cannot be mined, and once it's used to purchase LAND from Decentraland, it is burned. Because Decentraland is built on the Ethereum mainnet, LAND is stored in Ethereum smart contracts, and MANA is an ERC-20 token.
We'll discuss the economics of LAND more below, but they basically work like real estate contracts, with the market adjusting similar to the real-life housing market.
Initial LAND plots sold by Decentraland cost 1000 MANA, but the secondary LAND market has gotten quite sophisticated over time, and single plots cost in the 10,000 to 100,000 MANA range. Plots are often merged into more expensive estates, with a 2,000,000 MANA estate of LAND sold in March 2018 holding the current record for most expensive digital real estate.
Decentraland's first LAND auction was held in December 2017, and its second LAND auction occurred December 2018. Decentraland also partnered with Binance in December 2018 to allow LAND purchases with BNB for its auction.
Aside from LAND, MANA is also used to purchase goods and services within the Decentraland ecosystem. It's also traded on the open cryptocurrency market.
Approximately $8,500,000 worth of MANA is traded on a daily basis. Markets that accept MANA include Binance, LATOKEN, TOPBTC, Bittrex, and Huobi. MANA trading pairs include BTC, ETC, and USDT.
As an ERC-20 token, MANA is supported by any ERC20-compatible wallet, including MyEtherWallet and Ledger's Nano hardware wallets.
---
Welcome to Genesis City
Decentraland was launched by Streamium and Bitcore creators Ari Meilich and Esteban Ordano. As mentioned above, it uses a combination of blockchain and torrent technology to distribute hosting and rendering through a P2P network. On a technical level, content is distributed through the IPFS network, with data hashes stored on the blockchain.
In addition, LAND transactions are validated through Ethereum's smart-contract layer. Each plot of land is 10m by 10m (33ft by 33ft) in size, with infinite vertical scalability. LAND plots can also be bonded together if you own multiple adjacent plots. All modifications made to LAND is stored in the smart contract and verified on Ethereum.
To encourage centralized development within the Decentraland scrawling landscape, the team created a metropolis called Genesis City that's roughly the size of Washington DC in square footage. It also launched a two-week long Creator Contest to encourage LAND development in February 2019.
Genesis City provides several key features – as a focal point, it becomes a virtual metropolis and makes discoverability easier for both users and developers. The city is also zoned like a real city, with commercial, industrial, and residential areas available.
And Genesis City has its own active Chamber of Commerce of sorts in the form of the Genesis Content Program, through which it's investing $5 million to fund blockchain gaming projects. So far Chainbreakers, a decentralized RPG; Cryptocarz, a decentralized racing game; Etheremon, a decentralized Pokemon clone; and Cryptobeasties, a decentralized trading card game, are among the anticipated projects built on Decentraland.
While certainly taking time to build up, the current library on Decentraland isn't far behind VR marketplaces like PSVR, Oculus, Windows MR, or Steam VR. As both internal and external development improve, one can only wonder what will be created within this virtual metropolis.
---
Decentraland Summary
Decentraland isn't a video game – it's a VR world that has digital economies and active development for both consumer and enterprise users. This tactic of development provides a lower barrier to entry for those who may not fully understand coding but can build utility when given the proper tools. Decentraland's success hinges on these key factors.
Decentraland is built on the Ethereum blockchain and uses a combination of blockchain and BitTorrent technology to render across a distributed and decentralized P2P network.
MANA is the native ERC-20 cryptocurrency token used in Decentraland. Both MANA and BNB can be used to purchase LAND, digital real estate represented by Ethereum smart contracts.
Genesis City is the metropolis built in Decentraland to centralize virtual development and create a cohesive second-life environment.
What Decentraland is building is not going away any time soon. It may be riding Ethereum's coattails now, but it can easily be adapted to work as a sidechain to other blockchain networks. This decentralized virtual world may be the next Minecraft or Second Life (both of which are still active). But nothing is ever guaranteed in this world, and the Decentraland team still has a long road to go.