What Is SingularityNET? Introduction to AGI Token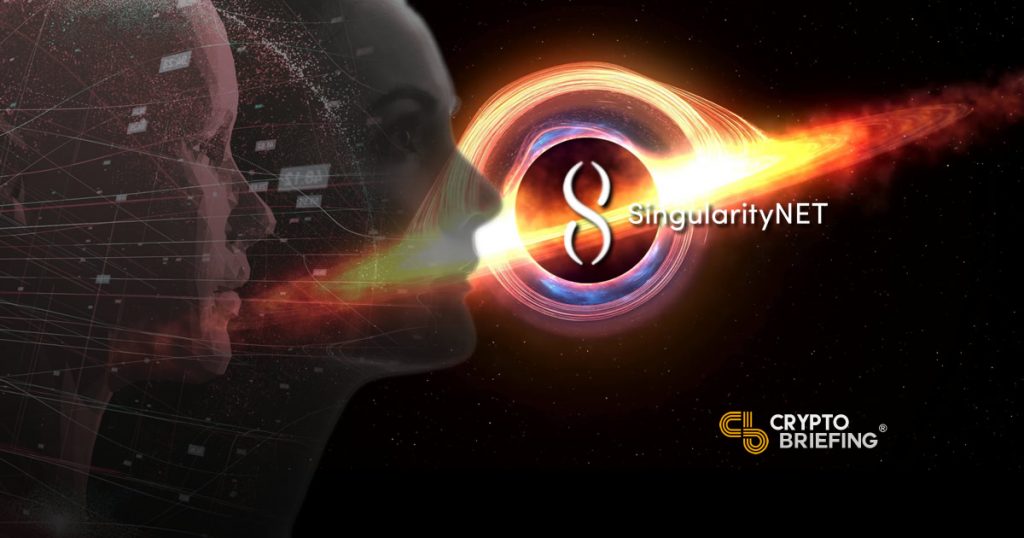 What Is the SingularityNET?
SingularityNET is a decentralized, full-stack Artificial Intelligence (AI) network featuring an AI-as-a-Service (AaaS) marketplace. The Netherlands-based project aims to further AI development and implementation, and has partnered with companies such as Domino's pizza. AGI is the proprietary cryptocurrency token used by SingularityNET.
"AI" is an umbrella term used to describe a host of technological advancements, from chatbots and home automation to deep learning, machine learning, and more. "Crypto" is a similar term used to encompass blockchain, digital currency, decentralization, distributed computing, etc.
Despite our general lack of nuanced understanding, the legitimate use cases of both technologies are growing exponentially. Chatbots, for example, are expected to handle 85 percent of customer support interactions and Juniper Research estimated that 2.5 billion voice assistants (Alexa, Siri, etc.) were in use at the end of 2018. (Yes, billion.)
The AI market is expected to grow in value to $191 billion by 2024, according to analysts at Market Research Engine.
Of course, AI also has its dark side, with Deepfakes gaining media momentum after Jordan Peele and Joe Rogan Deepfakes stunned the internet. Deepfake.org was taken down, but revolutionary software like Deepfake is forever online.
Still, SingularityNET wants to empower this market, even partnering with Deep BrainChain (DBC), a similar AI project on the NEO blockchain. It expanded partnerships in 2019 striking deals with Chinese insurance giant and asset management firm Ping An and fast food giant Domino's Pizza, Inc. to help streamline operations in Malaysia and Singapore.
These high-profile collaborations helped catapult the project up into the cryptocurrency top 100 projects. And it's not stopping there; this startup also launched an accelerator in mid 2019 called X-Lab Blockchain AI.
Things are looking up for this blockchain-based AI company, but it's not without competitors, like the aforementioned Deep BrainChain and EOS-based Effect_AI (EFX). So let's dive deeper into the project by reviewing its AGI token, SingularityNET's proprietary ERC-20 token, and its cryptocurrency market performance.
---
AGI Token Cryptocurrency Summary
SingularityNET has a total token supply of 1,000,000,000 AGI. The peak price so far was $1.16 on January 18, 2018.
The SingularityNET ICO token sale was held December 22, 2017, raising approximately $33 million worth of ETH. The token supply was divided at the genesis block as follows:
500 million – ICO Token Sale

200 million – Reward Pool

180 million – Founders Pool

80 million – SingularityNET Foundation

40 million – Bounties and Other Air Drops
AGI is used to tokenize transactions on the SingularityNET marketplace, paying for goods and services much like digital currency. Hodlers can vote on network decisions, making it a governance token. The Reward Pool is withheld by the network to incentivize participation on the network, although the exact methods of rewards are yet to be determined. The Reward Pool distribution is set over ten years, and once exhausted, the community votes on whether to create a new pool or adapt to new methods.
Staking AGI is necessary to become an AI Agent, which are the entities responsible for executing SingularityNET smart contracts. Tokens are used in place of those used by off-chain protocols to enable cross-chain compatibility without the need of other native tokens.
AGI is accepted on several cryptocurrency exchange markets, including Binance, Coinbit, KuCoin, Ethfinex, and Tidex. An average of over $1 million worth of AGI is traded on a daily basis, and trading pairs include BTC, BNB, ETH, and fiat currencies like USD and KRW.
As an ERC-20 token, AGI can be stored in any ERC20-compatible wallet, including MyEtherWallet, Trust Wallet, and hardware wallets from Ledger and Trezor.
---
Approaching the SingularityNET
The SingularityNET blockchain is a bit complicated, but thankfully the team drew us a picture to start with.
The platform's APIs let developers insert standard AI-related service data into smart contracts.
Using Deepfake as an example, the program simply needs as many photos from as many angles as possible to change the face in one video to another person's face. In this case, the images would be loaded into a smart contract by a seller, and the Deepfake developers would be buyers seeking image data to refine their process. On the flip side, Deepfake could then become a seller of its AI-driven service.
This open, two-sided marketplace depends on smart contracts to facilitate the interactions, and on-network Agent nodes create a trust network to verify and process the transactions.
Agents rank trust with each other on a simple 1-0 scale, and the sum of these ratings is averaged in with AGI token staking and other factors to determine reliability on a large scale, even automating the process.
In fact, as the platform grows, the team hopes to build a full-scale, AI-powered network, capable of handling even the most complicated technical processes with ease. And the team of over 50 is highly pedigreed in what this will take, boasting nearly a dozen PhDs between them.
CEO and Chief Scientist Dr. Ben Goertzel is also chairman of the OpenCog Foundation and Artificial Intelligence Society, and the Chief Scientist at Hanson Robotics. Dr. David Hanson is the team's Robotics lead, and Sophia, a humanoid robot designed by Hanson Robotics, serves as Chief Humanoid.
While Sophia certainly looks impressive, engineers at tech giants like Facebook deride her as simply a high-tech puppet with no true AI capabilities. It remains to be seen if SingularityNET is the next step in AI's evolution or yet another PR stunt that amounts to nothing. As it stands now, the company is certainly securing major partnerships that could monetize the project.
Major brands like Coca Cola are already spending big on AI after realizing the potential upsides. If the partnerships with Domino's and Ping An prove profitable, SingularityNET has a bright future ahead.
---
Summary
SingularityNET is an ambitious blockchain-driven AI marketplace created by the team at Hanson Robotics responsible for the Sophia humanoid robot. The project is currently in beta and already forging partnerships with major corporations. The sustainability of the project depends on these key factors:
SingularityNET currently runs on the Ethereum blockchain, but its interoperability can be adapted for other platforms, even its own.

AGI is the proprietary cryptocurrency token used by the SingularityNET platform. Tokens can be staked for voting rights and to become an Agent or spent on goods and services on the platform.

The SingularityNET Foundation is working hard to forge enterprise partnerships and advance AI research.
If it can continue leveraging technology and marketing buzz, the company could have a success on its hands. Even the most promising projects can be fumbled, and there's a long road ahead. But SingularityNET has so far accomplished a lot in a small period of time.