NEO DApp Migrates To EOS For Faster Speed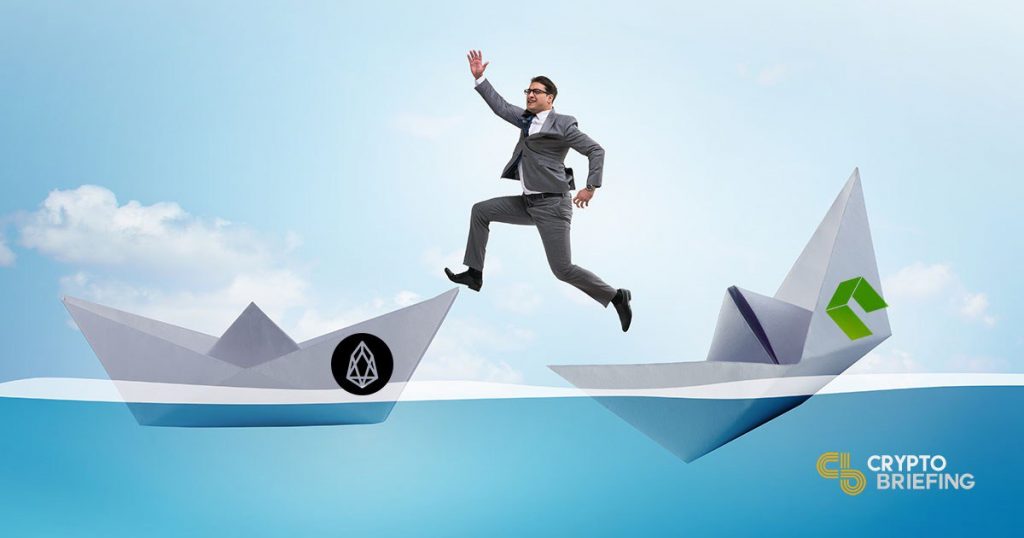 Seven months in, one of NEO's most popular dApps has decided to migrate onto EOS. The project says they feel let down by the technological shortcomings of the 'Chinese Ethereum'. Switching platforms will help them expand their business, they claim.
Effect.AI (EFX), a network for the development and trading of algorithms used in artificial intelligence (AI), said "disappointment in the performance of the NEO technology and concerns about the lack of direction of NEO's future" meant they had little choice but to look for an alternative platform.
Although a "good blockchain" for the initial launch, Jesse Eisses, CTO of Effect.AI explained that NEO had failed to deliver when "put to the test."
He said: "the current implementation of the blockchain can't get to the promised transaction throughput and the smart contract compilers besides C# are still immature."
Effect.AI decided to launch a dApp on the NEO blockchain back in late 2017. The project's two online marketplaces, Mechanical Turk (M-Turk) and Effect Force, which connect AI developers to paid contributors, finally launched in beta mode at the end of June – a month after the launch of the EOS mainnet.
At the time, Effect.AI said it had been attracted to NEO because of feeless transactions, multiple programming languages for smart contracts as well as the potential for rapid expansion brought on by increased scalability.
But the project soon experienced difficulties. Feeless transactions turned out to be unsustainable due to poor security. The network's TPS rate remained at 15-20, too slow for Effect.AI's needs; a problem which came to head when NEO struggled to handle 200,000 EFX transactions at the launch of Effect Force.
More worryingly, Effect.AI said there was a lack of direction with NEO's future and a potential full reboot, known as NEO 3.0, would force projects to migrate over to a new platform anyway.
Effect.AI plans to have fully migrated operations and EFX tokens over to EOS by the end of April this year.
---
Why EOS?
Based in the Netherlands, discussions with EOS began after Effect.AI was invited to the platform's London hackathon in late September last year, ostensibly to be one of the event's mentors, but also to meet some of EOS' community members.
Effect.AI, which says it is "blockchain agnostic," considered other platforms, including Ethereum (ETH), TRON (TRX) and Tezos (XTZ), Laurens Verspeek, the project's co-founder and chief architect, told Crypto Briefing EOS "stood out above the rest."
The platform offered advanced software, greater security, ease of use and good community, Verspeek explained. It also had a transaction per second rate 300 times greater than that offered by NEO, making it possible for Effect.AI to process more than a million transactions every day, a milestone it wants to reach by the end of 2019.
"Effect.AI and the project are blockchain agnostic and we will always continue to look for technology that is most suited to the robust nature of this network," said Chris Dawe, CEO of Effect.AI. "Our entire team sees that EOS is well ahead of most other projects in the space, on a technological, mass adoption, and community level. These are the three main aspects we or anyone else should look for when looking at a blockchain."
"The Effect Network cannot be built on a blockchain of uncertainty," he added.
---
The only NEO dApp to leave?
Today's news will be a big blow. Effect.AI was one of the most promising dApps in the NEO ecosystem. The sector is saturated with platforms, but overtime dApps will gravitate towards networks with the best underlying technology.
Effect.AI haven't ruled out a possible return to NEO and Verspeek emphasised that the project will constantly be on the lookout for better solutions. Because they needed higher throughput capabilities, EOS was their best option.
To be clear, NEO isn't the only platform that's lost dApps. Ethereum has particularly struggled over scalability. The ETH-based game Etheremon announced in July it was moving some of its operations onto the more scalable Zilliqa (ZIL) platform, as Crypto Briefing reported at the time.
The key takeaway here is dissatisfaction with the underlying tech caused a project to leave for pastures new. Other NEP-5 projects may be evaluating their position; NEO will have to address these problems and address them fast.
---
The author is invested in digital assets, including ETH, ZIL and NEO which are mentioned in this article.