Why Cardano is Still Holding Strong After Market Crash
Despite the recent market turbulence, Cardano is showing strong support over $1.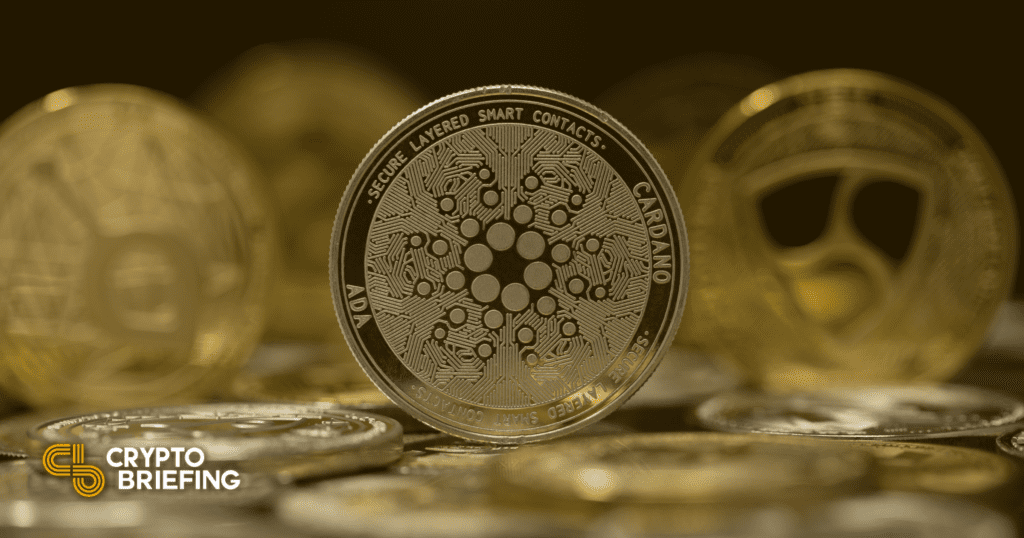 Key Takeaways
Cardano's native token ADA has shown strong support in the $1 to $1.20 range.
Investors staking Cardano look to be helping it maintain its support.
The strong community surrounding Cardano is also helping to keep people interested despite development setbacks.
Since Cardano's launch in 2017, its ADA token has seen wild swings in price. Now that a support level looks to have been established, there are several reasons why Cardano is holding its value.
Cardano's Strong Support Level
Following a historic run at the start of 2021, Cardano broke past its previous all-time high of $1.18 established in 2018. Since then, crypto markets have experienced a pullback, with Cardano being no exception. Top ten projects such as Ripple were hit hard, with XRP losing up to 70% of its value since April. Polkadot, the 9th largest cryptocurrency by market cap, has fared slightly worse, falling over 73%.
However, while the ADA token fell with the rest of the market in May, its previous all-time high looks to be acting as support. Cardano has shed less of its gains than other top ten coins since the market peaked, falling only 48% from its current all-time high of $2.47 achieved on May 17. While other projects have slowly declined in value, Cardano has held up in the $1 to $1.20 range.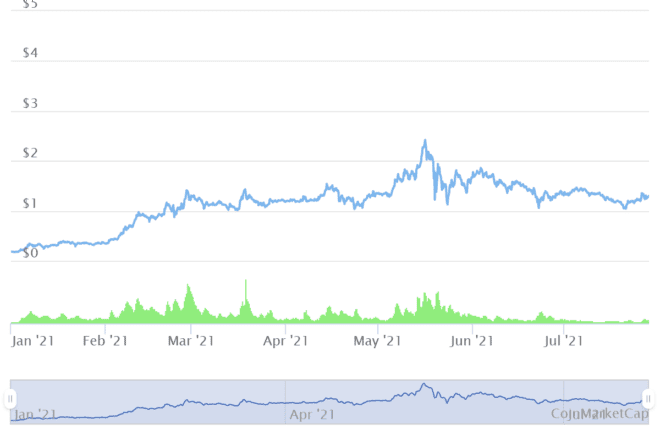 As the 3rd largest cryptocurrency by market cap (excluding stablecoins), investors frequently regard Cardano as a hedge to Ethereum. When comparing price action, there have been similarities between Ethereum and Cardano since the start of the current bull market. Both tokens spiked in value in mid-May, only to fall back to levels maintained in February and March. However, the reasons for Cardano's current strength cannot be fully explained by its use as a hedge to Ethereum.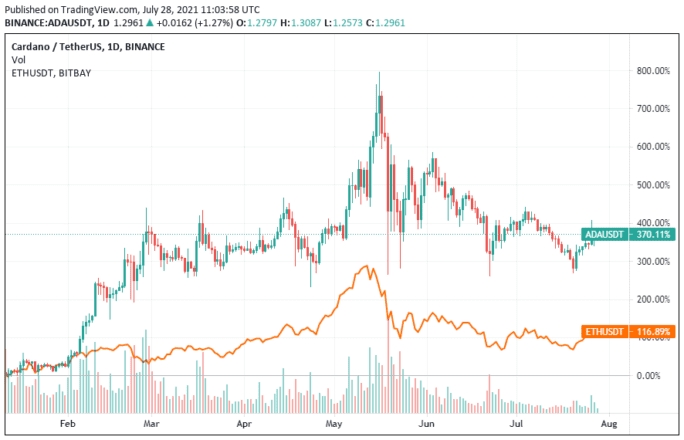 Staking Made Simple
One possible reason demand for ADA has held up so well is Cardano's staking model. Rewards consistently sit at 4 to 6% APY and are distributed to stakers every five days. Compared to other Proof-of-Work coins, ADA is simple to understand and more accessible to the average investor. Major exchanges such as Coinbase, Kraken, and Binance allow for one-click staking, making ADA an enticing investment for even casual crypto investors.
Cardano also offers a lower barrier to entry than its competitors for those looking to run their own validator to stake ADA. Hardware requirements are almost non-existent, with only 4GB of RAM and 24GB of memory needed. In comparison, running a validator on Solana requires a high-grade CPU and a minimum of 128GB of RAM.
ADA's apparent support and ease of staking have made it attractive as a lower-risk crypto investment. If investors are confident that firm support has been established, they will likely view ADA's current 6% APY appealing, even those who do not expect any short-term upward momentum. As investors buy in for the stable return on investment, it creates more demand for ADA, thus strengthening the support in a cyclical relationship.
When looking at the amount of ADA staked across the network, investors seem to be sticking with Cardano for the long run. The number of wallets staking ADA has maintained a stable floor over the past six months, never dropping below pre-February levels.
Investors running their own staking pools are seeing similar trends. Popular quantitative analyst Benjamin Cowen has noted stable levels of ADA delegation to the staking pools he runs for his community of followers, reasoning that people's commitment to staking is helping to establish support.
The final aspect of Cardano's strong support is its community. Founder Charles Hoskinson regularly engages with the Cardano community via YouTube and Twitter, keeping investors up to date on the project's latest developments. Like many crypto projects, Cardano has been slow to deliver on promised features such as smart contracts, which are still yet to go live. However, by building a strong and engaged community, the project has successfully held interest from investors.
Whether Cardano will be able to maintain its position in the future remains to be seen. Technical analysis suggests that while ADA shows strong support, it is also having difficulty breaking out of its current range. Regardless of the short-term price action, it seems Cardano's supporters are unlikely to leave anytime soon.
Disclaimer: At the time of writing this feature, the author owned BTC, ETH, and ADA.