XEM News: Is NEM Dead...Or Just Sleeping?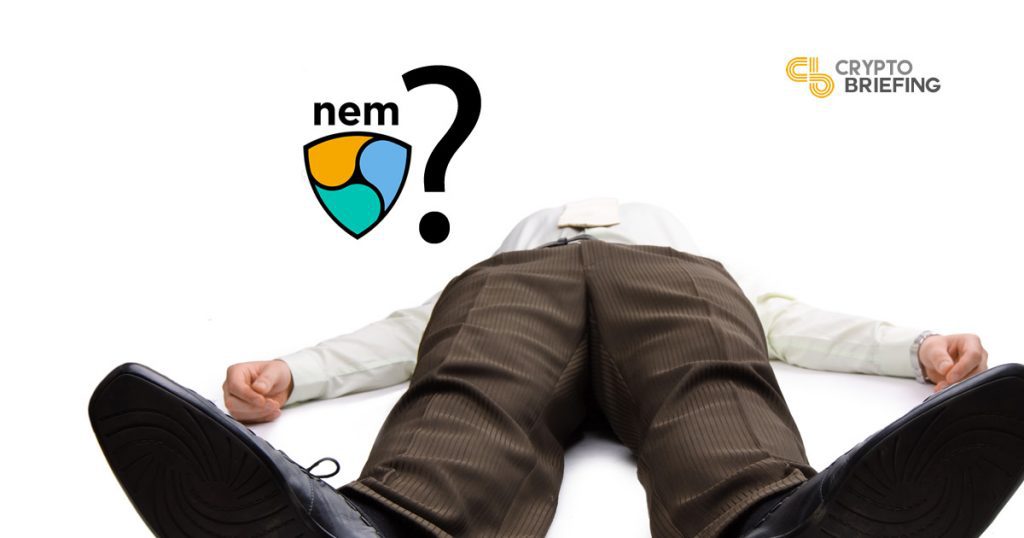 Few people ask for the XEM news anymore. The blockchain platform hasn't really made the headlines since hackers made off with $500m worth of NEM tokens from the Japanese crypto exchange Coincheck.
That was at the end of January when XEM tokens were just above the $1 mark. Like the market in general, 2018 has not been kind to the NEM price; two minor rallies have not stopped the coin's downward trajectory. NEM was trading at just below $0.1 at the end of last week, giving it a market cap of $860m; it had reached $17bn at the beginning of the year.

Despite this, NEM has been the big winner this week. Its market cap has spiked above the billion-dollar mark early on Tuesday, making each coin worth $0.11. NEM's total value has increased by well over $100m in the past two days.
So what caused the NEM price spike? More importantly, what has NEM actually been up to for the last eight months?
---
What is NEM again?
A quick recap: the New Economy Movement – NEM for short – is a smart contract-ready platform. XEM tokens are used to pay for dApp development and network fees, in the same way as Ether (ETH) is used on the Ethereum network. What makes NEM unique is its consensus algorithm. Known as Proof-of-Importance (POI), nodes are weighted on their network activity, as well as their wallet balance. This means nodes with smaller wallets can potentially have more influence on the NEM blockchain than their larger counterparts.
There are currently over 20 projects working on the NEM network. An infographic published last week on the project's official Twitter feed shows five of these are payment platforms. These include a privacy coin Eroiy; a Brisbane-based project called TravelByBit, using cryptocurrencies to encourage tourism in parts of Australia; part of the retail payment provider Pundi X (NPXS) also uses the NEM network to enable users to purchase tangible objects with cryptocurrency.
There are three charitable foundations based on the NEM network and an open-source research application, which wants to foster closer-chain collaboration. There is also a platform for will-writing, called NEMWill, as well as an application to create digital carbon instruments, which launched at the beginning of September.
---
What's the XEM news?
So what has NEM been up to? The NEM Foundation's Twitter feed is littered with numerous conference appearances, but it's difficult to pin down what the project has actually done.
The Blockchain Institute of Singapore said at the end of last month they would use its blockchain to issue its digital certificates. NEM announced a partnership with Liven, an Australian reward-based dining app yesterday. The collaboration will enable users to buy LVN tokens with XEM as well as use the platform to collect market data. This may some way to explaining today's price spike.
NEM also announced on October 1st that they would partner with Portal Network to offer a blockchain name service.
But on balance, the NEM news hasn't been all that positive. China's annual Blockchain Assessment Index, published in late August, ranked NEM at the bottom of the projects it reviewed, for the second time running.
The anticipated surge of users following the launch of the Venezuelan 'Petro' on the NEM blockchain never materialised because the token couldn't be transferred into anything else, not even other cryptocurrencies. The Ukrainian Electoral Commission experimented with NEM at the beginning of August, but there hasn't been any word on how that went.
---
You Shouldn't Disturb NEM Sleep
NEM is growing, but slowly. When NEM launched back in 2015, it was one of the few platform networks around, second only to Ethereum. This is no longer the case; the market is saturated with projects such as Cardano (ADA), VeChain (VET) and Zilliqa (ZIL).
NEM needs to up its game. The competition has strong teams paid for by large war-chests from the blockbuster public sales last year. Two successful partnerships in less than a week may have resulted in today's price rise, but these are normally fleeting. The XEM price will continue to fluctuate; NEM needs to build on stronger foundations.
A savvy marketing campaign and utopian rhetoric used to be enough, but investors are more clued up now. The community will be looking for real signs that NEM is developing along the right lines; a partnership with an Australian dining app is unlikely to do that.
The author is invested in ETH, which is mentioned in this article.