Yearn Finance Nears $50,000 With Grayscale Filing
Yearn Finance's YFI token has gained value in light of a new Grayscale trust filing.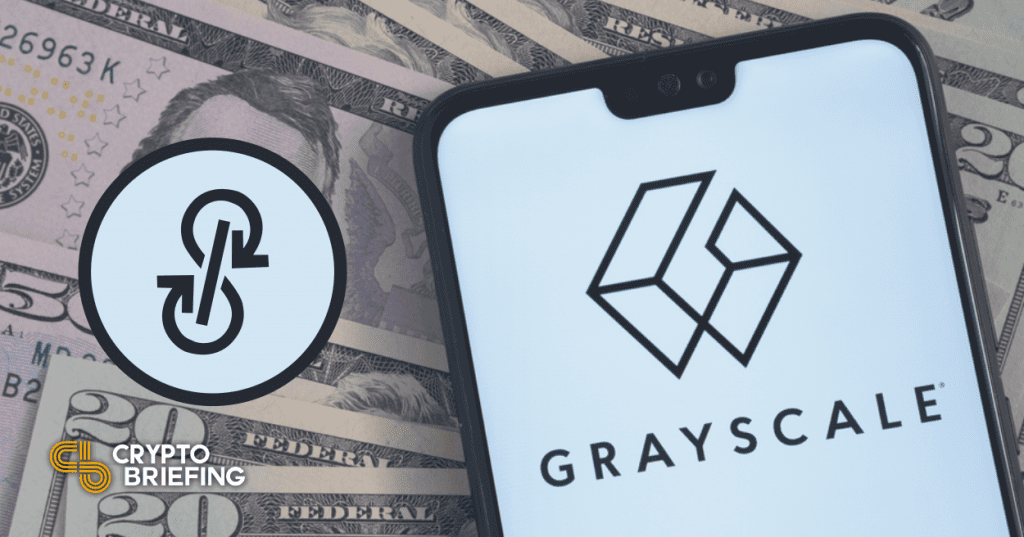 Key Takeaways
Grayscale has registered a Yearn Finance Trust in Delaware as part of its reservation filings.
YFI has been in an uptrend since the beginning of the week, aiming for $53,500 based on trend analysis.
Yearn Finance's address count is also rising steadily.
The price of Yearn Finance's YFI token has jumped after Grayscale's YFI trust registration was publicized online.
Grayscale Pushes YFI Higher
On Feb. 10, the asset management firm Grayscale Investments LLC. registered the entity "Grayscale Yearn Finance Trust (YFI)" with the U.S. State of Delaware at file number #5061770.
It should be noted that the asset management firm has also formed similar trusts for altcoins which have not seen the same price boost, meaning that YFI may not be the sole reason for its performance. Currently, the firm has 37 different cryptocurrency trusts registered.

Regardlesss, YFI is currently in an uptrend. It has gained 24.5% since yesterday's opening at $36,300. YFI broke beyond the resistance from the symmetrical triangle, aiming for $53,500. The previous peak of $47,000 will be the next area of interest for traders, and the market is likely to see some profit booking at the level.
The asset's price is now comparable to that of Bitcoin, which was priced at $47,000 at the time of publication.
YFI Address Growth Is High
In addition to YFI's price surge, the number of Yearn Finance addresses is on the rise at a rate comparable with other leading DeFi protocols such as Aave and Uniswap. Uniswap's address count narrowly overtook Yearn Finance's earlier this month, and Yearn Finance's address count is still higher than Aave's.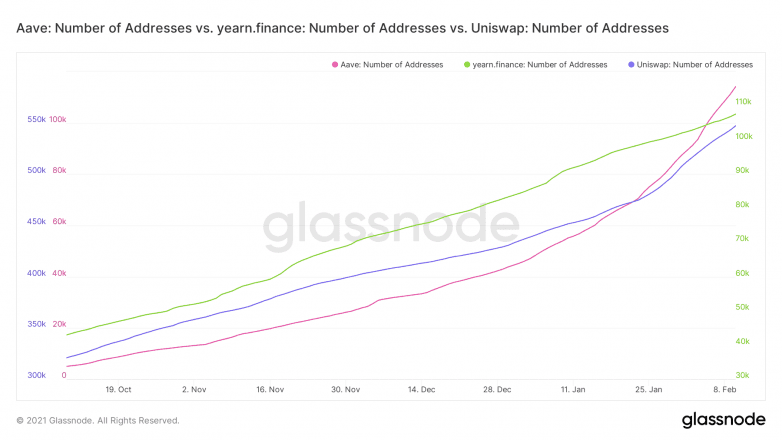 YFI Could Regain Popularity
YFI was one of the most popular yield farming tokens in the summer of DeFi in 2020. Now, Grayscale's filling has given YFI a momentary push, which could help YFI rise up yet again.
Other factors are at play in the cryptocurrency's price as well. Yearn Finance recently increased YFI's supply by issuing new tokens into circulation, putting pressure on its price.
The coin's area of support is between $30,500 and $31,500. A positive breakout above $47,000 may see YFI reach $50,000 before Bitcoin does. At publication, YFI traded just below $42,000.

Disclosure: The author held Bitcoin at the time of press.