Zcash Tech Fires Ethereum Towards True Scalability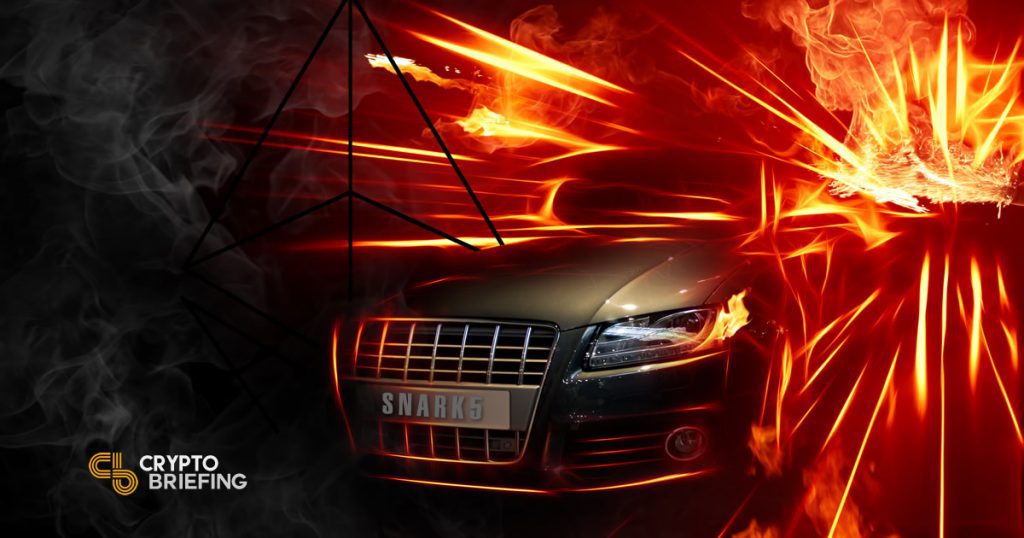 What a difference a new year makes. The crypto market is decidedly positive, with nearly all of the top 10 cryptocurrencies trading in the green — including Ethereum (ETH). With the ether price holding above $150, the community is optimistic for the upcoming hard fork date of Jan. 16.
The scheduled upgrade, dubbed Constantinople, may be part of the reason why Ether prices remain resilient after a series of setbacks and delays deflated sentiment around the largest dApp platform.
Adding to that resilience is the unexpected but welcome integration of zk-SNARKs onto Ethereum's Plasma testnet, which is a positive indication for the network's future scalability. Zk-SNARKs are the form of zero-knowledge cryptography used by Zcash (ZEC) for privacy transactions.
ETH strongly influences the broader crypto market — in both directions. While bitcoin's dominance hovers at 51.7%, ETH could be making a comeback of its own. After recently reclaiming the No. 2 spot among cryptocurrencies from XRP, Ethereum has once again given investors something to celebrate.
---
Why It Matters
Moscow-based Matter Inc. is a team of developers that looks to solve the blockchain's scalability shortcomings. They recently launched what the dev team describes as a SNARK-fueled implementation of Plasma on Ethereum's Rinkeby testnet. Dubbed Ignis: Fire, it bolsters Ethereum's scalability to 500 transactions per second (TPS).
Compared to Ethereum's current limit of 15 TPS, the new tech thrusts distributed ledgers into the realm of the Visa network, which operates at 2,000 TPS.
Plasma is the brainchild of Vitalik Buterin and Lightning's Joseph Poon. It has been likened to Bitcoin's Lightning Network, combining off-chain transactions with the security of the Ethereum main chain.
Buterin previously suggested that zk-SNARKs had the potential to scale Ethereum to a capacity of 500 TPS. So it was no surprise that the Ethereum co-founder was impressed by Matter, although he clarified that it was "not technically [a] Plasma" implementation.
This is NOT technically Plasma (the usual name is "rollup") but it's still amazingly cool. I did not expect it to be implemented so quickly. Great job TheMatter team. https://t.co/f6hpAMhwnZ

— vitalik.eth (@VitalikButerin) January 6, 2019
The Matter team knew that they were stretching the "narrow meaning of the term Plasma" but say the ability to "achieve a gas cost reduction by a factor of 50 compared to normal token transfers" justified the classification.
The three top priorities for the Ethereum project in 2019 are scalability, scalability and scalability. As a result, the Ethereum Foundation has awarded a $5 million "scalability, usability and security grant" to Parity Technologies. Parity has been a "self-financed and open-source effort since their founding," and now the Foundation is incentivizing them to work faster.
Parity will direct the funds toward Casper, sharding and other scaling solutions, with the funds to be released in tranches with each milestone reached.
We look forward to making Ethereum even better by completing eWasm compatibility, shipping a light wallet for mainnet, and completing our work on sharding Phase 0 and 1.

— Parity Technologies – We're Hiring! (@ParityTech) January 7, 2019
---
The More, The Merrier
Meanwhile, another founder to cheer the zk-SNARK development was Zooko Wilcox, who expressed his support for on the community forum. It inspired the Zcash founder to "pursue this sort of approach for Zcash," though he pointed out that it's more difficult to scale private transactions.
And even as Ethereum is just getting closer to the SNARK tech, Wilcox suggested that Zcash could go in another direction:
I'm kind of disenchanted with zk-SNARKs and wanting to upgrade to toxic-waste-free systems like STARKs and Bulletproofs instead of using zk-SNARKs for more things, but that again makes it harder and pushes back a probable launch date by about two years.
If Wilcox wants to know the impact that such delays could have on a coin's value, he may want to ask Vitalik Buterin.
The author is invested in digital assets, including Zcash and bitcoin which are mentioned in this article.