All Eyes on Ethereum as Top Token Takes Aim at Yearly-High of $300
The second-largest cryptocurrency by market cap, Ethereum, is back in the green after a two-month long consolidation period.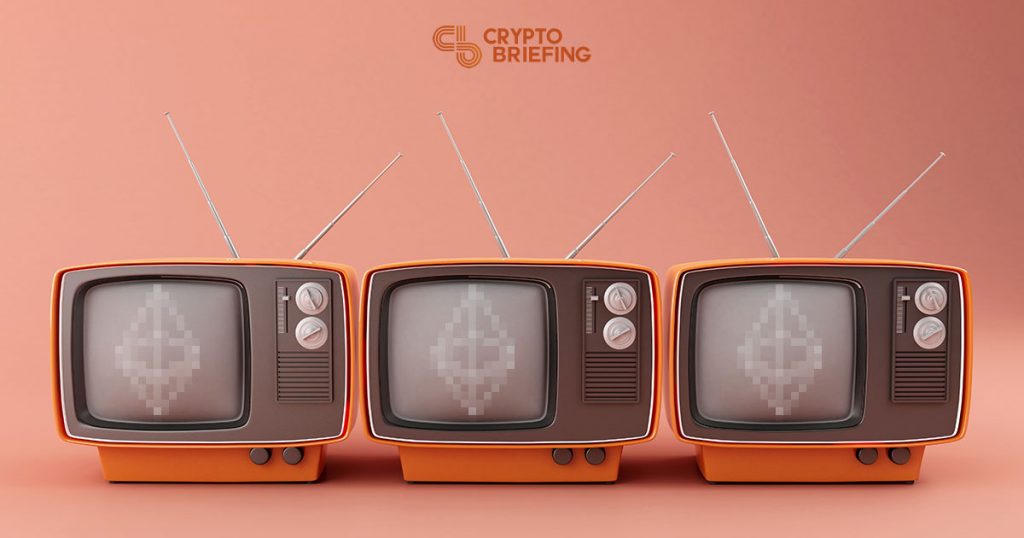 Key Takeaways
The Ethereum Foundation announced the official launch of the ETH 2.0 testnet.
Investors welcomed the news and appear to be growing optimistic about what the future holds.
A further spike in the buying pressure behind Ether could see it rise towards $300.
Ethereum has broken out of a two-month stagnation phase as speculation mounts around ETH 2.0. Different fundamental metrics suggest Ether is poised to advance further if demand continues to rise.
Ethereum 2.0 Is Closer Than Ever
The smart contracts giant is back in the crypto spotlight after the Ethereum Foundation announced the official launch of the ETH 2.0 testnet.
Dubbed Medalla, the newest end-user centric testnet, will open on Aug. 4. The main focal point of this testnet is to improve the staking rewards process ahead of a presumed end-of-year launch.
"Medalla means 'medal' and can be seen as a reference to the Olympic testnet that was used to prepare the ETH1 launch. It emphasizes the importance of the network at this stage towards the ETH2 launch. It can also be seen as a hint that Medalla validators will receive a proof of attendance 'medal' on the Ethereum network for participation," explained Afri Schoedon, a long-time Ethereum contributor.
Market participants appear to have welcomed the Ethereum Foundation's positive news. As buy orders began to pile up, the second-largest cryptocurrency by market cap jumped by nearly 11% to hit a 5-month high of $271.
Investors Grow Optimistic
Ryan Adams, the founder of investment company Mythos Capital, believes that Ethereum is currently undervalued when taking into consideration the growing demand that the DeFi market sector is generating.
Meanwhile, technical analyst Aksel Kibar maintains that ETH is poised to advance towards $287 or higher following the recent breakout.
ETH at $263 is hilarious https://t.co/rZBNh62a17

— RYAN SΞAN ADAMS – rsa.eth 🦇🔊 (@RyanSAdams) July 22, 2020
The growing sense of optimism among market participants can also be seen in the total number of outstanding Ether derivative contracts on Deribit and OKEx.
Open interest for ETH options reached a new all-time high of nearly $200 million while its implied volatility was at an all-time low.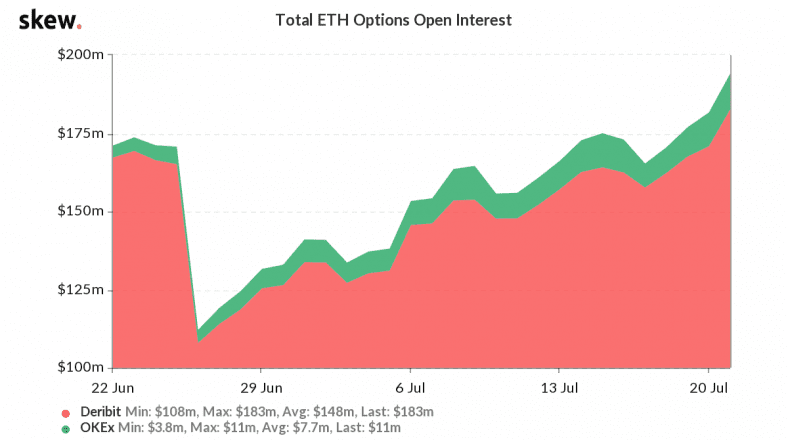 Given the high probability of a significant price movement, large investors holding millions of dollars worth of Ethereum, colloquially known as "whales," seem to be preparing for it. The behavior analytics platform Santiment noticed a substantial spike in Ether transferred to different cryptocurrency exchanges over the past three days.
This behavior suggests that whales are "positioning" themselves to capitalize on ETH's incoming volatility.
"Nearly 700K ETH were moved by top 100 whales in the past 3 days. Over this time, the combined balance of the top 100 non-exchange ETH addresses shrank by almost 700K ETH, or about ~$182.7M. This was likely pre-pump positioning & a forewarning of the pump," said Santiment.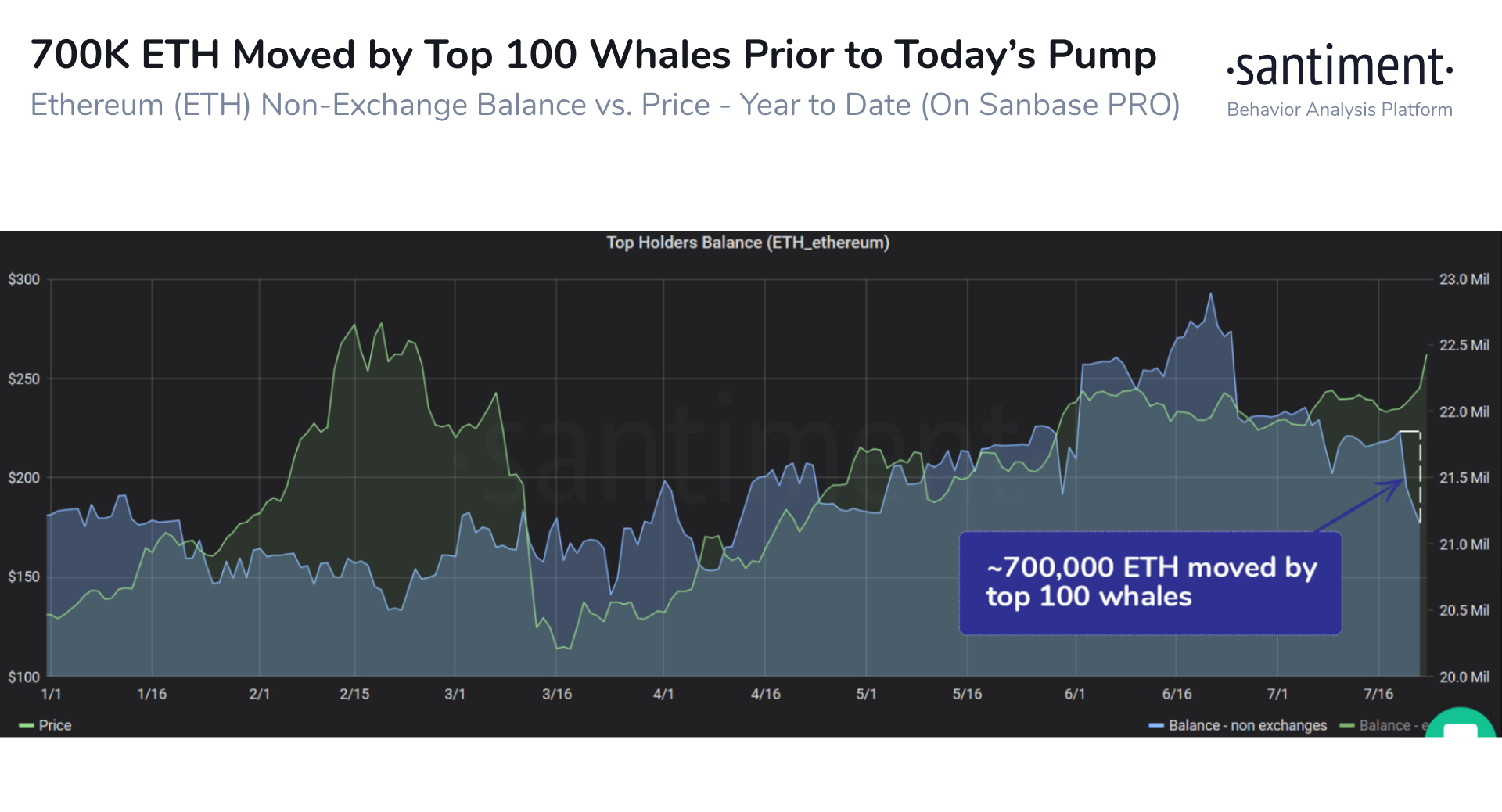 Ethereum is finally gaining impressive bullish momentum, but this needs to be taken with caution.
ETH 2.0 has been delayed several times since it was announced in 2018 due to bugs and management issues. The project's history of missing important milestones calls for wariness since many investors have been routinely burned over the past two years.
Crucial Resistance Zones Ahead of Ether
Regardless, IntoTheBlock's "In/Out of the Money Around Price" (IOMAP) model reveals that there is only one considerable resistance wall ahead of Ether that could prevent it from rising towards $300.
Based on this on-chain metric, roughly 900,000 addresses had previously purchased over 1.3 million ETH between $265 and $271.5. This supply barrier may have the ability to reject any upwards price movement because holders within this range would likely try to break even in the event of an upswing.
However, moving past this hurdle leaves the smart contracts giant open to rise to the next significant area of interest between $295.6 and $303.6. Here, approximately 670,000 addresses bought more than 1.6 million ETH.

On the flip side, the IOMAP cohorts show that a massive supply wall lies between $231 and $247 that may prevent prices from falling further in the event of a correction. Around this price range, nearly 4.4 million addresses are holding over 18 million ETH.
The considerable number of holders within this range will try to remain profitable if prices were to depreciate. They may even buy more ETH to allow it to rebound.
The Crypto Market Moves Forward
The big question around Ethereum is whether or not the developers behind it will deliver on time as competition in the smart contracts sector becomes more fierce.
For instance, Cardano, one of the so-called "Ethereum killers," is scheduled to transition into a proof-of-stake consensus algorithm by the end of the month. If successful, the hardfork could be followed by an exodus of different projects that have been frustrated over ETH's scalability issues.
Now that the ball is in Ether's court, the Ethereum Foundation must accelerate its technological progress or risk losing everything to nimbler competitors.
For more key market trends, subscribe to our YouTube channel and get weekly updates from our lead bitcoin analyst Nathan Batchelor.