Altcoin Rally Unlikely As Institutions Stick To Bitcoin
Institutions show little interest in altcoins.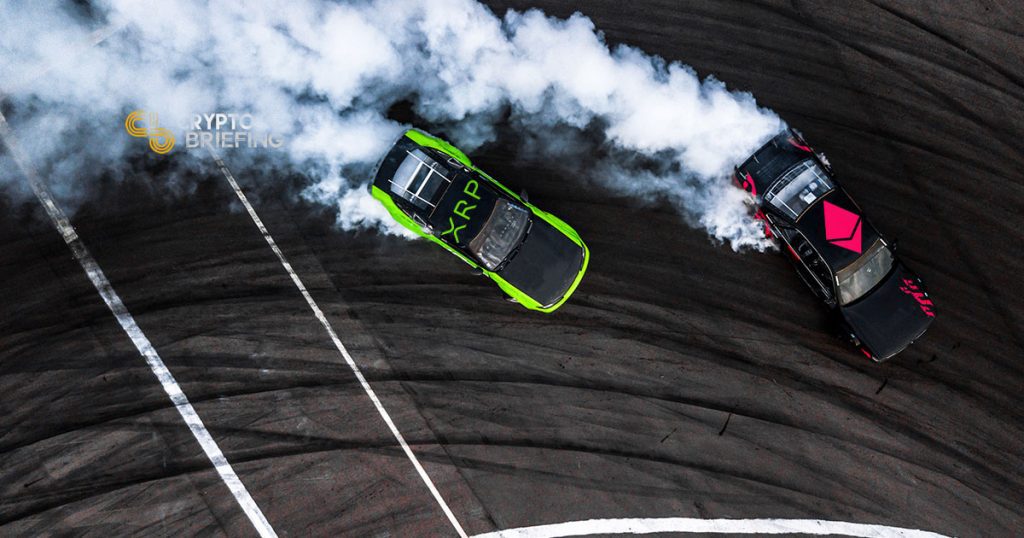 Hopes for an upcoming altcoin rally are getting fainter by the day. Institutions are continuing to drive the cryptocurrency market, according to new data, and they're almost entirely focused on Bitcoin (BTC). Even prominent altcoins, such as Ether (ETH) and XRP, may fall by the wayside.
That's the takeaway from a new metric by sentiment analytics site The TIE. Known as the NVTweet ratio, the metric measures changes in a cryptocurrency's market capitalization with respect to its impact on social media. The higher a coin's NVTweet ratio, the greater its value relative to Twitter activity.
Based on these data, Bitcoin's market cap is growing much faster than its social media presence. That could mean institutions are focusing on bitcoin while steering clear of other virtual assets.
As the graph below highlights, Bitcoin's NVTweet ratio reached an all-time high of 6.83 in late June. BTC has been trading at historic highs against its tweet volumes for the past two and half months. At the time of writing the BTC NVTweet ratio was 5.43.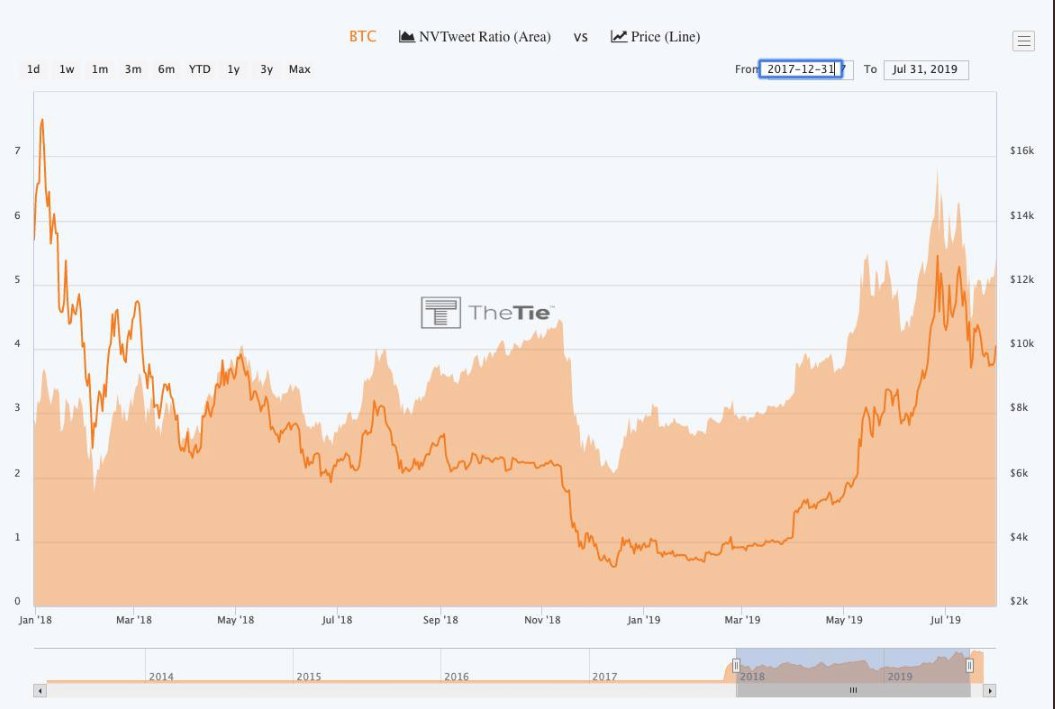 Since the beginning of 2018, Bitcoin's NVTweet ratio has slowly increased, coinciding with a gradual slide in tweet volumes over the same time period.
This suggests a change in the type of investors who are buying Bitcoin. In 2017, the market was primarily retail-driven, with widespread media attention and spikes in Google searches for 'Bitcoin and 'crypto.' Daily tweet volumes hit an all-time high of 75,000.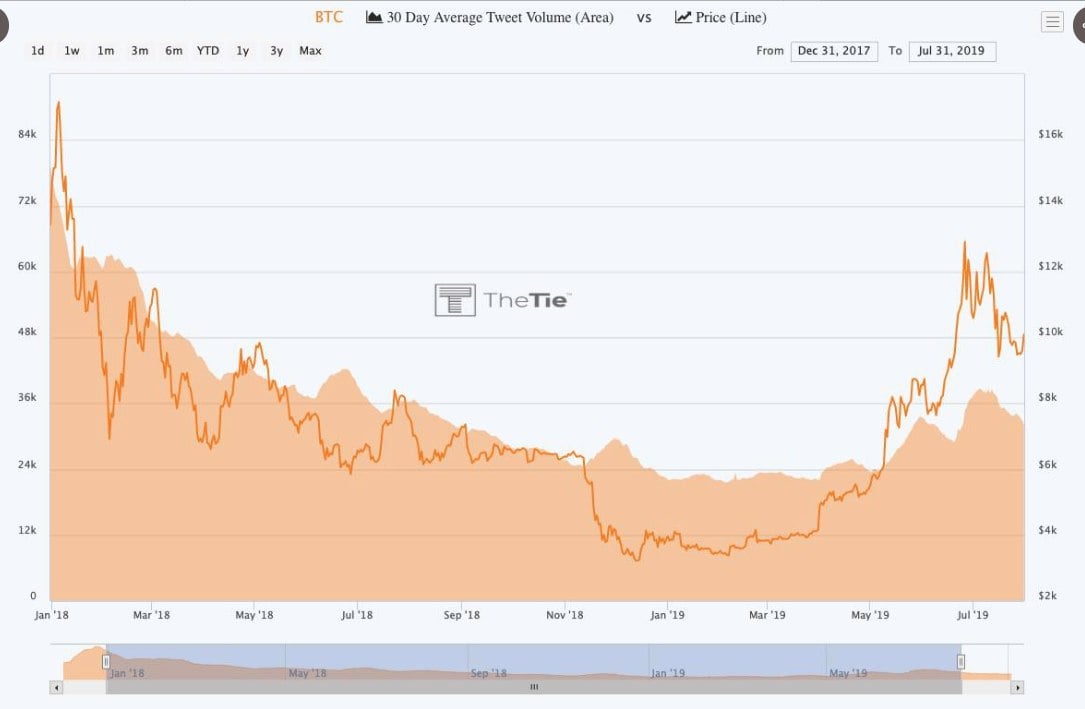 But the same characteristics are not present in the current market, as a report by crypto investment firm CoinShares highlighted earlier this year. Daily tweet volumes rarely surpassed 40,000 in 2019, and there has been no surge of mainstream interest comparable to 2017.
"I think what is occurring with Bitcoin's NVTweet ratio increasing is that the new participants in the market tend to be more institutional," explains Joshua Frank, CEO of The TIE, "which is why you aren't seeing social chatter around the coin increase as much as market cap is."
---
How does this affect the chances of an altcoin rally?
A high NVTweet ratio does not prove the presence of institutional investors, but it may show their footprints. Based on past trading behaviour, a high NVTweet ratio suggests a larger volume of professional investments.
In 2017, when many people heard about cryptocurrencies for the first time, most currencies had a comparatively low NVTweet ratio. Cryptocurrency was a novel concept that created much more online discussion than it does now. If retail investors are still buying, they're not tweeting about it.
It's also possible that many people who tweeted about cryptocurrencies in 2017 did not actually buy any, lowering the NVTweet ratio.
But that does not explain Bitcoin's price rally, or the startling divergence of the BTC ratio from those of other leading cryptocurrencies.
As the graph below highlights, the NVTweet ratios were closely correlated until mid-July when Bitcoin moved towards historic highs. The ratios for Ether, XRP and Litecoin (LTC) nearly flatlined.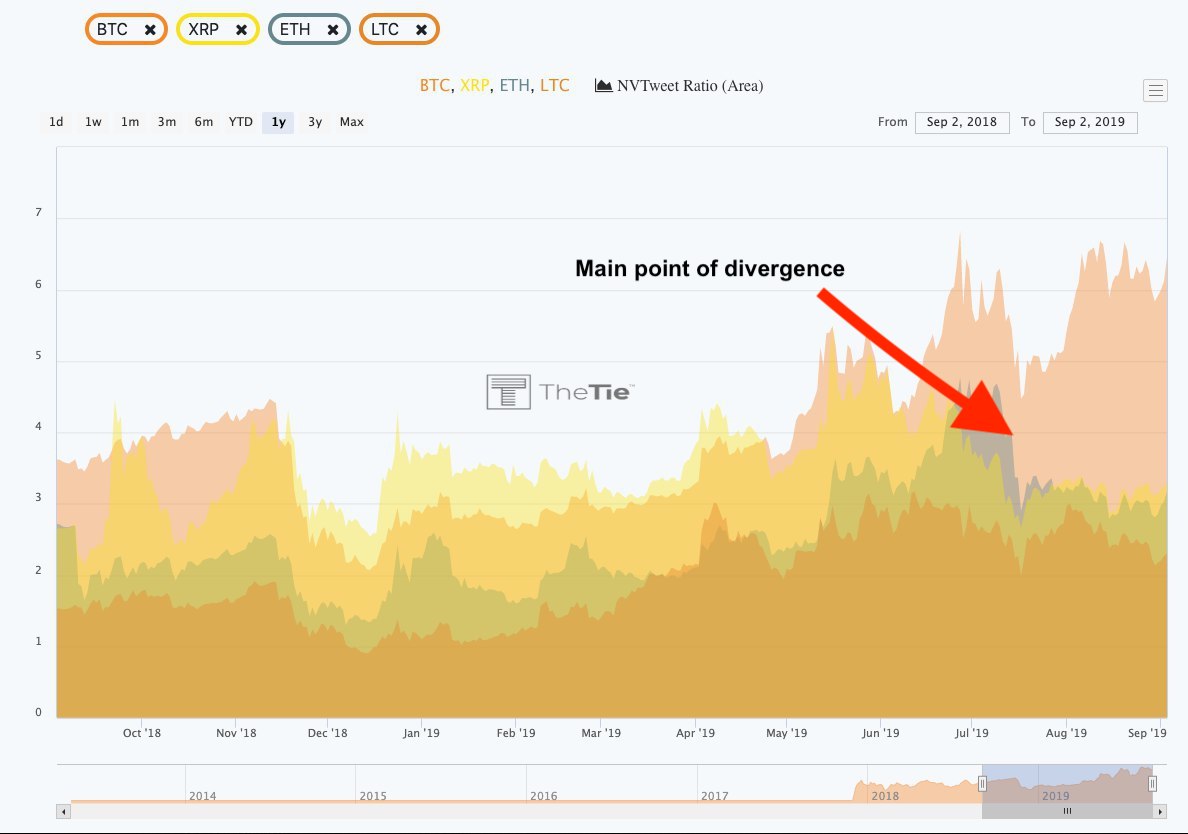 If a higher NVTweet ratio suggests greater institutional involvement, a lower ratio indicates that other leading cryptocurrencies have received little attention from institutions. As the main drivers of the current market, the lack of institutional interest makes a second altcoin rally seem increasingly unlikely.
Many have hoped that investment might 'trickle-down' into altcoins, as institutions become familiar with the asset-class and start to identify value in other leading cryptocurrencies. Based on The TIE's data, not only is there no move to altcoins, institutional buyers are actually moving in the other direction.
Whether because it's the biggest and best-known cryptocurrency or simply because it's considered a recession hedge, Bitcoin remains the only cryptocurrency in which institutional investors have any real interest.