Rewind to Altcoin Season 2017: Remember BitConnect, Lykke, MCAP, and FairCoin?
A Few Reasons To Enjoy Altcoin Season With Caution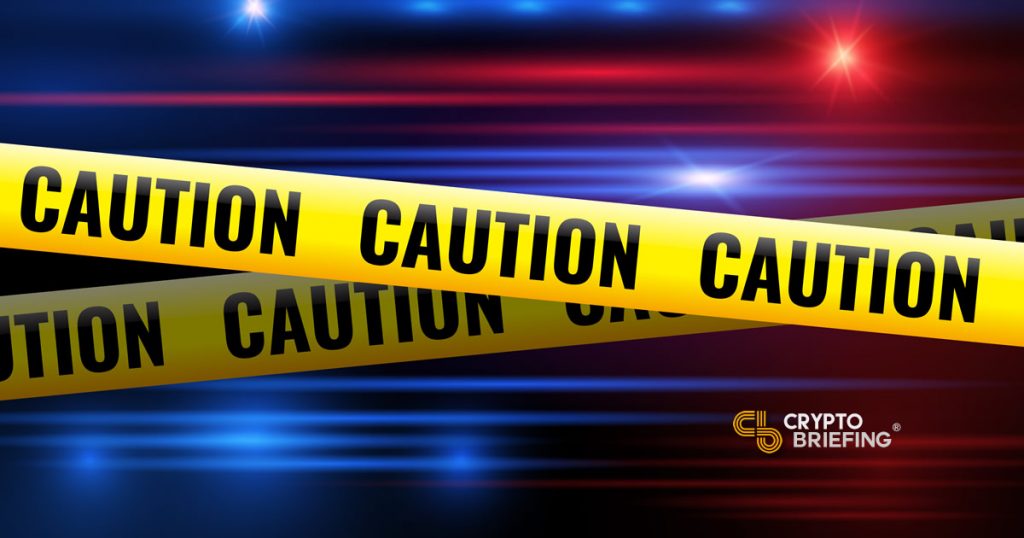 Let's not get ahead of ourselves with "alt season" just yet.
Early this week we published analysis that altcoins have historically outperformed bitcoin after BTC hits 60% dominance (and again, they did), and then examined 5 altcoins that were primed for a breakout (which they did).
Now, we're bringing the conversation full circle and treading carefully, just like we did several weeks ago when we discussed that crypto portfolio diversification can actually increase investor risk.
This analysis, which compares the top 200 coins by market cap on November 5th 2017 to their current prices, provides even more reason to do careful due diligence in your investments – just as we do in our DARE Reports.
The total market cap of all coins on November 5th, 2017 had just surpassed $200 billion.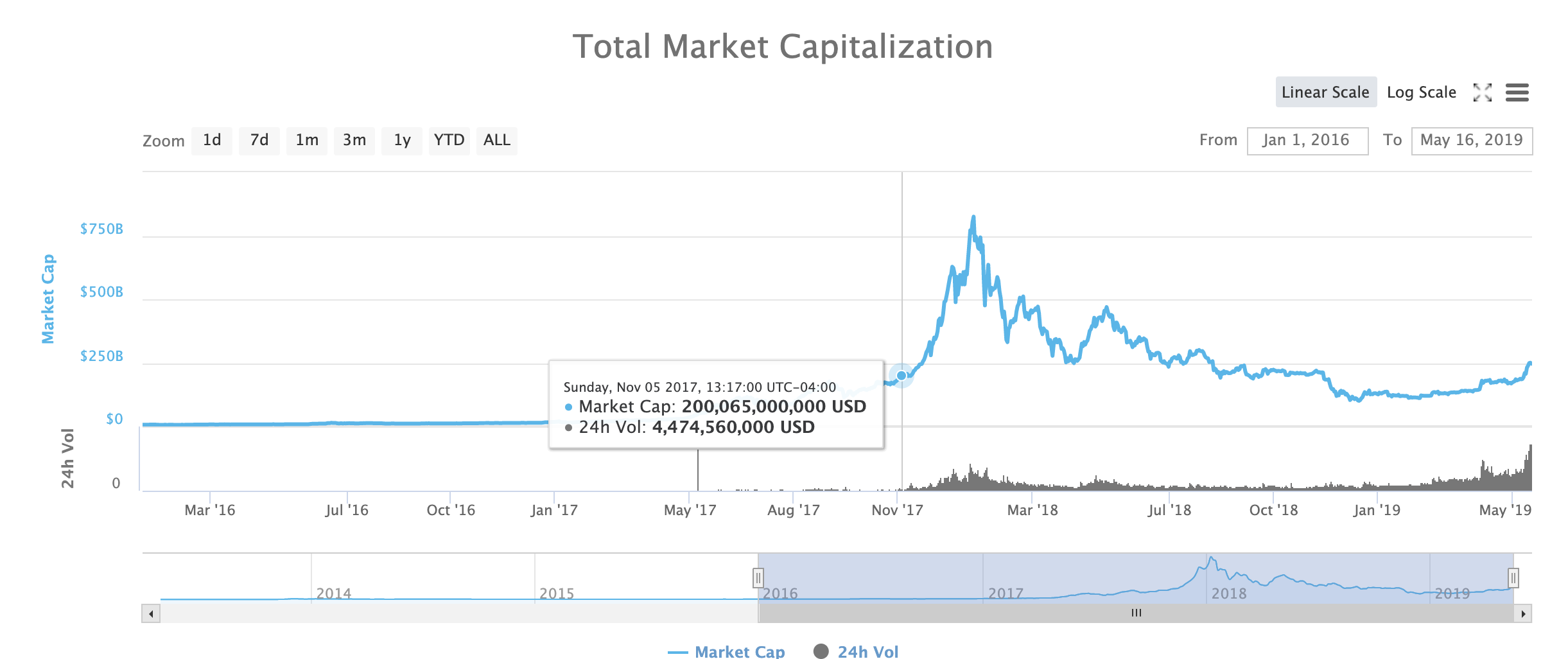 As of May 12th 2019, the market cap is just 3% higher at $207 billion.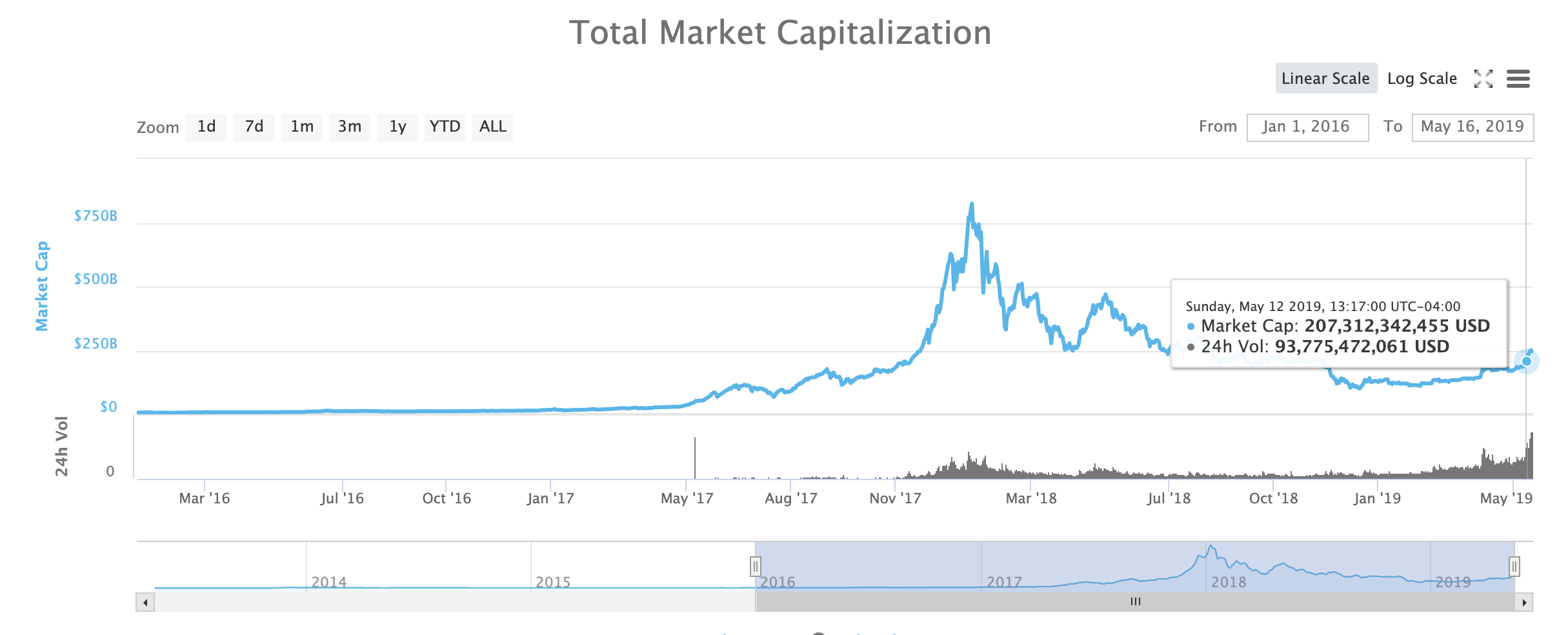 Bitcoin dominance was near 60% on both dates. The price of BTC was $7,400 in November 2017 and $7,000 on May 12th 2019.
But despite a similar sized market and price of BTC, the altcoin environment has changed drastically.
The 18-month period we're analyzing had a historic bull run, a bear market, and featured several prominent ICOs, which all contributed to shifting values in coins.
We compared the top-200 coins prior to the 2017 alt-season to the top-1000 coins right now, and the results were not kind to many altcoins.
Over those 18 months the top-200 altcoins are down in value an average of 29.13%, which underperforms BTC by 23%

72 projects are down more than 80% in value

21 projects from the November 2017 top-200 are now "dead projects" (no longer in the top-1000)

48% of projects have lower volume traded per day

Excluding the 21 dead projects, there are 37 projects whose volume per day has dropped more than 90% – making large positions almost impossible to liquidate – bringing our total "dead projects" to 58, or almost 30% of the top-200… Maybe "hopeless projects" is a better term?
Notable dead projects are: BitConnect, BitcoinDark, Lykke, ATMChain, Bitqy, MCAP, FairCoin and Bitdeal, all of which were in the top-100 coins just 18 months ago!
What this analysis really highlights is that although there will inevitably be some diamonds in the current list of top altcoins (remember, despite the bear market eleven coins from the top-200 in 2017 have more than doubled in price in the last 18 months – and that doesn't count new entrants), keep in mind that nearly 30% of those 2017 projects are now considered "dead"; and almost 40% of projects are down at least 80% in value.
I'll leave you with the final image of what the graph of a "dead project" looks like. LKK was the 63rd ranked coin on CoinMarketCap 18 months ago.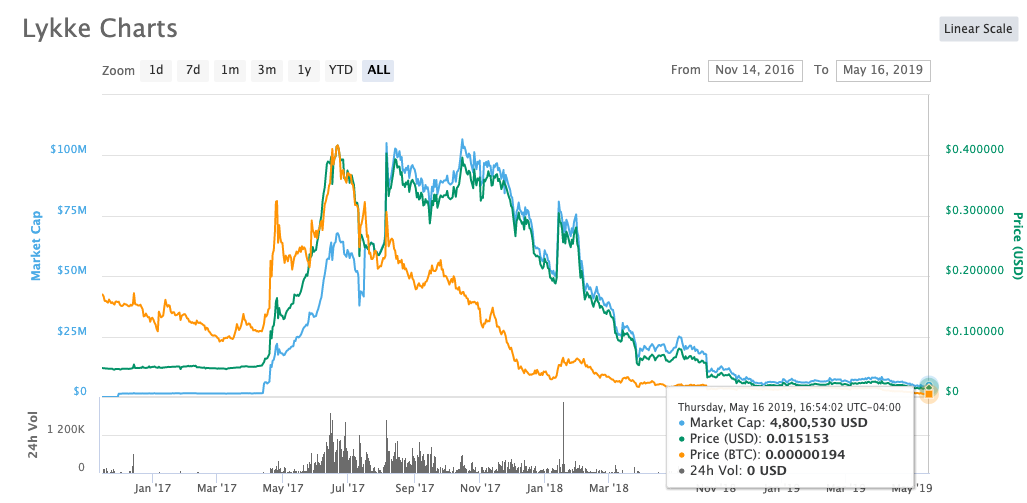 Ouch.
*Note: This analysis used CoinMarketCap data. Other sources may show different conclusions.