Binance Struts Towards Another Token Sale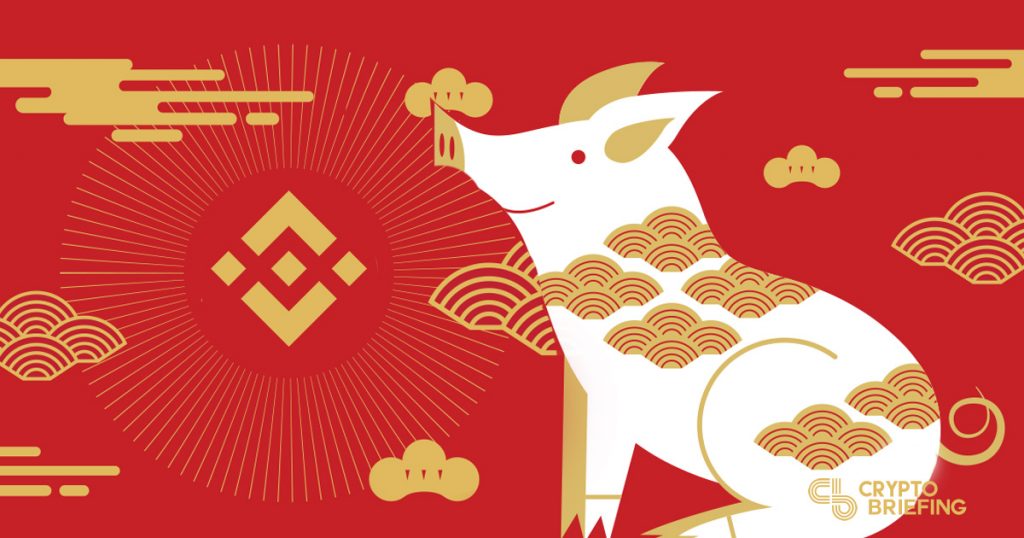 The Year of the Pig is upon us, symbolizing prosperity, luck, and health. Leading crypto exchange Binance, which has set up operations in crypto-friendly Malta, hopes to capitalize on some of that good fortune with the next token sale on its Launchpad platform. Fetch.AI's (FET) token sale is scheduled for Feb. 25, and if it goes anything like the recent BitTorrent deal, the scoreboard should read 2-0 for Binance.
Investors have driven up the price of Binance Coin (BNB) 28% in the last 24 hours according to CryptoCompare while the broader market continues to swoon. BNB's performance suggests the crypto community believes that Binance Launchpad could pull off another blockbuster token sale.
According to a Fetch.AI spokesperson, BNB will be the only cryptocurrency accepted as payment during the sale for ERC-20 FET tokens, increasing the utility of the exchange's token and giving investors more reasons to stock up.
Fetch.AI will use a combination of artificial intelligence (AI) and machine learning (ML) to deliver "autonomous economic transactions" on the internet. The technology uses autonomous agents, which are defined as "digital entities that can transact independently of human intervention and can represent themselves, devices, services or individuals."
One of the potential use cases for these autonomous agents is air travel, where according to the company spokesperson they could "plan and book multimodal journeys autonomously/dynamically."
The project plans to launch its mainnet at the end of this year, at which time the ERC-20 token will be swapped for the native Fetch.AI token. The sale was originally scheduled to occur last year but was delayed as a result of unfavorable market conditions. The delay probably hasn't hurt the team too much; last summer they attracted the equivalent of $15 million in ETH via a private sale.
---
Individual Cap in Focus
Meanwhile, Binance followers on social media have asked the exchange to lower the maximum contribution, which for BitTorrent sale was equivalent to 20,000 USD. Individual investors say they want to prevent the sale from being dominated by large buyers.
Binance has already suggested that they would apply lessons learned from the BitTorrent token sale to future deals. While the maximum contribution for the Fetch.AI token sale is not yet clear, it is certain that there will be one.
There will be an individual cap on sales. Details regarding this will be announced in due course.

— Fetch.ai (@Fetch_ai) February 1, 2019
---
No One-Trick Pony
Binance is not a one-trick pony, and there are other catalysts that could be contributing to today's gains.
The exchange recently enabled credit and debit card payments for BTC, ETH, LTC, and XRP on Binance.com, making it easier and faster for new users to start trading. Users have been requesting a fiat on-ramp at Binance, and adding Visa and MasterCard could go a long way for mainstream adoption. Meanwhile, as the Binance DEX nears its launch, more details are beginning to emerge, the most recent of which includes the support of hardware wallets from the onset.
Whether or not these events will translate into "prosperity, luck, and health" remains to be seen, but BNB is off to a running start in the Year of the Pig.
---
The author is invested in digital assets, but none mentioned in this article.