Is Binance Labs Paying For Ethereum's Grave?
Many projects going through the incubator will launch on Binance Chain.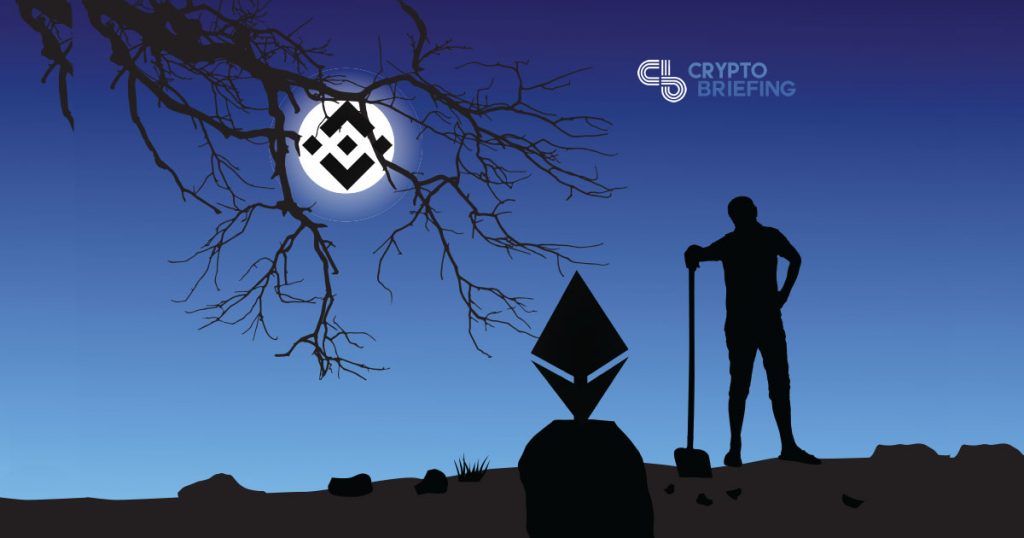 The growth of Binance (BNB), from conceptual spot exchange to industry goliath, has been phenomenal. Founder Changpeng Zhao (CZ) has rapidly expanded his offerings, which now boast a charity arm, IEO launchpad, and a new blockchain.
Among CZ's other arms is Binance Labs, a blockchain-agnostic fund providing projects with the financial and technological support they need to get products live and to market.
During Consensus last week, Crypto Briefing sat down with Christy Choi, one of the Directors at Binance Labs. After launching in April 2018 as a fund to participate in ICOs, Choi said, a bursting bubble and a decline in high-quality offerings pushed Binance Labs to support only a select group of projects.
This support can materialize in different ways. There's an incubator program, which helps early-stage projects accelerate product development. There's also straight-up investing, as well as a Fellowship initiative, which provides grants to teams that are building technological infrastructure that benefits the space as a whole.
So far, Choi explains, Binance Labs has invested in over 40 projects. She says that the pivot allows Labs to play a supportive role in creating quality products, which will ultimately drive adoption for the asset class. "The Labs initiative is more pushing innovation, pushing the adoption of crypto," she added.
An investment from Binance Labs is about more than just a monetary return, Choi says. It's also about establishing the right connections throughout the ecosystem. When these projects get big, Binance Labs "will explore other opportunities," like connecting projects to other services within the Binance ecosystem, or even integrating them on the Binance blockchain.
---
The growth of Binance Chain
Binance launched the mainnet of its blockchain in April, which is designed as an initial platform for token sales as well as its own non-custodial exchange. Like other blockchains, Binance would not have privileged access or control over the ledger.
But there have also been reports of a concerted push to attract projects from Ethereum (ETH) and other blockchains, in a move to rival the larger platforms.
Earlier this week, Raven (RVN) announced a move to Binance Chain, and yesterday Fantom (FTM) announced that it had chosen Binance Chain as its interoperable partner. The decision was reportedly simple: "we're seeing an increasing trend of great projects moving towards Binance Chain," Fantom wrote in a blog post.
Many projects applying for funding from Binance Labs have also expressed an interest in launching on Binance Chain."All the enquiries we've had this month have all been interested," Choi said. "We are constantly on the lookout for projects who will issue tokens on Binance Chain."
---
Is Binance Labs pushing its own blockchain?
Choi emphasizes that it is not Labs' objective to scout out projects for Binance Chain; projects on Ethereum or other chains are welcome to apply. Although Binance does recommend its own blockchain, she said, it does not harm their chances for funding.
"Obviously we do look for synergies," she added, noting that Labs projects are encouraged to collaborate with other areas of the ecosystem, not just Binance Chain. One project in the incubation program is currently looking to work with the Charity arm.
Some of the projects currently in incubation are looking at building their own blockchain. But of those which are looking to other platforms, Choi admits, all are exploring a launch on Binance Chain. Currently, five projects in discussion with Binance Labs have also been put in touch with representatives from Binance Chain.
As a venture arm, part of Labs' strategy is ensuring it makes the best investments, but there may be a bit more to the story. Although Choi repeatedly emphasises Labs' commitment to driving innovation throughout crypto-space, and CZ has avoided criticizing other blockchains, Binance Labs may also be driving innovation towards the Binance ecosystem.
Zhao has said in the past that he envisions thousands of tokens working on Binance Chain, and many sources at Binance speak as if the success of their blockchain is a foregone conclusion. "We are very confident with the Binance Chain itself," one source told Crypto Briefing.
In some ways, Choi admits, the projects supported by Binance Labs could turn Binance Chain into a rival platform to other blockchain networks. "We definitely are creating the Binance ecosystem," she said.
In little over two years, Binance has become the central trading hub for cryptocurrency, with trading volumes that consistently lead the rankings. OKCoin, where CZ worked as CTO before starting Binance, has lost nearly a billion dollars in adjusted volume, according to CoinMarketCap.
Binance is already dominating the world of cryptocurrency exchanges. If projects acquiring support from Labs are launching on Binance Chain, it could be a sign that CZ may be building the groundwork to dominate the world of blockchain platforms as well.