Bye Binance: Is CZ On A Regulatory Wild Goose Chase?
The perfect jurisdiction may not exist.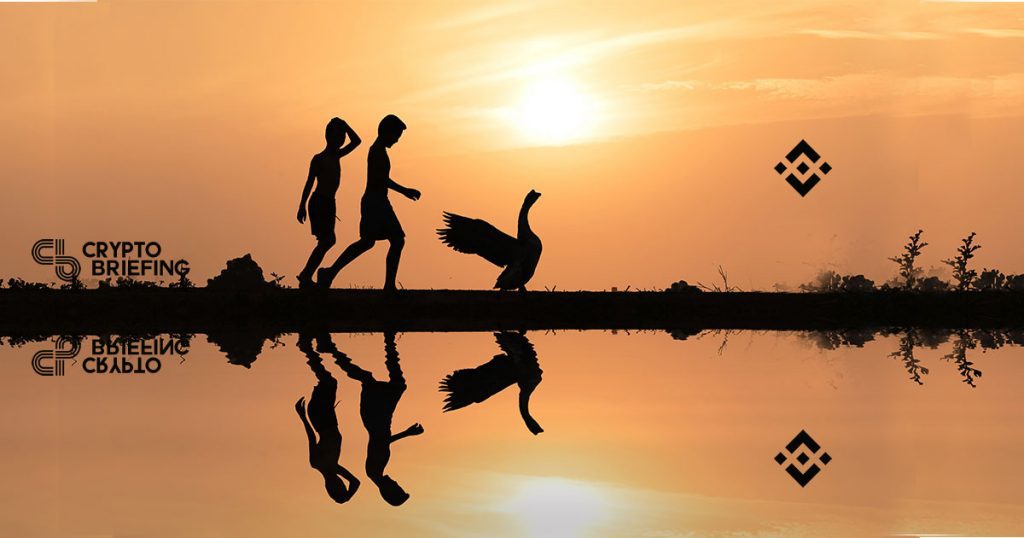 Binance is in for a rocky couple of months as it prepares to restrict access to U.S. citizens. Although an American subsidiary is on the way, removing the world's largest economy is bound to affect the exchange's order books, especially for smaller-cap coins with a strong U.S. following.
Liquidity is likely to fall after Americans are excluded on September 12th. But CEO and founder Changpeng Zhao (CZ) is confident that the move will be a major step forward, allowing the Malta-based exchange to expand its services.
Speaking to Crypto Briefing at an event last night, CZ said the American exit might actually improve Binance's overall liquidity. "In the short-term, it will affect liquidity a little bit," he admitted. "But in the long-term, it might actually improve it."
Running a compliant cryptocurrency exchange in the U.S. is no easy task. American regulators treat most tokens as unregistered securities, the President is openly hostile and the goalposts keep changing. Ambiguous regulations make it difficult for exchange operators to prepare for long-term development or investment.
U.S. regulations are also global in scope. Whereas other governments might stop enforcement at the border, American laws apply to any transaction involving a U.S. citizen, regardless of location.
That's a major roadblock for crypto exchanges and token offerings, which typically go to great lengths to proscribe U.S. citizens. As a case in point, the CFTC is now probing Seychelles-based BitMEX over allegations that the derivatives platform allowed U.S. citizens to use it illegally. The regulator is also expected to investigate accusations of market manipulation.
But although there is a lot to lose by leaving the U.S., CZ firmly believes the positives outweigh the negatives. Binance will be able to roll-out new services and features for the rest of their customers, such as margin-trading or derivatives, without fear of repercussions. "We can do more stuff without worrying about the U.S. regulators," he noted.
Binance launched its margin trading facility last month. CZ also announced plans for new futures contracts, with as much as 20x leverage, sometime within the next few months.
Now that they no longer have to comply with American regulators, CZ says the U.S. exit could be a "liberating" experience for the exchange.
During the event, CZ praised Japanese regulators for their clarity, before adding: "[T]he problem with Japan, especially for exchanges, is they're too strict." Similarly, he found the FCA's guidance on Wednesday "very reasonable," aside from its restrictions on derivatives.
There's a downside to regulatory clarity: it may provide certainty, but it also sets out some hard limits. While shutting out U.S. traders might liberate the exchange from a particularly severe regulator, Binance still has to be regulated somewhere.
And many regulators take their cue from the Americans, as one exchange-owner told Crypto Briefing this week. Binance's exit from the U.S. might not actually make much of a difference, if European regulators follow the SEC's lead.
Tighter restrictions are already coming into force. China banned all commercial crypto trading in September 2017. ESMA, the E.U.'s chief financial regulator, issued guidelines last year that limit crypto CFDs to a maximum 2:1 leverage. The U.K.'s FCA is considering a comprehensive ban on crypto derivative products for retail investors.
But that's not a big concern for the Binance chief."There's less than ten countries that have issued limitations on derivatives," he said, "so there's still plenty of countries that we can deal freely with."
In a tweet today, CZ remarked on how well German autobahns work without speed limits. The message is clear: we don't need regulators to be safe.
Germany doesn't have any regulations about max speed limit, and people drive just fine. Love it! pic.twitter.com/AXjad9mH8H

— CZ 🔶 Binance (@cz_binance) August 2, 2019
But Binance may encounter more speed limits as the industry matures. The exchange could be forced adapt to the rules of many different countries to continue operating.
In the two years of its existence, Binance has moved all around the world in search of friendlier rules: from China to Japan, and then to Malta. If the exchange is looking for a perfect regulatory environment, it may be on a wild goose chase.