Bitcoin Closes 2021 at $46,300
The flagship cryptocurrency is up only 58% over an otherwise very bullish year.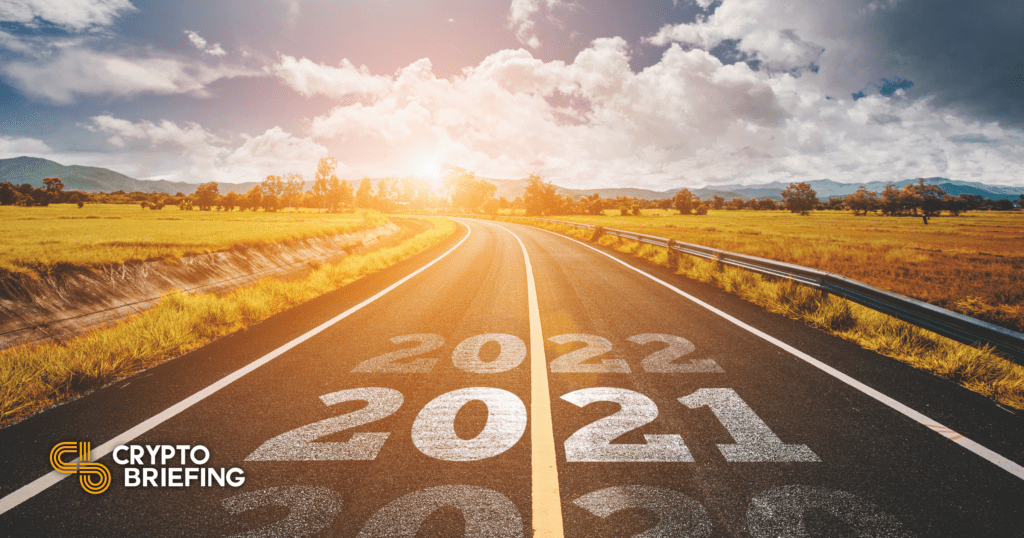 Key Takeaways
Bitcoin was valued above $46,300 today as 2021 came to a close.
That amount represents moderate gains amounting to approximately 58% over the course of the year.
Other altcoins performed significantly better than Bitcoin.
Bitcoin was trading above $46,300 at 11:59 P.M. UTC on Dec. 31 2021—up 58% for the year—making 2021 one of Bitcoin's weakest years in recent memory.
Bitcoin Closes Above $46,300
Bitcoin closed above $46,300 today at 11:59 P.M. UTC, marking gains of 58.14% for the cryptocurrency over the course of the year.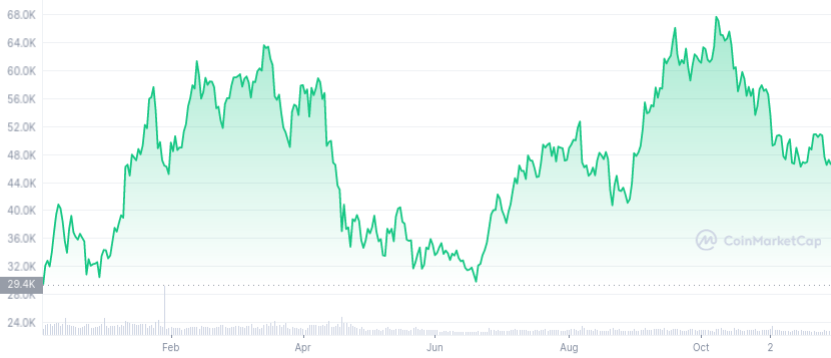 That growth is considerably less than what has been seen in previous years. At the end of 2020, Bitcoin closed with gains of 309%. At the end of 2019, it closed with gains of 86%, and at the end of 2017, Bitcoin closed with gains of 1,244%.
Bitcoin did, however, perform better this year than in years in which it lost value, such as 2018 (-71%) and 2014 (-59%). It also performed better than in 2015, when it saw moderate gains of 38%.
Still, Bitcoin's relatively low gains of 56.75% this year make 2021 one of the weakest years for Bitcoin in recent history.
The coin's poor performance may be attributed to various factors. Despite reaching new all-time highs this year, Bitcoin price crashed at various points. In May, Tesla reversed its decision to allow crypto payments while China cracked down on cryptocurrency use. Those events likely contributed to losses that occurred shortly after.
Bitcoin also saw significant losses in late November, largely attributed to concerns around COVID-19's Omicron variant.
Altcoins Performed Better
Bitcoin's relatively weak performance this year gave several other altcoins the chance to shine with rapid price growth.
Solana (SOL), a major Ethereum competitor, gained 9179% this year, propelling it into the top five coins by market cap.
Decentraland (MANA) gained 3823%. As a virtual land token, its growth was likely due to hype around the Metaverse generated by Facebook and other companies in October.
Dogecoin (DOGE) also saw significant gains, as its price grew by 2906% over the course of the year. The cryptocurrency's price gains began in April when the GameStop short squeeze drew attention to the coin as a "meme" investment.
Bitcoin's closest competitor, Ethereum (ETH), gained 406% with slow but steady growth over the course of the year.
Other coins with significant price growth this year include Binance Coin (BNB) at 1255%, Enjin (ENJ) at 1812%, Crypto.com (CRO) at 841%, Cardano (ADA) at 650%, and Uniswap (UNI) at 262%.
Disclosure: At the time of writing, the author of this piece owned BTC, ETH, and other cryptocurrencies.