Bitcoin, Ethereum Flows Show Signs of Accumulation
On-chain analysis shows that Bitcoin and Ethereum experienced significant buying action on Wednesday.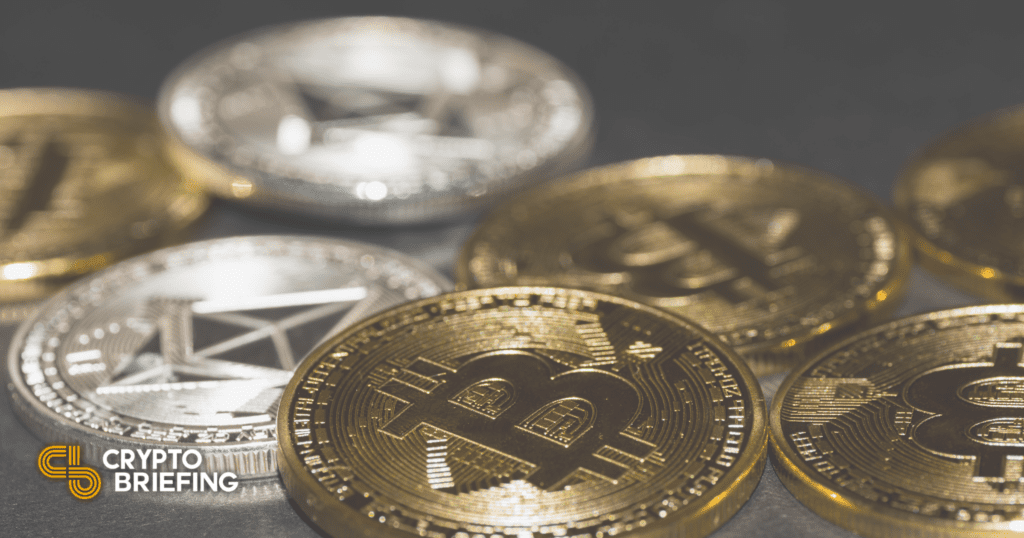 Bitcoin and Ethereum surged yesterday, buoyed by the largest daily outflow since February and an increase in the number of whale wallets.
Bitcoin's Buy the Dip Narrative
On-chain data shows that crypto investors have been accumulating Bitcoin and Ethereum this week.
Although both assets tumbled earlier this week, the crypto market's "buy the dip" action was on full display. BTC quickly recovered after an 8% drop Tuesday to sweep lows of $31,000, closing that day at $33,400.
This positive trend continued on Wednesday with Bitcoin rising 12%. On-chain data shows that the uptick was backed by significant spot buying on exchanges.
Bitcoin's net flow from crypto exchanges was negative yesterday. Around 18,800 BTC worth $630 million based on last day's trading prices, levels not seen since February.
Bitcoin's net flow turned positive from mid-April through May. Its price also dropped during those periods.
The return of negative flow indicates that investors moved more Bitcoin from exchanges to self-hosted wallets and other applications.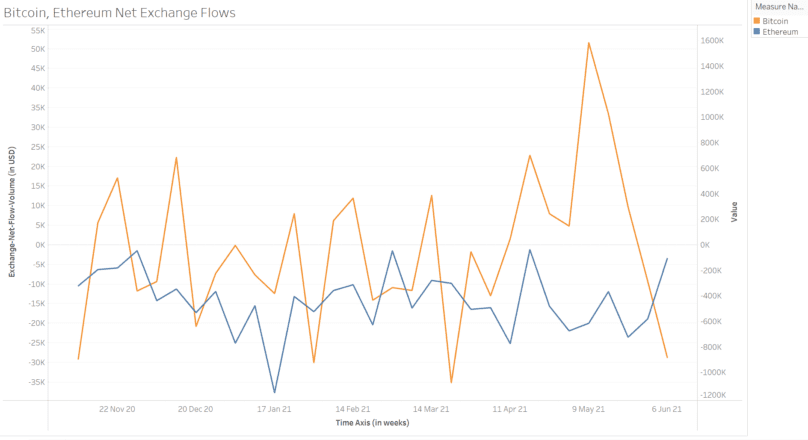 Moreover, the weekly net flow for Ethereum has been negative since November last year.
Besides exchange outflows, there was also an increase in GBTC premiums, indicating buying demand at institutional brokerages like Fidelity and Schwab. However, the shares are still selling at a discount. The discount decreased from 12% to 7% yesterday.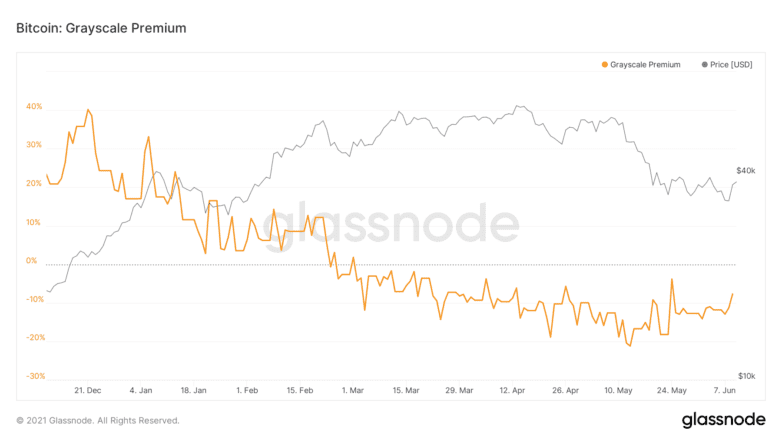 The discount on Ethereum's ETHE shares, meanwhile, is 3%.
Ethereum Leads Among Whales
The number of whale-sized Bitcoin and Ethereum wallets also spiked yesterday, which is a positive sign for long-term bullish action. The increase in the number of Ethereum wallets was higher than in Bitcoin.
The number of addresses holding more than 10,000 ETH increased by 19, which equates to at least $4.7 billion worth of ETH added to whale wallets. The number of Bitcoin wallets holding more than 1,000 BTC (worth around $350 million) fell yesterday but is up 16 since the start of the week.
#Bitcoin been trying to track whale accumulation on GN using two metrics:
– Addresses holding >1k $BTC
– Addresses holding >10k $ETH

Following yesterday's price acton, looks like big accumulation of $ETH and less of $BTC. pic.twitter.com/qFJaEzbLnN

— Tempting Beef (@tempting_beef) June 10, 2021
The strong on-chain data, along with the recent price increases, is a sign of strong buying volume. It marks the first accumulation sign since the crash that hit the market in May.
BTC was last changing hands at $37,800 and ETH at $2,565.