Can Bitcoin ETNs Unlock Mass Adoption?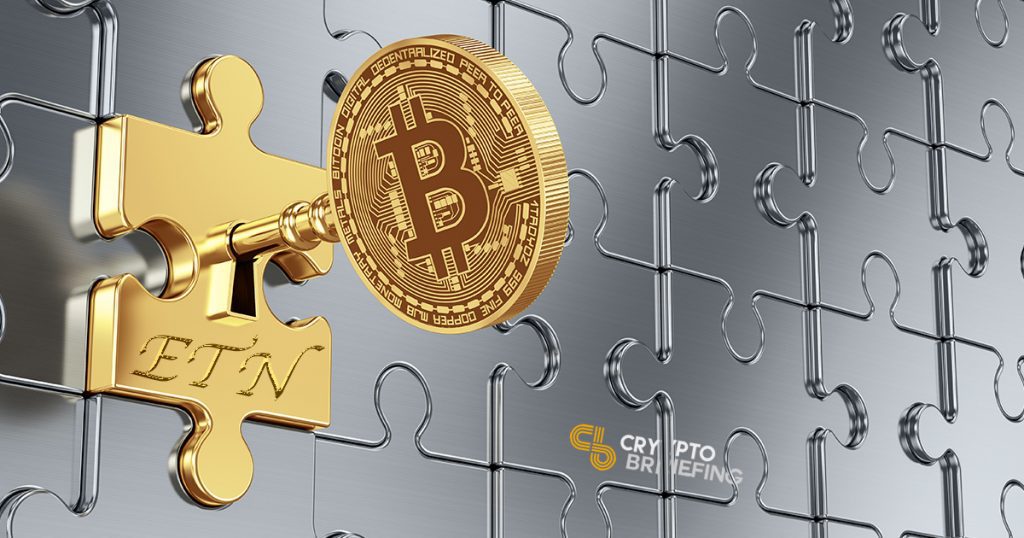 With most bitcoin ETF proposals out of the picture and the SEC on forced hiatus, the institutional adoption of BTC and other cryptocurrencies has been put on hold.
But why is that the case? Back in January 2017, the launch of bitcoin futures by Cboe (Chicago Board of Exchanges) and CME (Chicago Mercantile Exchange), seemed to promise quick institutional cash-inflow and, subsequently, skyrocketing crypto prices.
Leaving aside all the denied and recently withdrawn crypto ETF initiatives, it may help to take a closer look and ask why these long-awaited avenues of institutional adoption are still empty.
---
Bitcoin futures hurt by lack of retail options
The currently-available futures products offered by the Cboe and the CME are not particularly popular, and Cboe Chairman Edward Tilly seems to know why.
"The power of having that future there is also having an ETN that is more attractive to retail, and then institutions can lay that risk off on the listed futures market," Tilly said at a media luncheon, according to Business Insider. "Absent that leg and introducing trackers or notes, I think we will be in this, 'It trades every day, but it is not the story.'"
The Cboe chairman compared the lackluster bitcoin futures to those tied to the Volatility Index, the Board's most successful futures product. "Why is VIX successful? " Tilly asked, before answering: "There are trackers and replicating notes that lever up that exposure. All of that works together."
Futures are semi-symbiotic investment vehicles, he explained, which tend to thrive in the presence of ETNs. ETNs give small-time, retail investors an attractive and accessible path into a market, and through their presence, they offer major investors the chance to effectively hedge their trades.
Since a traditional crypto market-tracking index does not currently exist, there are no crypto ETNs available either. Thus, Wall Street investors are left without a hedging opportunity, which turns BTC futures into much less attractive propositions for them.
---
What is a bitcoin ETN and how does it compare to an ETF?
An Exchange Traded Note is similar to an Exchange Traded Fund, though there are a few key differences between the two.
ETFs actually hold the assets they track. ETNs on the other hand do not. Thus, when investing in an ETN, one effectively purchases an unsecured debt note, from an issuing entity called the underwriter.
ETNs pay based on the performance of the asset that they track, but there are a number of other factors which impact payout, like the credit-rating of the issuing entity. In extreme cases, like if an underwriter goes belly-up, ETN investors will default.
Such notes can be bought, sold and held to maturity, like other investment vehicles. They feature much more efficient asset-tracking than ETFs (because they do not actively track) and they usually invite more favorable tax treatment over the long run (as they realize long-term capital gains).
While the purchase of ETNs is simpler and more accessible for retail investors, and they are generally more efficient than ETFs, they are also less known and – due to their bond-like nature – more difficult to understand than stock-like ETFs.
---
Bitcoin ETNs have been available in Europe, but impact still weak.
Sweden's XBT Provider AB has been offering two Bitcoin-based ETNs (Bitcoin Tracker One and Bitcoin Tracker EUR) since 2015 and 2017, respectively. But the actual impact of these products on institutional adoption and retail trading has thus far been disappointing. Indeed, most mom-and-pop investors do not even know about the existence of these crypto investment options, much less the fact that US investors can also trade them, through global brokerages.
The properly publicized launch of a similar product in the US might trigger a very different reaction on the part of retail investors, and that could be the spark needed to breathe new life into futures. It could even usher bitcoin ETFs onto the institutional trading scene as well.
---
The author is invested in digital assets, including Bitcoin, which is mentioned in this article.