Bitcoin Gateway Sees Ethereum Breach $1,000 Milestone
Ethereum has made a parabolic run, pushing the second-ranked crypto to hit a four digit price tag on multiple exchanges.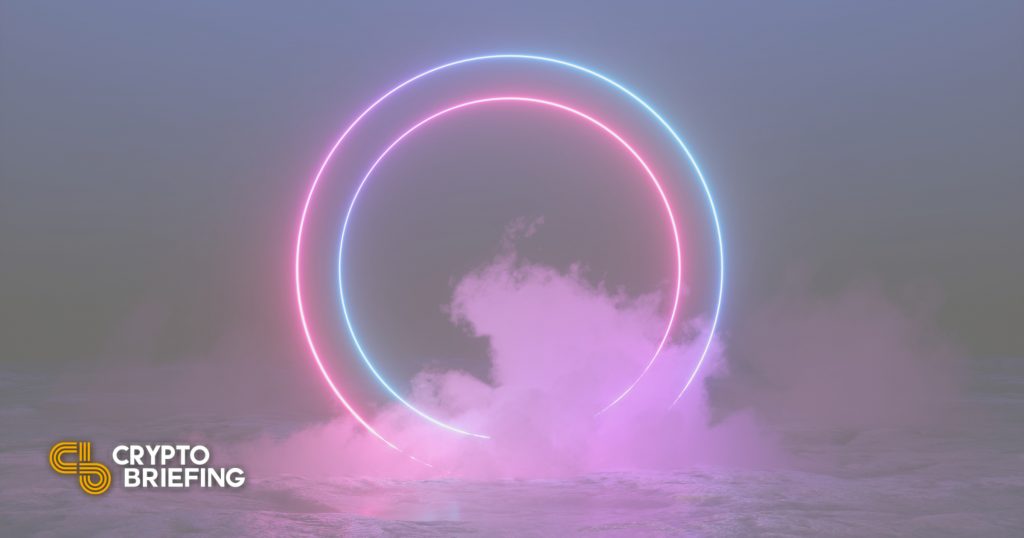 Key Takeaways
Ethereum surged 40% yesterday, but has since cooled off and is trading below $1,000.
The ETH:BTC ratio has increased to 0.032, a key performance indicator for Ethereum.
Though Bitcoin is still the best-known crypto asset, recent price action suggests Ether will play a key role in this market cycle.
Ethereum has finally broken $1,000 after three years. The milestone was reached following a parabolic 40% price surge throughout Sunday.
A recent survey of the ecosystem also points to Bitcoin's ability to create new ETH investors, suggesting Ethereum still has much higher to go. This is due to the wave of institutional investors who have just begun making BTC investments in 2020.
Ethereum Hits Four Digits
The number two crypto passed $1,000 during an intense surge across the cryptocurrency markets yesterday.
It's the first time ETH has been at four digits since February 2018.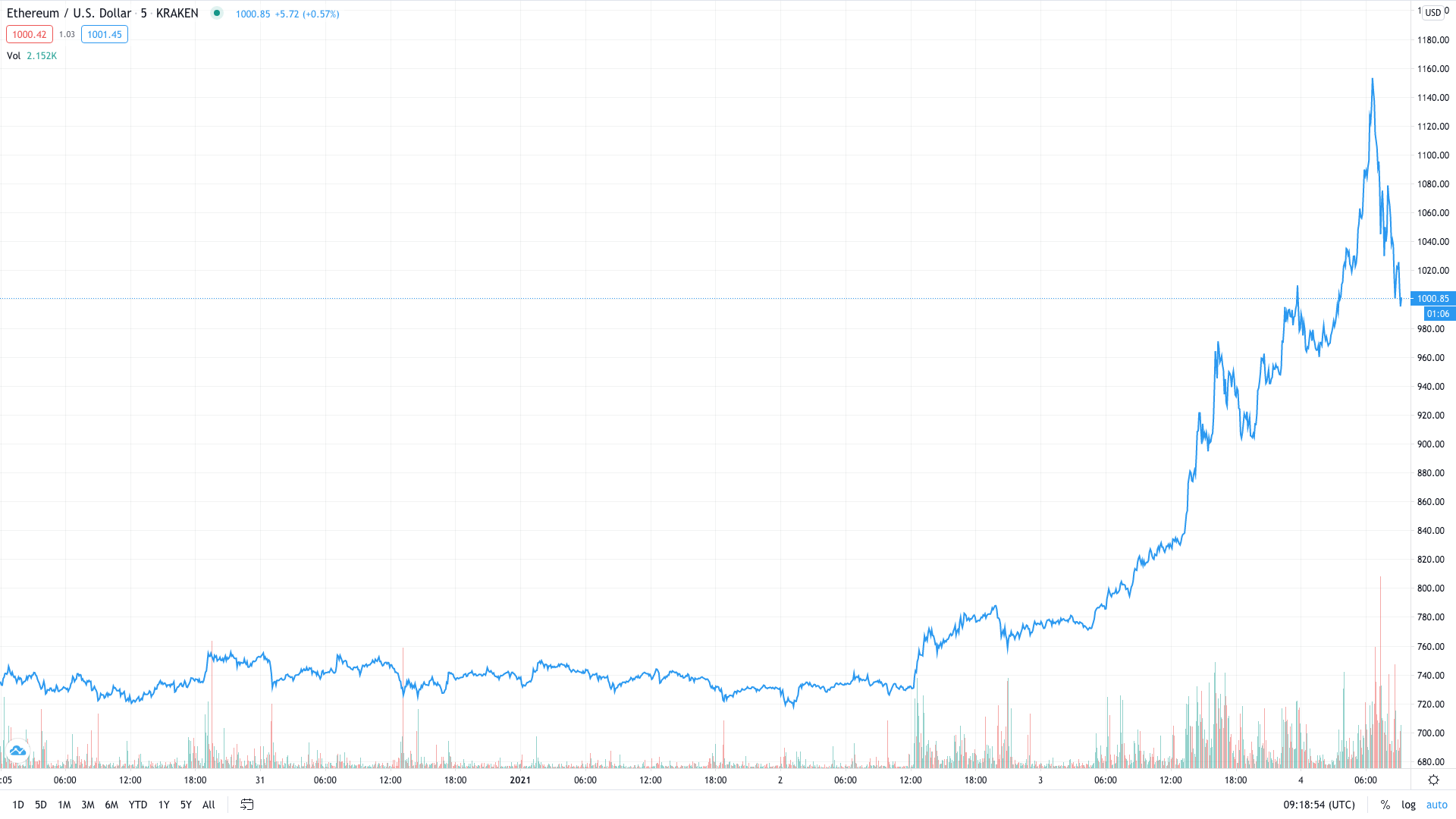 Initially, Ethereum started the year slowly relative to Bitcoin.
Though ETH hit $700 last week, Bitcoin has been recording new highs daily, hitting $30,000 for the first time on Saturday. Ether trailed, leading the ETH:BTC ratio to decrease to around 0.025. The ratio is seen as a key performance metric for the two assets among traders and investors alike.
Ether then experienced a 40% price surge on Sunday, running from $800 through $1,000 in a matter of hours. At one point, it was trading at $1,150. It's now trading at $944, according to CoinGecko.
The run means Ethereum has also surpassed a market cap of $100 billion to roughly $115 billion. The ETH:BTC ratio is at 0.032. Ethereum's market cap dominance over the whole cryptocurrency space has also jumped to 13.4%, while Bitcoin now holds just short of 68%.
Bitcoin as a Gateway to DeFi
The correlation between the two leading crypto assets has long been a point of discussion.
Bitcoin often acts as a gateway for crypto entrants, many of whom go on to discover Ethereum and DeFi. A recent ETHGlobal survey found that 67% of Ethereum developers were "involved or interested" in Bitcoin before discovering Ethereum.
Unsurprisingly, of those surveyed, over 70% fell into the Gen Z and Millennial bracket. The crypto space is known for attracting younger generations; it's only since Bitcoin found appeal as a "digital gold" last year that many older individuals have considered cryptocurrencies a viable investment.
Ethereum remains largely unknown to the institutional investors who have been rushing to Bitcoin en masse.
The study's respondents also pointed to Twitter as a key source of information surrounding the crypto space. The social media site has been awash with celebrations in light of the price of BTC and ETH over the last few days. Many of its key proponents alluded to the negative press Ethereum has been subjected to from so-called Bitcoin "maximalists."
The value of $ETH has been obscured under piles of BS for the past 3 years.

It's biggest critics know almost nothing about it. They repeat meaningless one-liners they don't even understand.

We're now seeing what happens as that is all swept away, and we ain't seen nothin' yet.

— DCinvestor.eth ⌐◨-◨ (@iamDCinvestor) January 4, 2021
Ethereum still has far less mainstream appeal than its older predecessor, Bitcoin. But if the crypto rally continues into 2021, ETH could see further gains alongside BTC.
Disclosure: At the time of writing, the author of this feature owned ETH, among a number of other cryptocurrencies.