Bitcoin Becomes A Stablecoin, As Tether Launches Yuan-Pegged Token
Meanwhile, Tether issues a new stablecoin.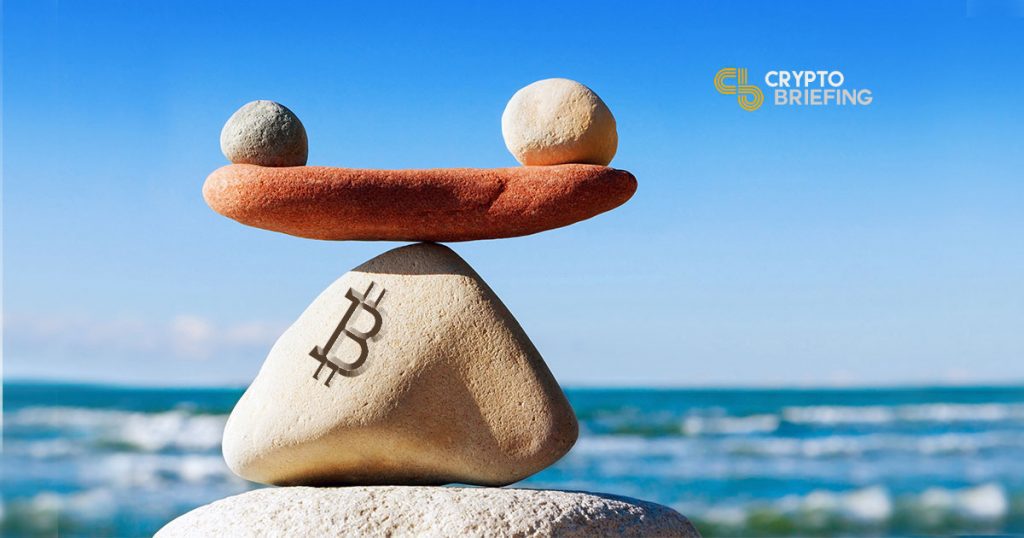 Markets appear to be off to an uneventful start at the beginning of Tuesday trading. Bitcoin has been trading in a narrow $200 band, posting a 24h change comparable with USDT. Except for BSV (-4.37%) and XMR (-3.85%), most of the top-10 coins are in a similar position.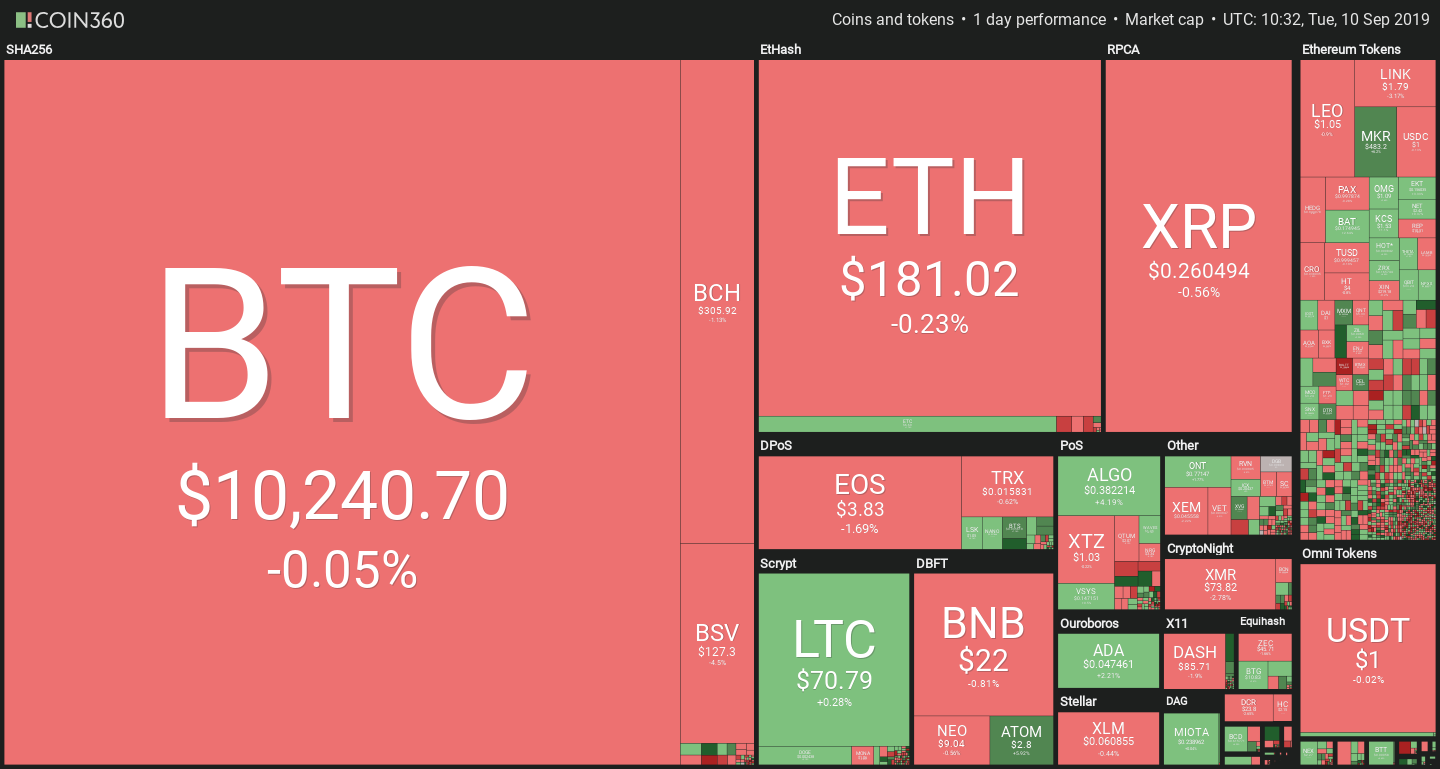 The stale price action comes as the market prepares for an increase in futures trading options. As Bakkt opens for deposits, Binance has officially released its futures platform in invitation-only mode, after finishing the testing period.
https://twitter.com/cz_binance/status/1171043352982147072
Public interest is also holding steady, and Google Trends for the word 'bitcoin' show little variance since the bullish run started back in May. Search interest is largely a product of price action, falling off in negative or uneventful trading conditions.

Zooming out, it is immediately obvious that the baseline is higher now than it was at this time last year.

Today's interest index is comparable to the summer of 2017, when the market entered a cooldown period before the bullish spike of Q4.
Will the past repeat itself? While crypto does tend to trade in boom-bust cycles, past performance is not necessarily indicative of future results. It's tempting to draw parallels with 2017, but markets can never be predicted with certainty.
---
Volatility is increasing for Bitcoin, but not altcoins
Fundamental differences between Bitcoin price action and altcoins are declining. A report by Coinmetrics.io noted that the altcoin market has significantly reduced its annualized volatility, falling from 200% down to Bitcoin's 80-90% level.
Nevertheless, the two categories are still singing out of tune. "Notably, only Bitcoin's volatility has been increasing in recent months in part because of its inconsistent sensitivity to geopolitical and macroeconomic events, increased use of leverage via futures contracts, and the occasional attempts at engineered price movements," Coinmetrics wrote.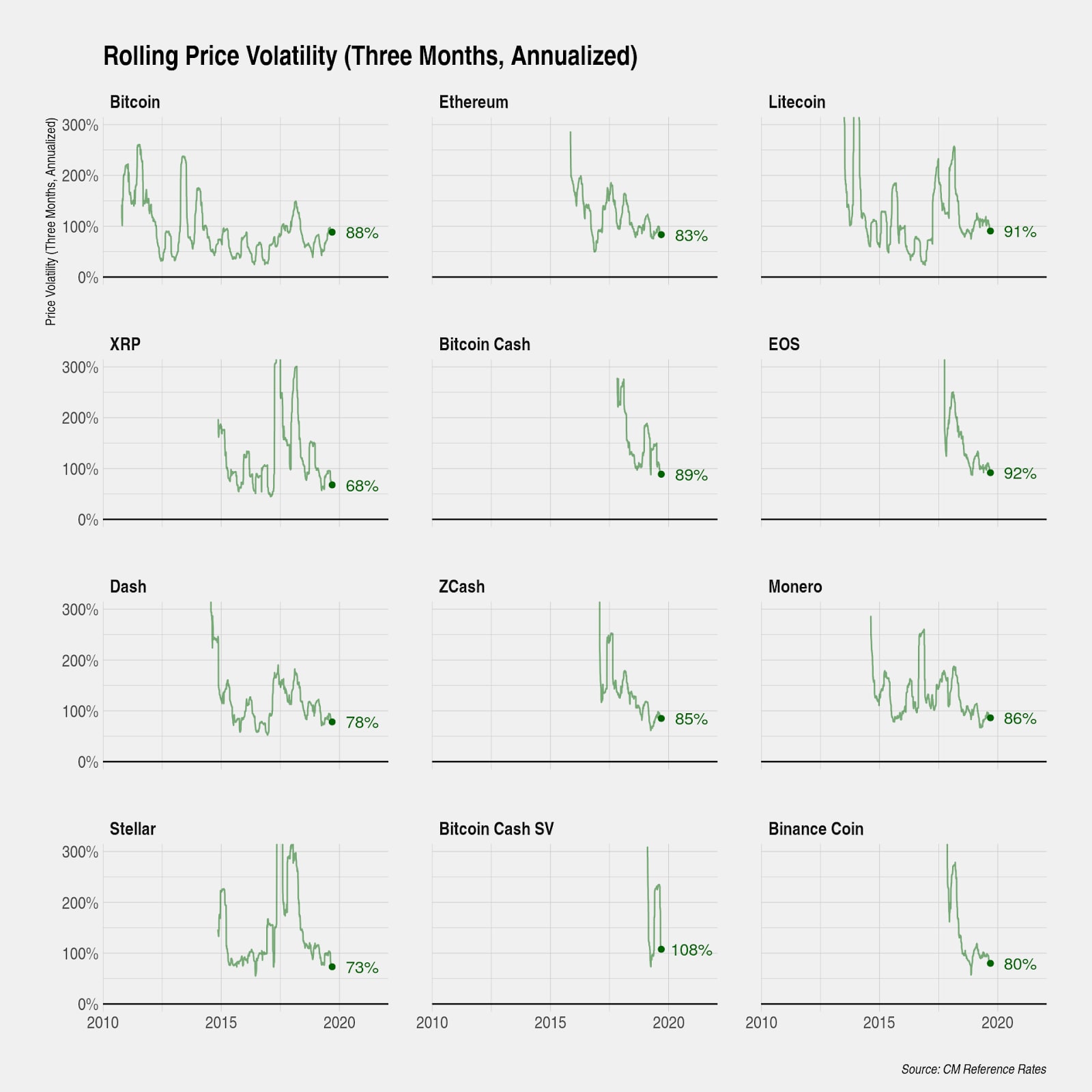 The report also analyzed the merits of Bitcoin's safe haven status. "The latest observations show an inconsistent relationship between Bitcoin and gold," Coinmetrics noted. "Gold has continued to rally this summer in response to flaring U.S.-China trade war tensions, anticipation of quantitative easing by the world's major central banks, and central bank buying. But Bitcoin has stopped responding to the same events.
While the correlation with gold has seen better days, it has traditionally oscillated strongly between positive and negative values.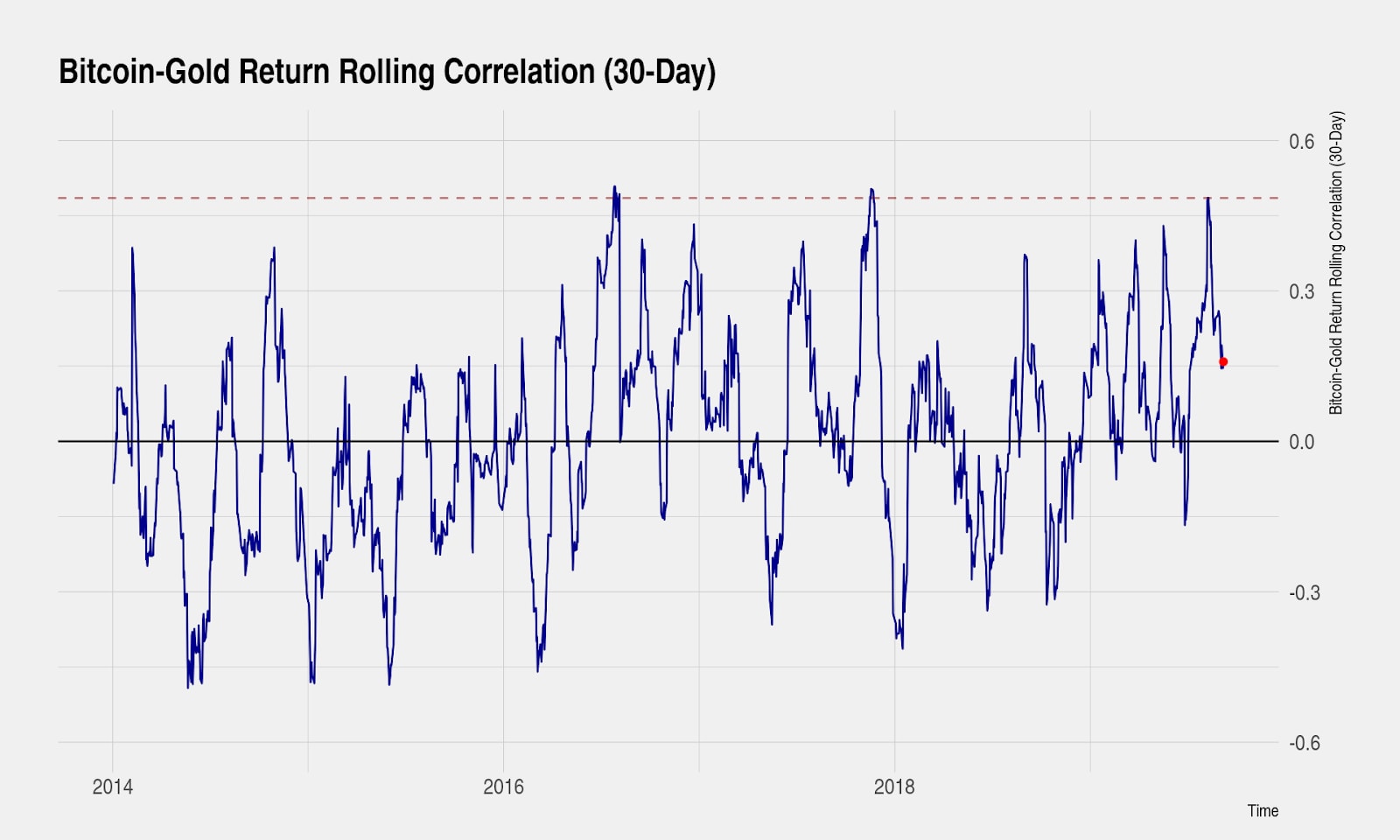 ---
Tether launches CNHT
There's now another stablecoin – and we're not just talking about Bitcoin's steady price action.
According to an announcement by Tether, the company has added support for offshore Chinese Yuan (CNH), adding CNHT to its existing basket of USDT and EURT. The distinction between offshore Yuan (CNH) and internal (CNY) comes from the Forex markets: China has strict exchange controls within the country, leading to the creation of a separate market for the Yuan outside Mainland China.
CNHT will be available only as an ERC-20 token for now, but given the rapid demise of Bitcoin-based Omni USDT, that is unlikely to matter.
The announcement does not disclose whether CNHT will be backed by fiat assets.