Bye, Bitcoin: Tether Booms On Ethereum, Withers On OMNI
Ethereum is faster and cheaper than the OMNI layer.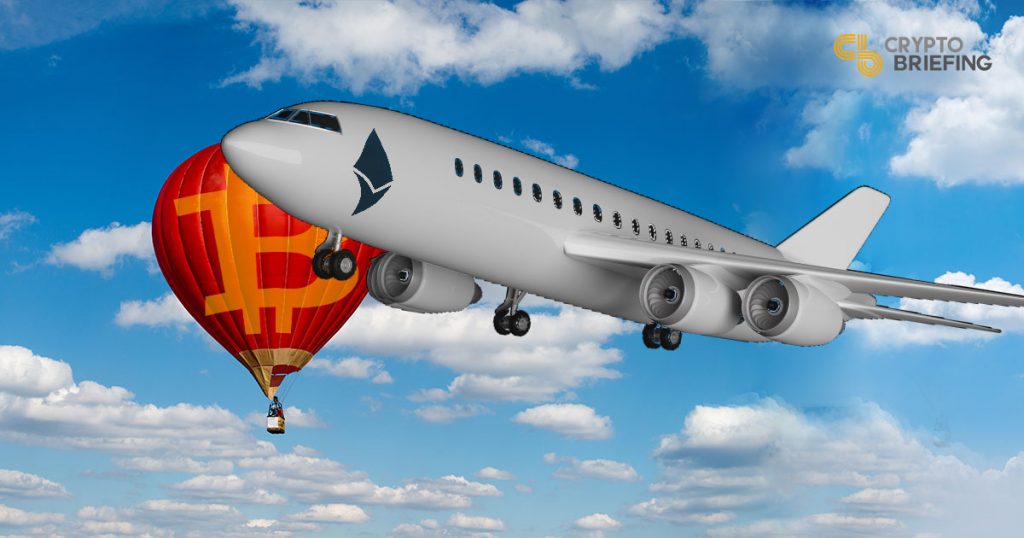 Tether is back in the news, but this time it's just moving house. Large numbers of the controversial dollar-valued token are migrating to Ethereum from Bitcoin's OMNI layer, resulting in a boom in active USDT-ETH addresses.
A Coin Metrics State of the Network analysis, released August 27, 2019, reports that the number of USDT-ETH active addresses "skyrocketed over the past week, jumping from 38,600 on August 19 to over 78,800 on 8/23." In the meantime, USDT-OMNI active addresses continued to decline, following two brief spikes in activity.
The total supply of Tether has steadily climbed since the beginning of this year, mostly due to its increased presence on Ethereum. The majority of Tether supply now consists of "2.54 billion issued on the Omni blockchain and 1.56 billion issued on the Ethereum blockchain," following a recent burn of Omni-based tokens.
The report does not discuss the number of Tethers on other blockchains. There are also 112,402,010 USDT on the TRON blockchain, 251,000.50 USDT on EOS, and 61,000.00 on the Liquid sidechain, according to Tether.
---
Movin' On Up
Coin Metrics suggests a few possible reasons for the shift to the Ethereum network. One likely possibility is that Tether Limited is acting to "reduce its continuity risk" due to the fact that the Omni platform is not under active development.
Market conditions are also a likely factor. With fifteen-second blocks, Ethereum is a much faster medium than Bitcoin, not to mention having shorter confirmation times and much lower fees. Due to these factors, the report surmises that Tether should continue to grow on the Ethereum network and dwindle on Omni.
Tether has also managed to grow in popularity despite many competitors in the stablecoin realm, "including TrueUSD, USD Coin, Paxos, and Gemini Dollar." Despite the ongoing investigation by New York Attorney General revelations that it is not fully backed, it has continued to dominate as the leading fiat-pegged currency.
According to CoinMetrics, that could be because many users find Tether's existence in a regulatory "gray area" to be a "desirable feature." rather than "a shortcoming."
Per the report:
---
Tether's Other Advantage
But one can't use the T-word without addressing the ongoing concerns about Tether and the associated exchange, Bitfinex. Referring to suspicions that Bitcoin prices could be inflated by unbacked Tether tokens, the report says, "the narrative that Tether is responsible for or connected with price growth deserves continued study."
On occasion, according to the paper, increases in the supply of Tether had strong correlations with the price of Bitcoin. On the other hand, "in recent months, the relationship appears to have changed," as price growth no longer coincides with changes in Tether supply.
But there are two plausible explanations for the correlation between Tether prints and Bitcoin price gains. According to Coin Metrics, that depends on whether Tether is being 'pushed' or 'pulled.'
"Tether is 'pulled' if more Tether is issued in response to demand from investors that wish to exchange fiat currency to Tether," the report explains. In this case, the supply is not influencing market conditions, theoretically, but is instead in genuine demand due to already-existing market conditions. For example, if large investors correctly foresee future BTC gains, they might order large batches of USDT in anticipation of those gains.
Conversely, market conditions could be affected when Tether is "pushed," meaning Tether Limited "…issues Tether regardless of the demand from investors." Whether there's any truth to this hypothesis is still unclear, but it is likely to emerge during Bitfinex's ongoing troubles with New York State.
However, in recent months there's little sign of Tether being pushed or pulled. According to the report, recent Tether growth has "flattened or become slightly negative as [bitcoin] prices have done the same."