Can Ethereum Still Compete?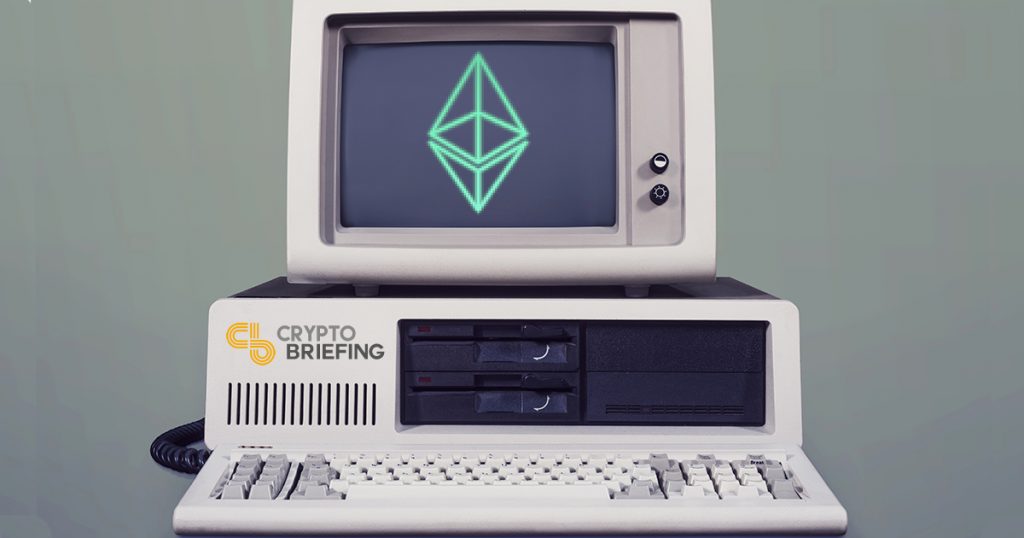 No coin is perfect, but Ethereum has more than its share of problems. The ICO-laden token has shed 80% of its value since its peak and given up the No. 2 spot to XRP (that had to hurt). Now its very mission has been called into question. In a much-publicized tweet storm last week, early bitcoin investor Tuur Demeester likened Ethereum to "the Yahoo of our day – an unscalable blue chip cryptocurrency."
Ethereum is a leading blockchain network and the most active platform for smart contracts, according to ConsenSys data. Most of the leading cryptocurrencies are Ethereum-based tokens. And the network boasts more than 1 million transactions per day – not bad by 2014 standards, but far behind the latest competitors.
The latest bounce doesn't change the fact that the Ethereum project has a lot to prove to the community in 2019, after a lasting crisis of confidence that has called the platform's value into question.
---
Ethereum Faces An Identity Crisis
What do you do when much of your identity is tied up in launching ICOs, which have since become taboo? It's an identity crisis that till now no leading cryptocurrency has had to face, and Ethereum is still in its first half-decade of existence. According to Diar.co, ETH suffered ICO treasury withdrawals of almost 400,000 ETH this month, the most severe month for withdrawals of the year. Diar also noted an "82K ETH drawdown by Tezos" in November.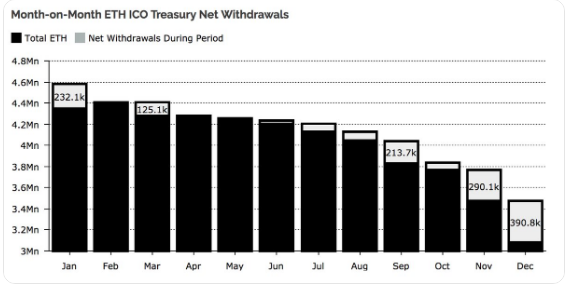 ---
Dapps Have Yet To Reach Mainstream Adoption
Ethereum is also a platform for building decentralized apps (dApps), though this comes with a completely different set of problems. The blockchain is home to more than 2,000 dApps, according to State of the Dapps. But mainstream adoption remains a pipe dream. The most popular game on Ethereum, My Crypto Heros, has barely more than 1,150 users per day. This problem isn't exclusive to Ethereum, but it's nonetheless an embarrassment for the top smart contract platform.

Competition for developers has reached new heights amid hiring wars with Ethereum, TRON and EOS all jockeying for software engineering talent. According to ConsenSys data, Ethereum boasts "the largest developer community in the world, almost 40x that of other blockchains."
---
Is Ethereum the Yahoo of Crypto?
Perhaps the biggest issue facing Ethereum right now is scalability. Even Ethereum Developer Vlad Zamfir once admitted that "Ethereum isn't safe or scalable." The Constantinople upgrade is scheduled for Jan. 16, 2019, at which time the block rewards will be slashed from 3 ETH to 2, resulting in a lower supply of newly minted coins. The long-term effect should be "decidedly bullish," according to economist and trader Alex Krüger.
But the platform will still have to adapt to a changing blockchain landscape- one in which fifteen transactions per second and ten-cent fees are no longer competitive.
---
If Ethereum is the "Yahoo of crypto," that might make Vitalik Buterin its Marissa Mayer. As Yahoo began to take on water, she had the courage to "to take a sinking ship and try to make it float."
Vitalik, on the other hand, has been at the helm since the beginning and has not crashed into any icebergs – yet.
The author is invested in digital assets, including bitcoin, which is mentioned in this article.