Cardano, Tezos Flash Buy Signals Despite Crypto Market Correction
Technicals suggest that Cardano and Tezos are bound to rebound while different on-chain metrics predict trouble in the near-term future for the broader crypto market.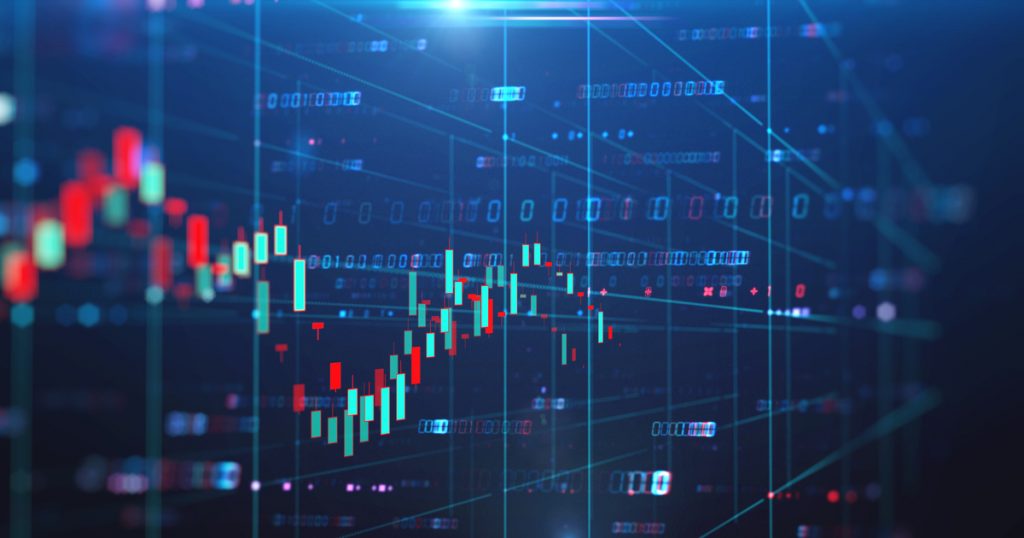 Key Takeaways
The TD sequential indicator estimates that Cardano and Tezos are sitting in oversold territory
A spike in the buying pressure behind these altcoins may lead to a one to four daily candlesticks upswing
Regardless, on-chain metrics suggest that ADA and XTZ have more room to go down on the bigger time-scales
Cardano and Tezos seem poised for short-lived bullish impulses while the overall crypto market struggles to find its footing. Both altcoins are sitting in oversold territory based on different indicators.
Cardano Poised for Short-Term Rebound
After rising to a new yearly high of $0.155 on July 26, the excitement around Cardano seems to have faded. Since then, ADA has been slowly bleeding, making a series of lower highs and lower lows without any significant price action. Now, the TD sequential indicator is about to present a buy signal in the following hours that may allow prices to rebound.
The bullish formation might develop in the form of a red nine candlestick on ADA's 1-day chart. If validated, it anticipates a one to four hour daily candlesticks upswing before the downtrend resumes.
Despite the probability of a short-lived bullish impulse, different on-chain metrics suggest that the smart contracts token has more room to go down. Data from IntoTheBlock reveals that the number of addresses holding Cardano for more than one year has been steadily decreasing over the past two months.
There were roughly 213,500 addresses on the network holding nearly 7.8 billion ADA for an average period of two years in June. Currently, 195,600 addresses hold approximately 5 billion ADA over the same period. These metrics suggest that long-term "hodlers" have been taking advantage of the recent price action to realize profits, consequently increasing the selling pressure behind the so-called "Ethereum killer."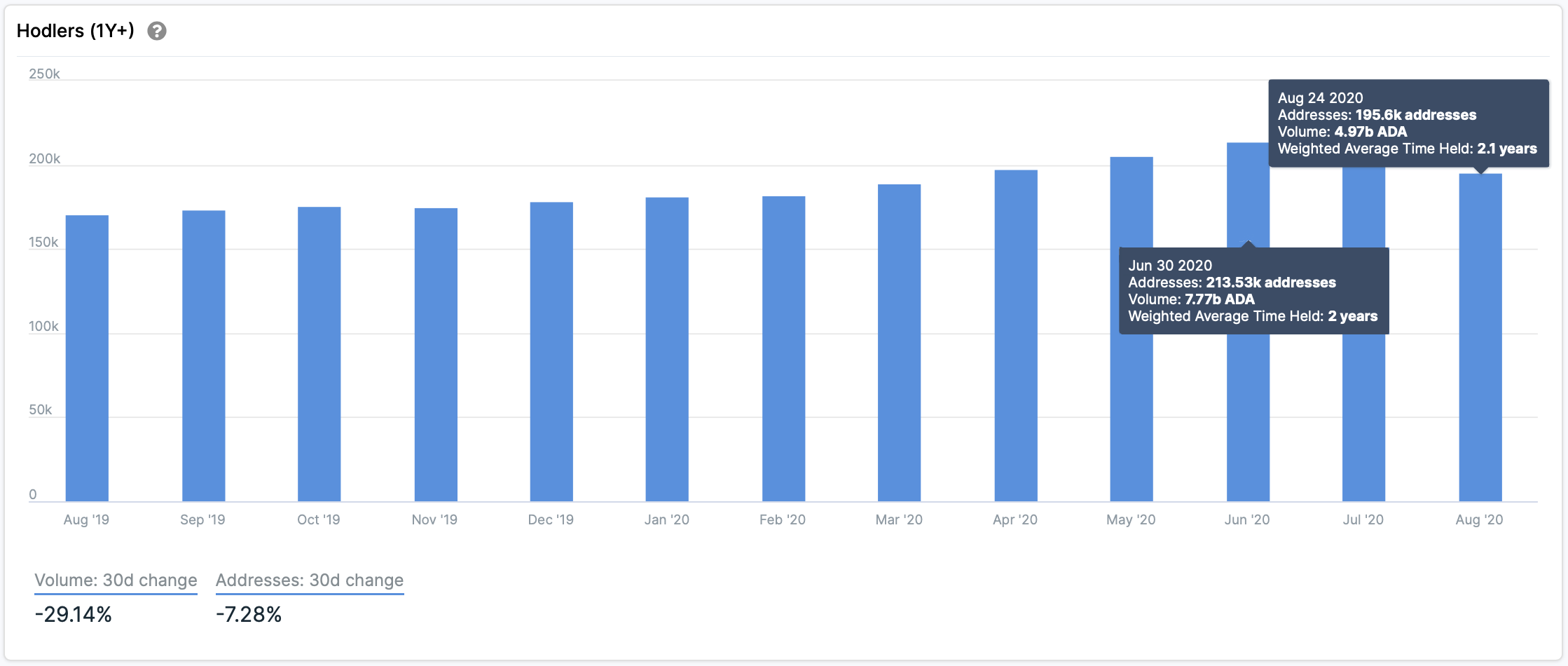 More importantly, few people seem to be buying these tokens with new daily addresses declining. This downward trend in network growth can be considered an extremely bearish signal, according to Brian Quinlivan, marketing and social media director at Santiment.
Quinlivan maintains that network growth is "one of the most accurate price foreshadowers." A decrease in user adoption over time can help observers understand the health and well being of a cryptocurrency network.
"Generally, a rising network growth leads to a rising price of any project over time, in most cases. On the flip side, declining network growth for a long enough stretch can usually indicate a future slumping price with the lack of newly created addresses constantly in-flowing the coin or token," said Quinlivan.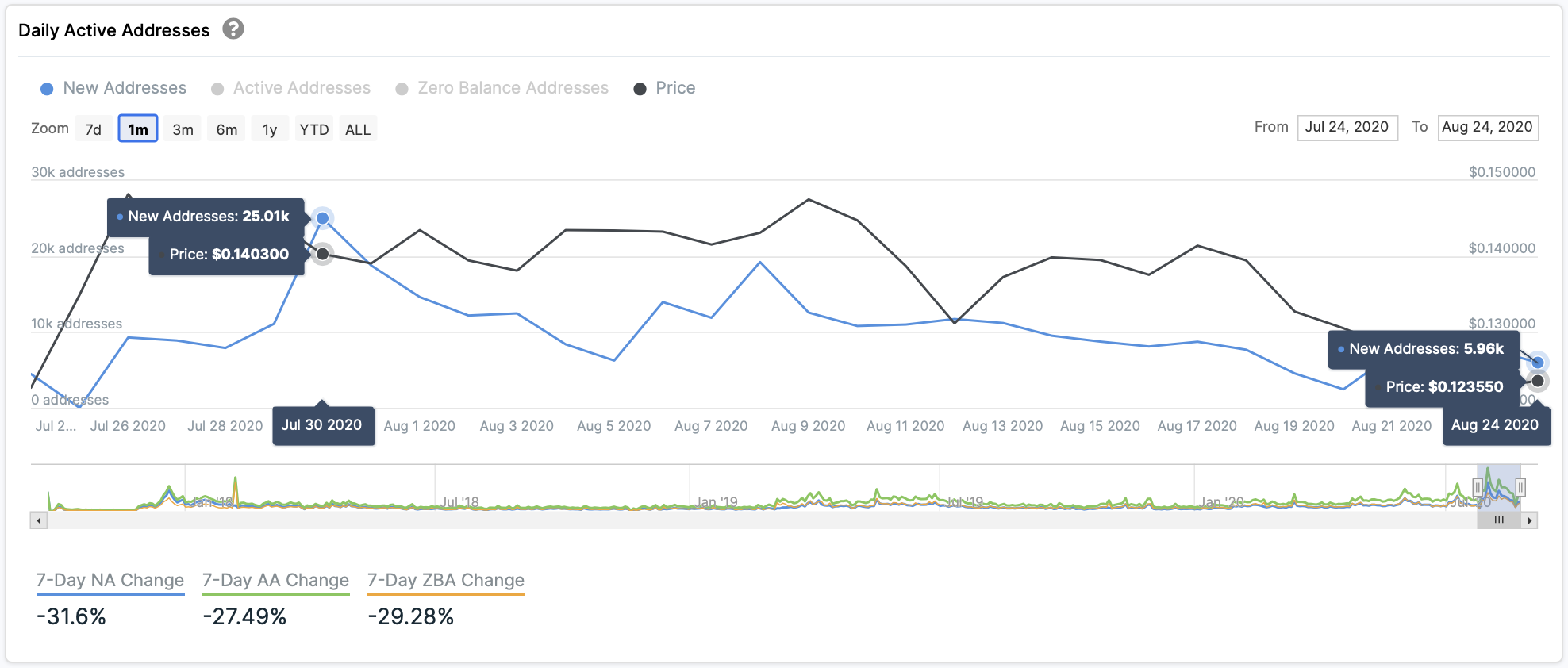 In the event of a correction, IntoTheBlock's "In/Out of the Money Around Price" (IOMAP) model reveals that there isn't any major support level underneath Cardano that may prevent it from a steep decline. The most formidable supply wall ahead of this cryptocurrency lies between $0.077 and $0.093. Here, roughly 54,500 addresses had previously purchased over 1.8 billion ADA.
Such a significant area of interest could absorb some of the selling pressure. Holders within this price range will likely try to remain profitable in their long positions. They may even buy more ADA to avoid seeing their investments go into the red.

On the flip side, the IOMAP cohorts show that Cardano faces stiff resistance ahead. Nearly 78,600 addresses are holding roughly 7 billion ADA between $0.137 and $0.142. This crucial area of resistance suggests that bulls will struggle to push prices up, so as of right now, the odds favor the bears.
Tezos Shows Mixed But Promising Signals
Like Cardano, Tezos also entered a downtrend after rising to a new all-time high of $4.5 on August 13. Following the milestone, XTZ took a 28% nosedive to recently hit a low of $3.3. Given the significance of the correction, the TD sequential indicator suggests that XTZ sits in oversold territory.
This technical index presented a buy signal in the form of a red nine candlestick on the daily chart. Although the bullish formation forecasts a one to four daily candlesticks upswing, a green two candlestick trading above the current green one candle will serve as confirmation.
Under such circumstances, Tezos will also regain the 23.6% Fibonacci retracement level as support. Moving past this resistance barrier will increase the odds for a further advance towards the setup trendline. This hurdle is currently hovering around the recent all-time high of $4.5.
It is worth mentioning that Tezos' on-chain and social volume has been steadily declining since early August. According to data analytics firm Santiment, these fundamental metrics help determine whether a coin is prepared for a further advance.
Santiment maintains that when these two indexes drop in unison, combined with a decline in daily active addresses, then they form a reliable sign for future downward price action.

Therefore, a rejection from the overhead resistance might see XTZ aim for the next significant support provided by the 38.2% and 50% Fibonacci retracement level. These support barriers are at $3.2 and $2.7, respectively.
The Crypto Market's Lackluster Price Action
Cardano and Tezos are not the only top cryptocurrencies that have experienced lackluster price action in the past few weeks. Indeed, Bitcoin, Ethereum, and XRP have also been consolidating within narrow trading ranges while volatility builds-up. This market behavior suggests that a steep correction may need to materialize before the uptrend resumes.
Declining prices may serve as an opportunity for sidelined investors to get back into the market. A new influx of capital would then have the strength to push these cryptocurrencies further up. But in the meantime, it seems like lower-cap coins, such as OMG Network and Aave, will continue to run the bull show.
For more key market trends, subscribe to our YouTube channel and get weekly updates from our lead bitcoin analyst Nathan Batchelor.