Cash App Users Blocked From Buying AMC, Nokia Stocks
After the WallStreetBets community sets its sights on Nokia and AMC, Cash App users are barred from purchasing those stocks.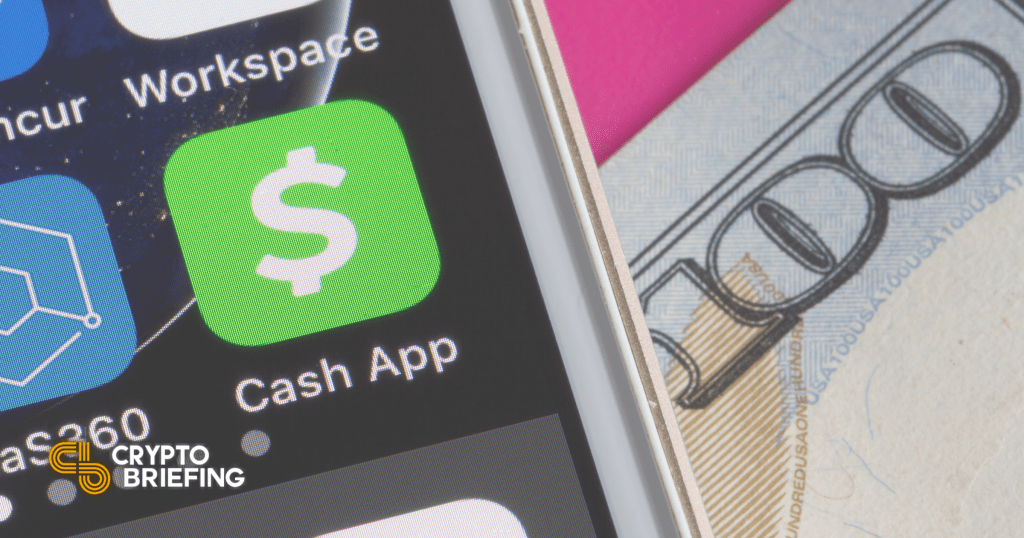 Key Takeaways
The WallStreetBets community behind the GameStop (GME) price pump recently identified AMC and Nokia stock as their next targets.
Cash App users can no longer buy these stocks, a decision made days after Robinhood users were blocked from buying GME.
Many in the trading community are outraged at what some view as a targeted effort to exclude retail traders by mainstream institutions.
Cash App released a statement earlier today stating that Axos, the app's clearing broker, is now subject to a 250% increase in capital requirements, temporarily blocking the app from fulfilling AMC and Nokia (NOK) purchases.
Cash App Blames Clearinghouse for Trading Halt
Cash App stated that Axos, its clearing broker, now needs to provide 250% more capital than before to continue its services. Neither Axos nor Cash App was able to secure a line of credit to meet the new requirement, and Cash App was forced to stop its users from buying AMC or NOK.
However, users can still sell their stocks.
The clearing broker who processes our trades, Axos, has temporarily halted buys of $AMC & $NOK. This was not Cash App's decision – we disagree with this move wholeheartedly. We hope to make these stocks available for purchase again as soon as possible.

— Cash App (@CashApp) February 2, 2021
Clearing brokers need to provide capital deposits for apps like Cash App to support trading. The DTC, a world-leading clearinghouse, recently raised the capital requirement on Axos, and Axos has restricted Cash App's trading accordingly. A
statement from the app read that "We are entirely subject to our brokers' ability to support our trades," adding that "Axos has not provided the necessary additional capital and has restricted purchases of AMC and Nokia."
Cash App posted the email from its broker-dealer, DriveWealth, which alerted them about the change.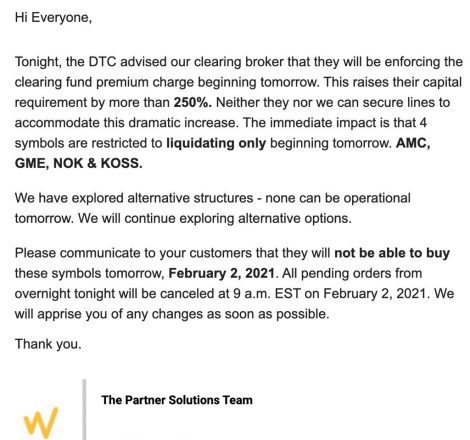 The statement went on to say there was no clear path to a solution at this time, adding that "we are monitoring the situation closely and are working to make these stocks available for purchase again as soon as possible."
Market Wide Bans Affect Retail Traders
The buy trade halt comes just days after the Robinhood trading app suspended GameStop (GME) trading following a price pump led by retail traders that resulted in $5 billion worth of liquidations for hedge funds like Melvin Capital.
Retail traders on Reddit's WallStreetBets community publicly posted their own trading activity, indicating that they were buying up GME due to the Melvin Capital hedge fund's overexposed short position. Nokia and AMC were two stocks being targeted by the community for purchase.
Robinhood allegedly sold users' stock without permission and halted buying, resulting in a public outcry as Wall Street traders continued unhindered. The GME price pump was one of the first instances of retail traders going toe-to-toe with Wall Street and coming out on top.
Robinhood blamed the incident on clearinghouse capital requirements and has since raised $2.4 billion to cover its own clearinghouse collateral.
Notably, Robinhood is partnered with Citadel, a Wall Street hedge fund and a major investor in Melvin Capital. Robinhood staff claim they were not pressured into halting trading by Citadel.
Disclosure: The author held Bitcoin at the time of writing.