Crypto Adoption Rising Steadily Throughout Price Crash
Crypto is growing faster than the internet, Ethereum faster than Bitcoin, and DeFi faster than anything else.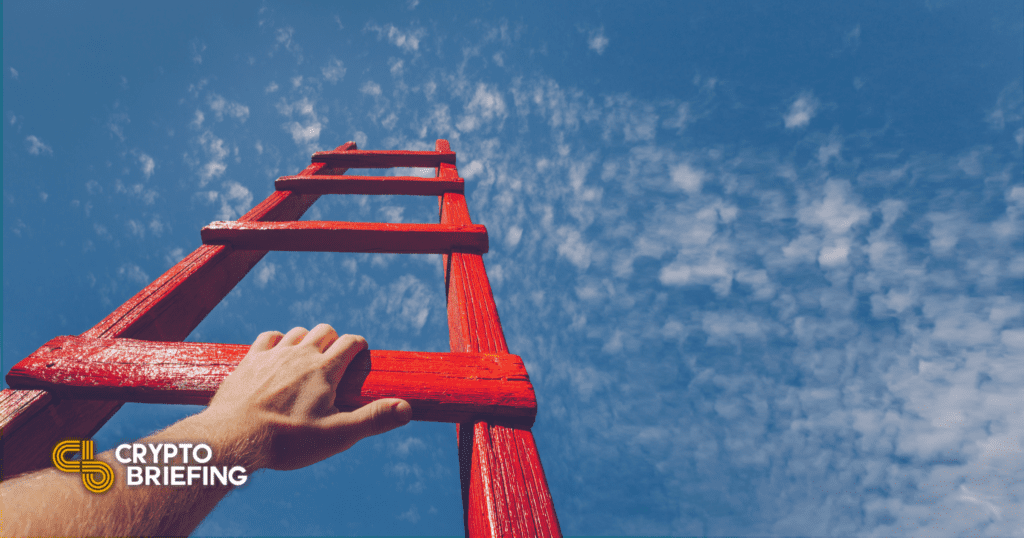 Key Takeaways
Global Macro Investor expects one billion crypto users by the end of 2023 as numbers continue to grow exponentially.
Since 2019, Ethereum has seen faster adoption than Bitcoin itself.
The number of DeFi users has almost tripled since the start of the year.
While the gloomy market outlook is leaving investors doubting, global adoption metrics are still showing a very healthy rate of adoption growth across the world for both Bitcoin and Ethereum.
One Billion Crypto Users by 2024
Raoul Pal's Global Macro Investor is still expecting the total amount of crypto users to rise to one billion by the end of 2023.
The firm compares the rate of adoption of crypto to that of the Internet itself, noting crypto is actually being adopted at a faster pace than the world wide web.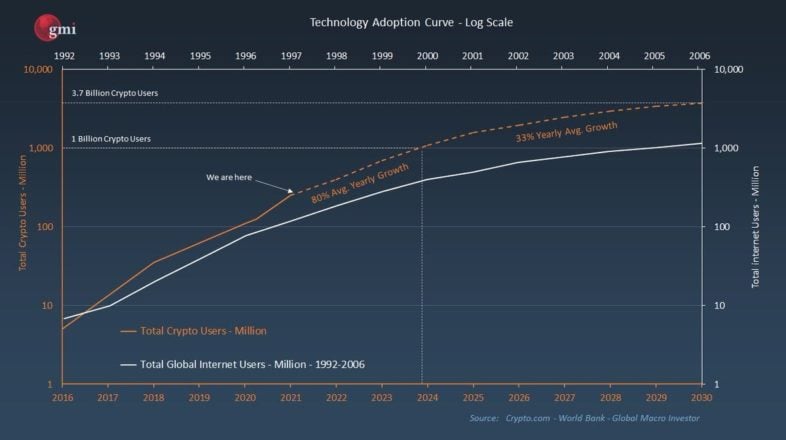 Despite the recent crash in crypto prices and Bitcoin closing May as its worst month in a decade, global adoption metrics are still showing an impressive rate of user growth, especially as this graph shows a logarithmic scale.
The graph shows that the internet took 14 years to reach one billion users, a number that investor Raoul Pal expects crypto to reach by the end of 2024.
While Bitcoin was the biggest adoption driver until 2019, since then Ethereum has seen an even more impressive growth that has surpassed Bitcoin in terms of non-zero on-chain addresses.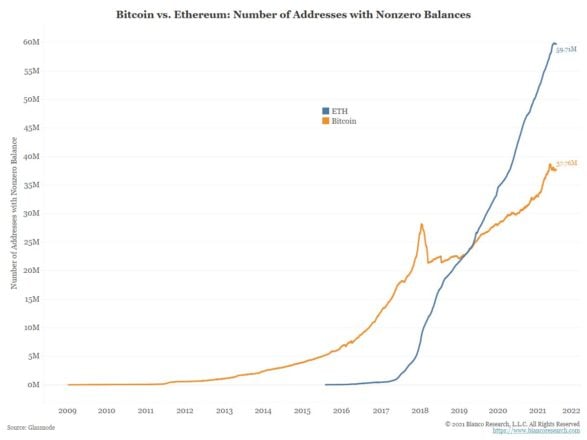 The main driver behind Ethereum's growth in the last year has been the explosion of DeFi protocols that allow users to create trustless, peer-to-peer decentralized financial instruments using smart contracts.
Recently, institutions have started to show interest in DeFi and if that trend were to persist, many more active addresses wil likely be added to the Ethereum network.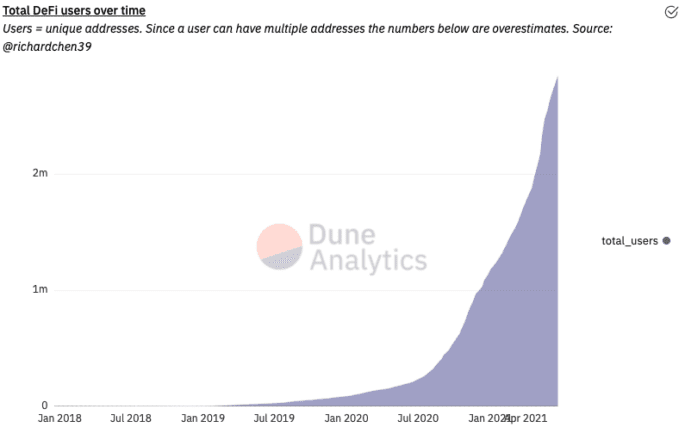 In January, while the price of ETH still hovered around $1,000, Raoul Pal said that the growth of DeFi should help Ethereum reach $20,000. Back then, only one million users had interacted with DeFi. Today, that number is up to 2.8 million.
Disclaimer: The author held ETH at the time of writing.