Crypto Volatility Doubles In Two Weeks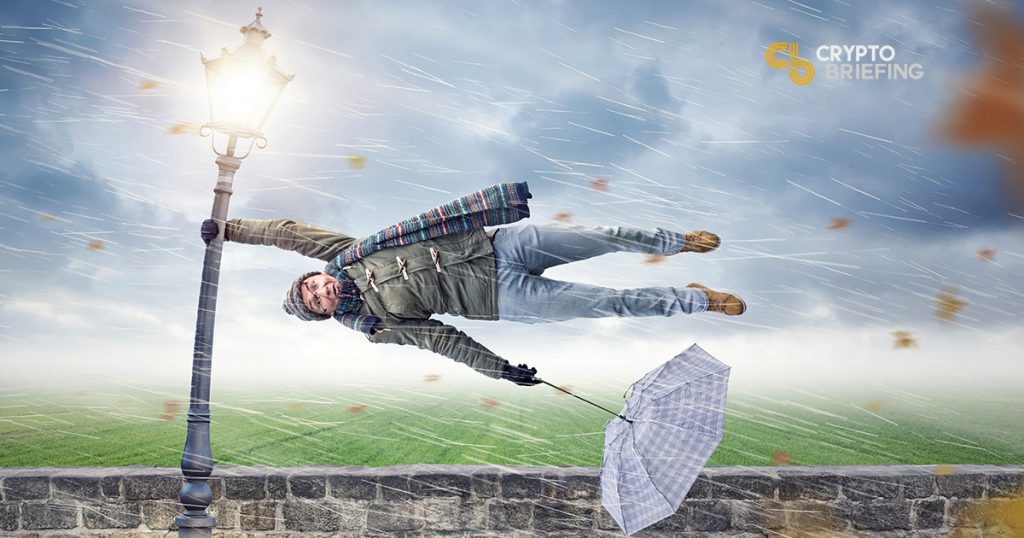 It's Monday morning and prices are in the green, by strong margins. Virtual currencies are always unpredictable, but crypto volatility – which had been declining – has shot up over the past two weeks. Three weeks ago, prices almost seemed stable, but that has been thrown out the window. Some coins have seen their volatility triple over the past two weeks.
The Average True Range (ATR), a simple volatility calculator using a 14-day (in this case) moving average on a 0 to 100 scale, has tripled for some of the leading cryptocurrencies since the start of the month.
Volatility is a measure of how much a price fluctuates within a certain timeframe. A lack of institutional backing, as well as the technology itself, makes cryptocurrencies highly-volatile assets.
Bitcoin Cash's ATR, for example, has increased from just below 20 on November 1st to a high of 60 at the end of last week. Litecoin (LTC) has also moved upwards by 80% from 1.9 to 3.4. Because these are based on prices, the scale is often different between different assets, even if they have experienced similar fluctuations in value.
Although less than BCH, the increase in LTC's ATR goes against an otherwise near-constant decline in the coin's volatility since the beginning of February.
Out of some of the other coins, Stellar Lumens' (XLM) ATR is up by around 130%. XRP's volatility is up by a more modest 64%; Ether (ETH) by 50%. Alongside BCH, Bitcoin (BTC) had one of the largest changes in its volatility. Its ATR doubled around 156 at the start of the month to a high of 333 by Sunday.
---
The cryptocurrency market
Cryptocurrency's total value ended a near two week-long slide last Friday at approximately $140bn. More than $70bn – a third of its total value – had been wiped since the middle of November. Although prices looked like they may have begun to bottom out, the weekend saw an additional drop on Saturday afternoon.
This was severe enough to take the market down to a new low of $114bn by Sunday morning, dangerously close to the $100bn mark. It was the lowest valuation since mid-June, more than 18 months ago.
Most coins are now reporting moderate gains, recovering some of the heavy losses incurred over the weekend. In the top-ten, Bitcoin has settled just below the $4,000 mark; following strong plus 10% growth earlier this morning, Litecoin, Cardano (ADA) and Stellar Lumens have slowed down but are still increasing in value.
XRP is up by 1.8% against the slight drop in Ether, further solidifying the settlement token's position as the second largest cryptocurrency by market cap.
Bitcoin Cash, which has dropped the most in value following the hard fork, has enjoyed the biggest price increase in the top twenty. The coin is up by more than 26% in the past 24 hours. In the last hour alone it rose by 13% from $182 to a high of $215; a $600m increase in its market cap.
---
Crypto volatility
There's every reason to suggest a market overreaction pushed prices even lower, to the extent that some virtual currencies may have been 'oversold.' It's still uncertain whether a recovery is likely this week; negative sentiments still pervade and it will only take one piece of bearish news to take virtual currencies down to new depths.
Bitcoin's price seemed so steady for the past few months that traders began to consider it an unofficial stablecoin. Its price had stayed within a narrow range, around the $6,500 mark, since the beginning of September. Although there was nothing stopping BTC heading to zero, analysts said this range acted as a guide rail for investors. Any abnormal price movements outside of the range could be interpreted as either a bullish or bearish signal.
Now that the support lines have been smashed, investors and traders alike are a little further from determining cryptocurrencies' true value. Crypto volatility is up and it may be months before stability returns to the market.
The author is invested in BTC and ETH, which are mentioned in this article.