Dash CEO: No Budget Problems Here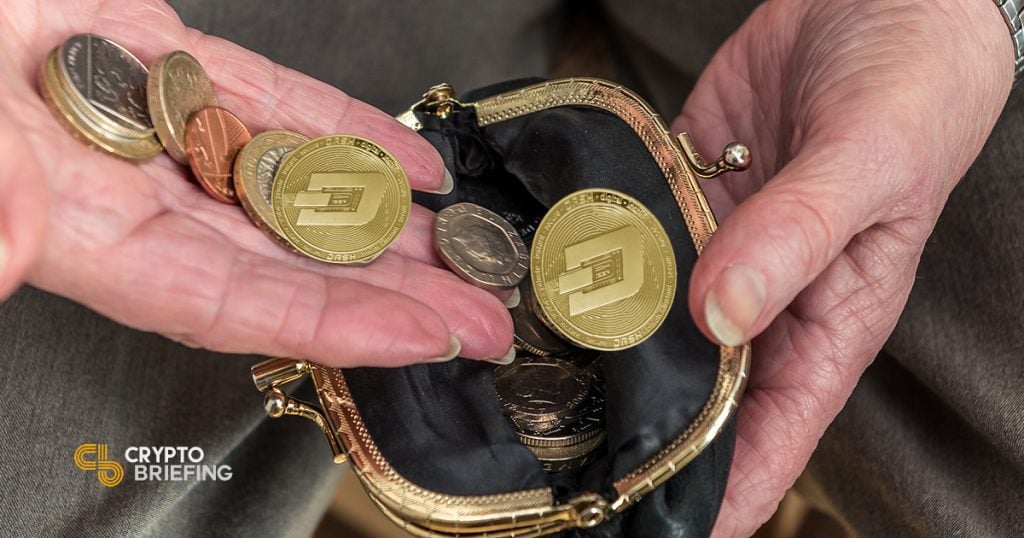 Bear season is taking its toll, and crypto companies are already shutting up shop. But Dash Core Group won't be one of them, according to CEO Ryan Taylor. In a recent blog post, Taylor addressed the "severe breakdown of market confidence," while reassuring investors that development for the sixteenth-largest cryptocurrency will not be affected.
The market crash hasn't been good for anyone, but it's particularly bad for projects that pay their bills in crypto. Dash Core Group, which is funded from mining rewards, pays its employees in the DASH equivalent of their salaries, denominated in USD. That means if prices fall low enough, the entire monthly budget might not be enough to pay for Dash's development.
The decline has already caused a hiring freeze and delays to employee salary increases and retention plans, as outlined in budget updates earlier this year. In the Q4 budget cycle, "run rate compensation expenses" are chief among the proposal requests that are voted on by the Masternodes.
Meanwhile, Dash Core Group compensation was estimated at 2,860 DASH for December, which CFO Glenn Austin said "will allow us to sustain our current run rate while still building up our buffer." The Jan. 1, 2019 budget cycle compensation figure is 3,185 DASH for core members. But at approximately $70, the Dash price has been more than slashed in half since a month ago, placing more of a spotlight on the buffer.
---
Is The Bitcoin Cash Hash War To Blame?
Taylor says in the post that "we will eventually hit a market bottom" and hopes that "we already have." He goes on to blame the hash war that unfolded between Bitcoin Cash and Bitcoin SV and the ensuing FUD tied to "blockchain security," saying it "seems to have triggered a new wave of skepticism" and describing the damage as "market-wide" and "severe."
Dash itself was forked from Litecoin by founder Evan Duffield in an attempt to introduce features like privacy to the code, a focus that has since expanded to speedier transactions and greater scalability.
Taylor addressed concerns voiced by the community surrounding Dash Core Group's ability to sustain Dash, which he assured is better than the fate of other projects such as ETCDEV and Steem, both of which have suffered at the hand of this year's bear market. Taylor said:
DCG is not at risk of shutting down anytime soon, or of any significant cuts in staffing levels in the near term.
He pointed to a cash buffer, which is -hopefully- deep enough to last through the coming winter. Although he did not state any numbers, the size of DCG's cash buffer was estimated at $1.79M at the time of DCG's most recent quarterly earnings call on November 12th.
Dash founder Duffield was reportedly never a big fan of ICOs, and the project has taken the road less traveled by not bolstering the staff during the boom times. That frugality has been a saving grace as DASH shaved more than 90% of its value from last year's peak.
Taylor outlined Dash's unique budgeting system which "limits the monthly run-rate" and "caps our long-term spending," and also expressed a frustration amid a "disconnect between price and adoption trends. "
---
Dash Budget Marches On
The Dash network has a total monthly budget of 6,177 DASH, funded by a DAO-controlled treasury. With the DASH price currently hovering at $74.21, according to CryptoCompare, that gives the Dash project a monthly budget of $458,395. Dash Core CFO Glenn Austin said on the Dash forum:
We expect to request 60% of the available treasury funds for this budget cycle.
That means they will request no more than approximately $275,037. Based on the latest monthly budget cycle, 3,750 DASH has been requested via a variety of proposals. So far, 1,376 DASH has been allocated for passing proposals while 2,374 DASH reflects proposals that have yet to receive sufficient votes with a Dec. 29 deadline looming.

Dash supply is capped at 22 million, 8 million of which are reportedly in circulation. It's a bit of a Catch-22, however, considering that it's the project's proposal system that, while keeping Dash afloat, has drawn criticism from those who believe that the Masternode governance system fuels centralization.
This isn't the first time Taylor has had to go on the defensive. The CEO has already faced criticism for spending treasury funds too liberally, with at least one masternode owner calling to remove him from leadership.
It's a stigma that the project might not be able to shake from those who are not drinking the Kool-Aid, but then again the Dash Core Team isn't looking to convince the naysayers, anyway.
The author is not invested in any digital currency mentioned in the article but is invested in other cryptocurrencies.