DeFi Outpacing Centralized Exchanges in North America: Report
DeFi protocols are now handling more transaction volume than centralized exchanges, a Chainalysis report has found.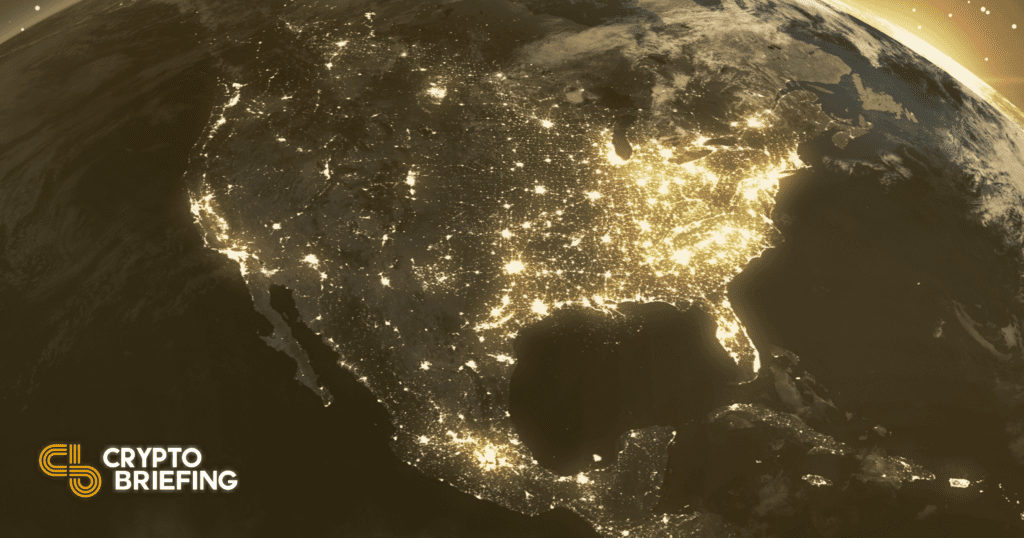 Key Takeaways
A Chainalysis report has found that trading volumes on DeFi protocols are outpacing centralized exchanges in North America.
Uniswap was the protocol with the highest transaction volume, beating leading centralized exchange Coinbase.
While DeFi adoption has exploded, U.S. regulators are watching the industry closely.
A report from the blockchain data platform Chainalysis has revealed an explosion in DeFi usage among North American investors. DeFi protocols are now beating centralized exchanges in transaction volume.
North America Leads DeFi Adoption
New Chainalysis data suggests that DeFi protocols have flipped centralized exchanges in North America.
The blockchain analytics firm Chainalysis released its Geography of Cryptocurrency report Thursday, outlining trends and developments in the crypto space over the 12 months commencing July 2020.
Most prominently, the report revealed an explosion of crypto activity in North America, with transactions rising from $14.4 billion in July 2020 to a high of $164 billion in May 2021. Within those ten months, DeFi protocols accounted for more and more of the total crypto transaction volume.
By June, crypto transactions conducted through DeFi protocols exceeded that of centralized exchanges by a wide margin.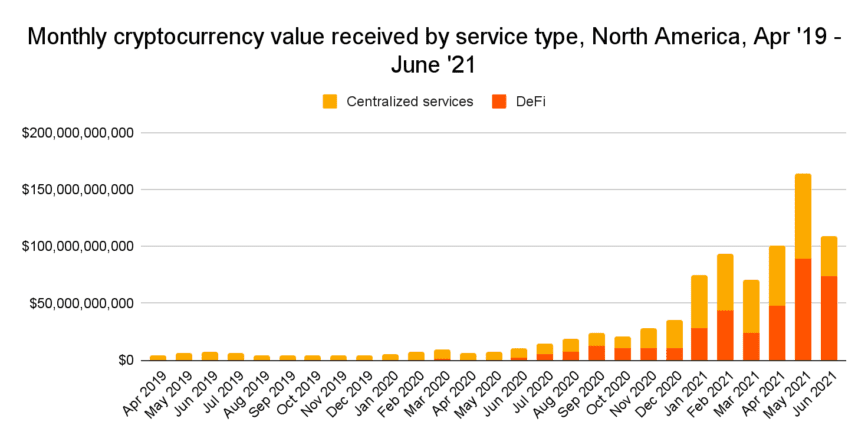 Compared to other regions measured in the report, North America also had the second-highest total value sent to DeFi protocols, trailing only Europe.
Within North America, the cryptocurrency service with the highest transaction volume was Uniswap. The leading decentralized exchange handled over $100 million worth of transactions over the 12-month period, claiming the top spot from the U.S crypto exchange Coinbase. DeFi protocols dYdX and Compound also topped $50 million in value transacted, beating out centralized exchanges such as Binance and Kraken.
Discussing the report's findings, dYdX growth lead David Gogel helped contextualize the upswing in DeFi adoption, stating:
"Right now, DeFi is targeted towards crypto insiders. It's people who have been in the industry for a while and have enough funds to experiment with new assets."
He also pointed out that large numbers of institutional investors in North America are taking their first steps into investing in cryptocurrency. Within this class of investors, many are drawn to the attractive investment opportunities provided by DeFi protocols such as dYdX and Compound.
As cryptocurrencies gain more mainstream adoption, it's likely that more retail investors will also start using DeFi protocols. While centralized exchanges have more brand recognition and easier onboarding for new investors, they are slowed down by unpredictable regulatory decisions. For example, Coinbase fell foul of the SEC when attempting to create a USDC lending product in September, resulting in the exchange opting to cancel the launch.
While DeFi is proving popular with North American crypto investors, the industry is starting to face increased regulatory scrutiny. SEC chair Gary Gensler has repeatedly stated that DeFi protocols risk regulatory trouble if they do not cooperate with regulators. Gensler has also implied that many DeFi tokens should be classed as securities, urging the teams behind the protocols to "come in and talk" with the SEC.
Disclaimer: At the time of writing this feature, the author owned BTC, ETH, and several other cryptocurrencies.